ECU Report
---
ECU graduates feel better prepared than most, survey finds
East Carolina University graduates are well prepared for life after graduation, actively engaged at work and feel their education was worth the cost, a recent Gallup survey found.
ECU was included in a far-reaching alumni survey of the University of North Carolina System that assessed how graduates from North Carolina's public universities fared after graduation. More than 5,000 ECU alumni participated in the survey. The survey assessed alumni's perceptions of their university experiences and how those experiences related to their well-being and job quality later in life. Gallup presented the results to the UNC Board of Governors in May.
Results from the survey were compared with three groups from Gallup's national alumni surveys of those who obtained their degrees between 1940 and 2016. UNC System alumni were compared to Gallup's samples of U.S. college graduates nationally, graduates of public institutions, and graduates of private institutions.
According to the survey, UNC System alumni were more likely to pursue advanced degrees, feel a sense of attachment to their alma mater and report higher levels of well-being than college alumni nationally. ECU's results are on par with the UNC System's and outpaced national comparisons in many categories.
– Erin Shaw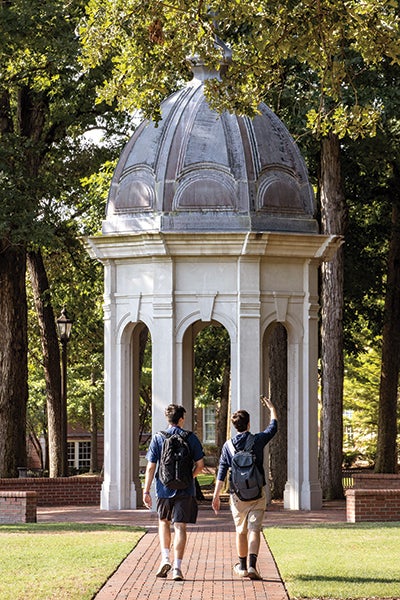 Among the key findings pertaining to ECU:

Overall, ECU alumni surveyed showed higher levels of engagement in the workplace than undergraduate alumni nationally.

More ECU alumni (41%) said they were well prepared for life after graduation than college alumni nationally (29%).
A majority of ECU alumni (60%) strongly agreed their undergraduate education was worth the cost; this figure is 10 percentage points above national comparison groups.

ECU alumni reported higher well-being than national groups; this holds true across all five areas for measuring well-being (purpose, social, financial, community and physical).
Complete Survey Results (PDF)
---
ECU raises $52.3 million in 2018-19
Between July 1, 2018, and June 30 of this year ECU alumni, friends, faculty and other supporters committed $52.3 million to the university, surpassing last year's fundraising by nearly $10 million.
The fundraising total comprises $25.7 million for Main Campus, $18.6 million for athletics and $8 million for the Health Sciences Campus.
Fundraising was bolstered by a successful Pirate Nation Gives, a day focused on philanthropy and engagement that raised more than $800,000 in 24 hours. Among the gifts were $100,000 to be split between athletics and the Honors College, and a $500,000 gift for the college STEPP Program (Supporting Transitions and Education through Planning and Partnerships), which supports students with learning disabilities.
The university also received an anonymous $5 million gift to the BB&T Center for Leadership Development. Travis and Cassie Burt created a professorship in cardiovascular sciences after Dr. Mark Williams, a cardiothoracic surgeon and professor at the East Carolina Heart Institute at ECU, performed a successful triple bypass surgery on Travis Burt. James and Connie Maynard and their daughter Easter gave $1 million to create 1,000 scholarships of $1,000.
The Golden LEAF Foundation gave $1 million to support rural economic prosperity through innovation and entrepreneurship. Wells Fargo gave $100,000 for equipment to launch an advanced manufacturing lab in the College of Engineering and Technology, and TowneBank committed $3 million to the Dowdy-Ficklen Stadium Southside Renovation Project.
Information on how to support ECU's mission.
– Erin Shaw
---
$4 million grant to support engineering students
The ECU College of Engineering and Technology has received a $4 million grant from the National Science Foundation Scholarships in Science, Technology, Engineering and Mathematics Program in an effort to support low-income students pursuing undergraduate engineering degrees.
The grant will provide scholarships to 80 students total — 40 beginning in the fall semester of 2020 and 40 more in the fall of 2021. Half of each cohort will begin as freshmen at ECU, while the other half will be distributed among three community college partners — Pitt Community College, Lenoir Community College and Wayne Community College. Those students will complete their first two years of study at their respective community colleges with the intention to transfer to ECU to complete their degrees.
ECU students with demonstrated financial need will be eligible for up to $10,000 per year, while community college students can receive up to $3,000 per year.
The program is called Providing Inclusive Residential and Transfer Experience Scholarships in Engineering. It establishes a consortium among ECU and the community colleges with the common goal of supporting low-income students not only with scholarships, but also with high-impact practices such as faculty interaction, mentoring, tutoring, job-shadowing opportunities, career counseling, professional networking, extracurricular activities and team building.
One goal is to understand barriers that exist for low-income college students and the best practices to help students overcome those barriers. Another goal is to build relationships between community college students and university students and faculty before the community college students matriculate to ECU. The aim is to improve persistence into a four-year degree program, increase retention in the two-year and four-year degree programs and lead to improved educational outcomes for community college transfer students.
– Ken Buday