Want to know what's on Chancellor Dan's mind? Just ask.
Since May 6, his first day as East Carolina University's interim chancellor, Dan Gerlach has covered a lot of ground. Literally. One summer day when he sat down for 15 minutes to talk about his new job, a hole was visible in one of his well-worn shoes.
Experienced with the state government budgeting process as well as leading a philanthropic organization, he was a shrewd if unexpected choice to lead ECU out of a budget hole, boost enrollment and build the university's image. And he doesn't need a script to tell people what he envisions for the university and his plan to get there.
Improve ECU's financial condition
Increase enrollment
Improve graduation rates and postsecondary outcomes
Increase external funding
Improve ECU's image
How would you describe your first three months as interim chancellor?
My first three months at ECU have been a life-changing experience for me. What I appreciate the most is the support I've received from a broad range of people. It is a university that feels smaller than it is, even though we have so much to offer. The motto of Servire permeates the place.
How did leading the Golden LEAF Foundation prepare you for being interim chancellor?
One, I didn't need a map to get to Greenville. It allowed me to understand more fully that if ECU is not successful, the region will not be successful. It is that important of an asset in so many ways, not only in preparing the workforce for the future, not only providing top-quality research responsive to the needs of the region but providing a community rallying point. Leaving Golden LEAF, which has such an important mission, I wouldn't do that for just anything, and I think this opportunity is an incredible one.
What are your priorities for ECU?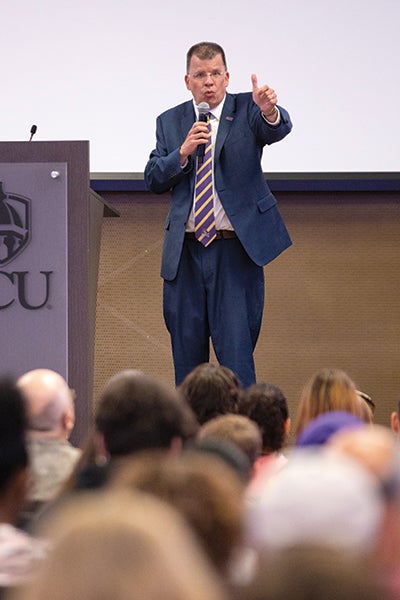 My top priorities are one, making sure that we give the opportunity to as many people as possible to come to our university. The metric of that is growing enrollment at all levels. The second thing is we have some financial issues. We have to remedy that. We have to establish a better relationship with our partner hospital, in this case, Vidant, to help pay for some of those academic and research costs for an academic medical center, from which they benefit as well. Three is what are we going to do to help raise resources privately. And I think, too, it's just calming, just to get things back to regular order. Whatever people believe about our recent past, I think people agree it's been lot of volatility. I think we just need to calm things down. And so improve the reputation of the university. You come here and others don't speak for us and you see it for yourselves – it's a great time.
What else would you like to see ECU accomplish under your leadership?
Getting our graduation rates to continue to improve, figure out ways to better meet the needs and interests of students, and partnering with the K-12 and community college educational system to provide a pipeline for future citizens to be economically successful and live full and productive lives. One other thing I might mention is to have a strong presence in helping the economic development momentum of the region.
How long will it take for ECU to close its $16 million budget gap?
We're going to plan to do it by July 1, 2020.
How would you describe the state of athletics at ECU?
People are enthused, hopeful. They are hopeful that something good will happen. They want to rally behind it. People have talked a lot about the kind of recruiting that coach Dooley's done, the excitement about Mike Houston, the continued excellence of Cliff Godwin, but I want to go see Kim McNeill's team play. That's what I want. I want to see that women's basketball team play, because I just think there's something special about her, and I just personally want to see that.
What do you want the people to think about when they hear "ECU" or "East Carolina University"?
I want them to think about access with excellence, the idea that we are open to a wide variety of students and that we give them a great experience. And what I want them to think about is we do a lot of things to give opportunities to students and also to serve regional needs.
How can students, faculty/staff and alumni help ECU accomplish what you envision for the university?
When I speak to the incoming class, I say we have some expectations of you. One of these things is to be engaged. I've tried to be engaged fully and be visible and be active in various things around campus with various groups to let them know they're appreciated. And so what I would say is to be engaged and to be loyal and bold to the principle of service that we espouse.