Calendar
---
ON CAMPUS
---
VOYAGES OF DISCOVERY
Bestselling and national award-winning North Carolina author Jason Mott released Hell of a Book in 2021. It discusses the impact and reality of race and identity on the American landscape and won the 2021 National Book Award for Fiction, was a Jenna Bush Hager "Read With Jenna" Book Club pick, a Carnegie Medals For Excellence in Fiction Longlist selection, a 2022 Aspen Words Literary Prize Longlist selection, a Joyce Carol Oates Prize Longlist selection and the 2021 Sir Walter Raleigh Prize for Fiction winner. He will speak and answer questions at ECU March 2 at 7 p.m. in the Main Campus Student Center ballroom. Afterward, Mott will sign copies of Hell of a Book, which will be available to purchase at the event.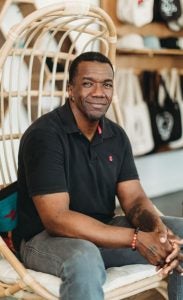 ---
ON STAGE
---
S. RUDOLPH ALEXANDER PERFORMING ARTS SERIES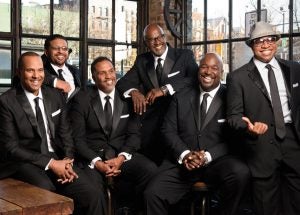 Ten Grammy Awards. Ten Dove Awards. Gospel Music Hall of Famers. Take 6 (Claude McKnight, Mark Kibble, Joel Kibble, Dave Thomas, Alvin Chea and Khristian Dentley), heralded by Quincy Jones as the "baddest vocal cats on the planet," is the quintessential a cappella group and the model for vocal genius. Six virtuosic voices united in crystal clear harmony against a backdrop of syncopated rhythms, innovative arrangements and funky grooves that bubble into an intoxicating brew of gospel, jazz, R&B and pop. Feb. 18.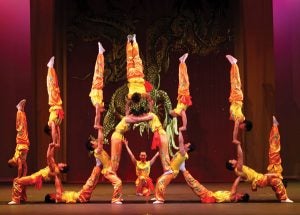 For more than three decades, The Peking Acrobats have redefined audience perceptions of Chinese acrobatics. With the Stars of the Shanghai Circus, they'll perform daring maneuvers atop a precarious pagoda of chairs and display their technical prowess at such arts as trick-cycling, precision tumbling, juggling, somersaulting and gymnastics. March 11.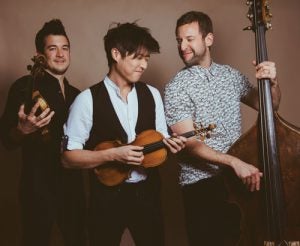 Defying convention and boundaries, Time For Three stands at the intersection of classical music and Americana. Bonded by an uncommon blend of their instruments fused together with their voices, Charles Yang (violin, vocals), Nicolas Kendall (violin, vocals) and Ranaan Meyer (double bass, vocals) have found a unique voice. April 1.
All SRAPAS events are at 7:30 p.m. in Wright Auditorium. Tickets are available at The Alexander Series.
ECU/LOESSIN PLAYHOUSE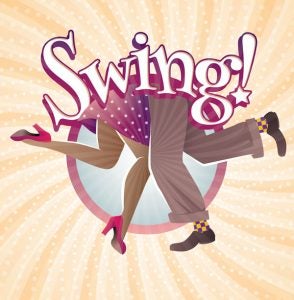 Two-thirds rhythm and one-third soul. That's how Fats Waller defined the uniquely American form of popular music and dance known as swing. Requiring only joyful enthusiasm and a ready partner, swing exploded out of prewar Harlem's hotbed of youth culture and swept the world. SWING! celebrates this remarkable diversity to the beat of the most exhilarating songs of the period. This enthralling song-and-dance show reminds us that swing isn't a time or place but a state of mind. Feb. 22-26.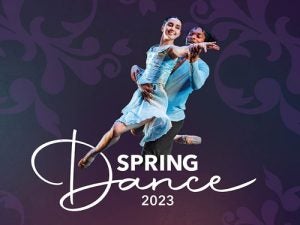 Spring Dance 2023 celebrates the works of visiting guest artists, our esteemed faculty and our student choreographers as we highlight the musical works of Kurt Weill. Each piece interprets Weill's evolving musical style, before, during and after the Holocaust. March 22-26.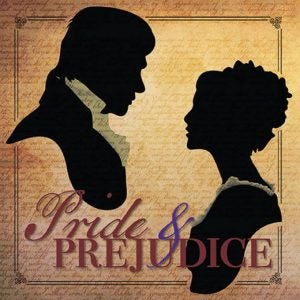 Pride and Prejudice is the theatrical version of Jane Austen's classic novel involving manners, courtship and relationships. Finding a husband is hardly Elizabeth Bennet's most urgent priority. But with four sisters, an overzealous match-making mother and a string of unsuitable suitors, it's difficult to escape the subject. When she meets the handsome but enigmatic Mr. Darcy, all feelings of attraction are muted by his pride and her prejudice. As their attraction increases, they must overcome their own weaknesses and other obstacles before the most famous courtship in history can begin. April 19-23.
FAMILY FARE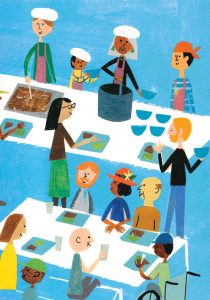 Six-year-old C.J. is (reluctantly) staying with his (extremely over-the-top) Nana, in a world considerably different from the one he's used to (his phone and tablet). The disagreeable (and let's just admit it, whiny) child is dragged on a bus ride that's loud, gritty and weird. Guided by his veritable force-of-nature Nana, C.J. sees that things are not always what they seem. ECU Storybook Theatre presents The Last Stop on Market Street, a hip-hop, eclectic, heart-thumpin', toe-tappin' joyride March 31 in Wright Auditorium and April 6 at the Paramount Theatre in Goldsboro.
---
MUSIC
---
Music and readings in remembrance of the Holocaust featuring ECU faculty artists Emanuel Gruber, cello, and Eric Stellrecht, piano, and School of Theatre and Dance faculty member Tracy Donohue, narrator. Jan. 27 at 7:30 p.m. at A.J. Fletcher Recital Hall. Free and open to the public.
ECU's Four Seasons Chamber Music Festival presents Behind the Scenes with Haydn & Beethoven Feb. 17 at 7:30 p.m. at A.J. Fletcher Recital Hall and Feb. 19 in Raleigh at Hayes Barton United Methodist Church. On March 24, they perform (An English and) Bohemian Rhapsody at 7:30 p.m. in A.J. Fletcher Recital Hall and 3 p.m. March 26 at Hayes Barton. On April 28, they perform works by Schoenberg and Tchaikovsky at 7:30 p.m. in A.J. Fletcher Recital Hall and April 30 at 3 p.m. at Hayes Barton. Tickets may be purchased online at Four Seasons Chamber Music Festival or by calling the ECU Central Ticket Office at 252-328-4788.
The ECU Chamber Singers perform Feb. 20 at 7:30 p.m. at A.J. Fletcher Recital Hall. Free and open to the public.
OPERA
ECU Opera Theater presents a series of scenes and narrations as part of the students' workshop in lyric theater performing technique. The program will feature many well-known operatic classics. April 21 and 22 at 7:30 p.m. at the historic Turnage Theater in Washington. Tickets are $15 for general admission (with optional $10 add-on for early seating); $5 for students with ID and are available at the door and at Arts of the Pamlico.
ORCHESTRA
The ECU Symphony Orchestra is in concert Feb. 11 with guest soloist Catherine Gardner and March 18 with guest oboist Robert Burkett. Performances are at 7:30 p.m. in Wright Auditorium and are free and open to the public.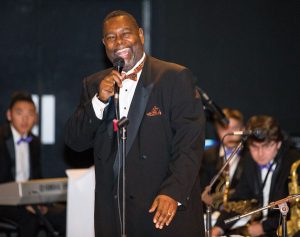 The Billy Taylor Jazz Festival returns April 27 with the ECU Billy Taylor Combo and on April 19 with the ECU Jazz Ensemble "B." Performances are at 8 p.m. in Fletcher Recital Hall Room B110 and are free. On April 22, the Billy Taylor Jazz Festival Gala featuring ECU Jazz Ensemble "A" with special guests including Carroll Dashiell is at 8 p.m. in Wright Auditorium. Free and open to the public.
The ECU Symphonic Wind Ensemble performs March 2 and April 15. Concerts are at 7:30 p.m. in Wright Auditorium and are free and open to the public.
For more information about musical performances, call 252-328-6851.