Horizons
Changing lives, changing communities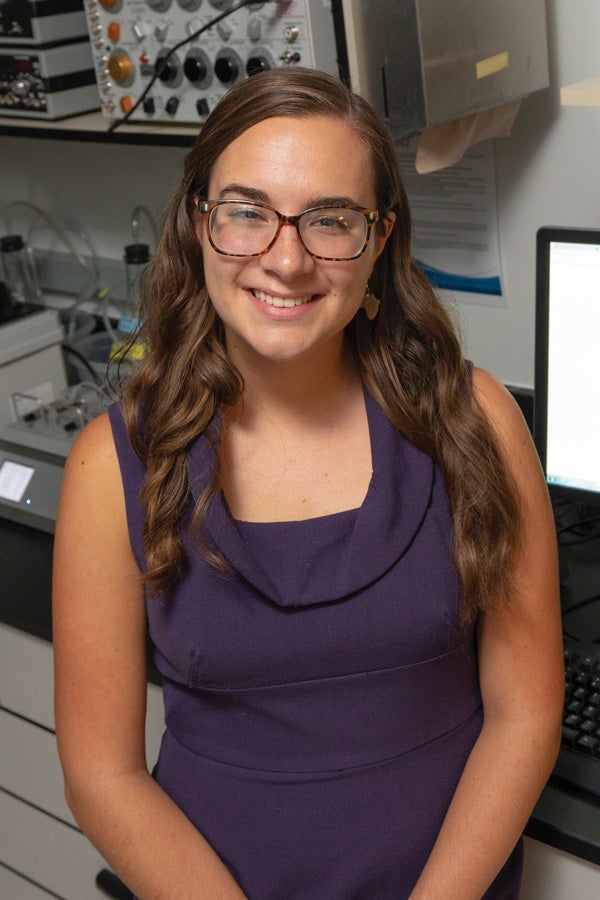 Jennifer McMains
---
Hometown: Raleigh
Year: Junior, public health studies major in the Honors College
Career goals: Attend Brody School of Medicine and become a doctor
---
Research
I've been working in Dr. Johanna Hannan's urology lab for the past two years. One of our research areas focuses on the adverse effects of prostate cancer treatments, specifically on the nerves. Damage to nerves during treatments can lead to bladder and sexual dysfunction. These issues can severely impact the quality of life for men once the cancer is gone.
I was very excited to become involved in research, although I was nervous about getting into it as a younger student. I've learned so much, from lab skills to how to write scientifically. The work is very satisfying because we're moving this research forward. I believe medical research is the future of medicine. It truly helps others on a broader scale.
Philanthropy and service
I'm passionate about service. It kind of becomes an addiction; once you do it once, you want to do it more and more. And without others' philanthropy, we wouldn't be able to fund our research and improve the quality of life for cancer survivors.
Support the Honors College
As the student population of the Honors College grows, there is a strong need for additional funds to support the living-learning experiences, academic priorities and study abroad. For more information about how to support the college, contact Nate Evans, senior advancement officer, at 252-737-5232 or evansna@ecu.edu.
---
LECTURE SERIES RECEIVES ENDOWMENT
Pulitzer Prize-winning novelist Colson Whitehead, underwater explorer Jean-Michael Cousteau, primatologist Jane Goodall and astrophysicist Neil deGrasse Tyson have come to East Carolina University to share their unique perspectives, and such luminaries
will continue to be a staple thanks to an endowment for the Voyages of Discovery Series.
The Ms. Harvey S. Wooten Voyages of Discovery Endowment is the first endowment for the series. Wooten is one of the founding members of the Harriot College Dean's Advancement Council and has been involved in the series since its beginning.
"I just feel so strongly about this lecture series," she said. "It's a way to bring intellectual stimulus to the university and the community with big names that might not ever come here otherwise."
Humanitarians, authors, activists and astronauts have been featured since the Harriot College established the series in 2007.
Wooten, a Kinston native, has lived in Greenville for nearly 40 years. She served as the co-chair of the THCAS Advancement Council for 10 years. She has provided generous funding for the college and established the Harvey Sharp Wooten Study Abroad Scholarship and the Harvey Wooten Social Sciences Scholarship.
"Harvey Wooten is, without match, our most loyal and generous supporter of the Voyages of Discovery Series," said Harriot College Dean William M. Downs. "For years, she has
contributed funds that have enabled Harriot College to bring some of the world's foremost scientists, authors, policymakers and world-changers to Greenville. By creating the Wooten Endowment, she has laid a solid foundation for the series' future."
Wooten said she never misses a lecture. Her favorites over the years include paleoanthropologist Richard Leakey, writer and journalist Walter Isaacson and Tyson. Above all, Wooten said, she hopes the endowment will bring more attention to the series and encourage more people to give to it.
– Erin Shaw
---
GIFT FUNDS FACULTY POSITIONS IN HEMATOLOGY/ONCOLOGY
East Carolina University and Vidant Health have partnered to create two senior faculty positions in the Division of Hematology and Oncology at the Brody School of Medicine. The positions are being funded by a gift to the Vidant Cancer Care campaign by Mr. and Mrs. Robert Barnhill Jr. of Tarboro.
The professorships will be named the Barnhill Family Distinguished Professorship and the Robert and Penny Barnhill Distinguished Professorship. Vidant and ECU will determine the timing of the creation of the positions as well as tenure status, compensation, responsibilities and candidate selection.
"We've all been touched by cancer in one way or another," said Dr. Mark Stacy, dean of the medical school. "We're grateful to the Barnhills for their generous contribution to battling this disease that creates an especially heavy burden on our part of the state. This gift creates new opportunities to explore and advance the way we deliver oncology care here."
Barnhill, a native of Edgecombe County, graduated from ECU in 1970 with a degree in business administration. His family's company, Barnhill Contracting, was founded in 1949 and is headquartered in Rocky Mount.
"We are passionate about giving back to the community within which we work and live," he said. "It is our hope that we can continue to support medical research and health care initiatives in eastern North Carolina with this gift."
"The Brody School of Medicine and Vidant are leaders in providing skilled doctors and essential care to eastern North Carolinians," said ECU Chancellor Cecil Staton." That commitment to health and service continues with these professorships made possible by the generosity of the Barnhills. It is a gift that will inspire faculty to push the frontiers of their scholarship and research as well as prepare students to follow their path as successful physicians."
– ECU News Services