Calendar
On Campus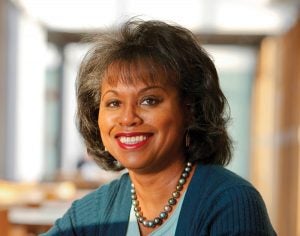 She burst on the national scene in 1991 when she made sexual harassment claims against Supreme Court nominee Clarence Thomas in testimony before Congress. Today, Anita Hill is a women's and civil rights advocate and law professor at Brandeis University in Waltham, Massachusetts. She's collaborating with artist Mark Branford to create a 400-foot painting in Washington, D.C., that revisits the lost texts of civil rights activist Myrtle Evers-Williams.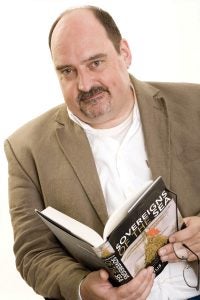 And she's speaking at East Carolina University on Nov. 15 at 7 p.m. in Wright Auditorium as part of the Voyages of Discovery lecture series. The title of her talk is "Social Movement to Social Impact: Putting an End to Sexual Harassment in the Workplace."
In the second Voyages event of the fall, Angus Konstam, author, historian and world-renowned expert on pirates, will present "Blackbeard at 300: New Findings on North Carolina's Most (In)famous Pirate" at 7 p.m. Oct. 25 in Wright Auditorium. A former naval officer, underwater archaeologist and museum curator, Konstam specializes in maritime and military history. He's best known for his work on piracy and is the author of more than 100 books, including "History of Pirates" and "Blackbeard: America's Most Notorious Pirate." His visit to ECU coincides with the 300th anniversary of Blackbeard's death.
---
On Stage
S. Rudolph Alexander Performing Arts Series
The Tony Awards meets "Whose Line Is It Anyway?" in "Broadway's Next H!T Musical." Every song is fresh, every scene is new and every night is different. It's all improvised, and it's all funny. Master improvisers gather made-up hit song suggestions from the audience and create a spontaneous evening of music, humor and laughter. The audience votes for their favorite made-up song and then watches as the cast turns it into a full-blown improvised musical, complete with memorable characters, witty dialogue and plot twists galore. Oct. 11 at 8 p.m. in Wright Auditorium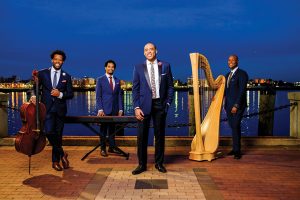 "The Sons of Serendip" are four friends who through a series of serendipitous events got together in graduate school and auditioned for "America's Got Talent." They quickly became an audience favorite and won fourth place in the 2014 competition. Fast forward, and the friends have five albums to their credit.
They'll perform selections from their album "Christmas Beyond the Lights" at ECU on Nov. 29 at 8 p.m. in Wright Auditorium.
Family Fare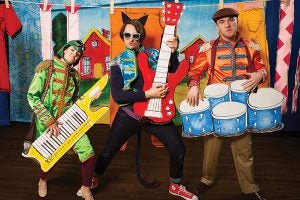 When Pete the Cat gets caught rocking out after bedtime, the cat-catcher sends him to live with the Biddle family to learn his manners – and boy are they square! But for the groovy blue cat, life is an adventure no matter where you wind up, so the minute Pete walks in the door, he gets the whole family rocking. The whole family, that is, except for young Jimmy Biddle, the most organized second-grader on planet Earth. Enjoy "Pete the Cat" on Oct. 5 at 7 p.m. in Wright Auditorium.
In an Appalachian retelling of the classic tale, "Jack and the Wonder Beans" reinforces a truth: A life simply lived is simply worth living. Mayhem ensues when Jack trades his cow for "seeds." His adventures with the High Tall Giant Woman and her husband go awry until the audience restores order for Jack and his Mam. One performance Nov. 2 at 7 p.m. in Wright Auditorium.
---
Music
Festivals
ECU's Four Seasons Chamber Music Festival presents two concert residencies at A.J. Fletcher Recital Hall in Greenville this fall, with the Season Opening Extravaganza on Sept. 27 at 7 p.m. and Sept. 28 at 8 p.m.; and Chamber Music Monuments on Nov. 8 at 7 p.m. and Nov. 9 at 8 p.m.
The Season Opening Extravaganza is reprised Sept. 30 at 3 p.m., and Chamber Music Monuments is reprised Nov. 11 at 3 p.m., both at Hayes Barton United Methodist Church in Raleigh.
Four Seasons Next Generation concerts are presented this fall in Greenville at A.J. Fletcher Recital Hall on Oct. 19 at 7:30 p.m.; in Durham at the Nelson
Music Room at Duke University on Oct. 21 at 5 p.m.; at First Presbyterian Church in Greensboro on Oct. 26 at 7:30 p.m.; and at Myers Park Baptist Church in Charlotte on Oct. 28 at 5 p.m. Next Generation ECU faculty artists, ECU Next Gen alumni artists and selected ECU students perform and interact with selected participants in each concert city. Free and open to the public.
Three Four Seasons Winter Workshop concerts of different programs are presented Jan. 4 at 7 p.m., Jan. 5 at 7 p.m. and Jan. 6 at 3 p.m. at A.J. Fletcher Recital Hall in Greenville. Workshop faculty guest performing artists Ani Kavafian, violin; Ida Kavafian, violin/viola; Steven Tenenbom, viola; Michael Kannen, cello; Colin Carr, cello; and others will join ECU faculty and rising stars from throughout the world in the concerts. Free and open to the public
North Carolina NewMusic Initiative director Ed Jacobs welcomes ModernMedieval to ECU's A.J. Fletcher Recital Hall on Sept. 13.
ModernMedieval Trio of Voices is a new, all-female ensemble created by Jacqueline Horner-Kwiatek, former member of the renowned vocal quartet Anonymous 4. Martha Cluver and Eliza Bagg join her from the celebrated ensemble Roomful of Teeth to present programs that combine Medieval chant and polyphony with new commissions and music from later eras.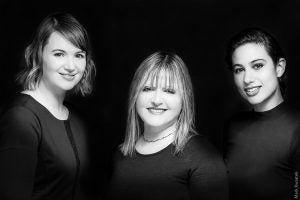 Hornist Adam Unsworth and Ukrainian-born, Australian-based composer/pianist Catherine Likhuta will perform contemporary works for horn and piano in A.J. Fletcher Recital Hall on Oct. 25. Formerly a member of the Philadelphia Orchestra, Unsworth has recorded five critically acclaimed albums as a leader, including "Balance," a jazz recording for horn, jazz sextet and chamber orchestra, and "Snapshots," a recording of contemporary works with Likhuta.
Premiere Performances, a concert dedicated to the newest ideas of ECU's developing young composers, will be presented at the School of Music's A.J. Fletcher Recital Hall on Nov. 19.
All North Carolina NewMusic Initiative concerts are at 7:30 p.m., and admission is free. More information is at ecu.edu/newmusic.
Opera
ECU Opera Theater and directors John Kramar and Daniel Shirley resent A Little Night Music by Stephen Sondheim at the historic Turnage Theatre in Washington, with performances Nov. 16 at 7 p.m. and Nov. 17 at 2 p.m. and 7 p.m.
Suggested by the film Smiles of a Summer Night by Ingmar Bergman, A Little Night Music is a romantic comedy with a tangled web of involvements that continues to surprise with twists and turns. Featuring the classic song "Send in the Clowns" and a beautiful, lush score, A Little Night Music is a story of love, nostalgia, regret and the magic of music on a summer's night.
For ticket information call 252-946-2504.
Orchestra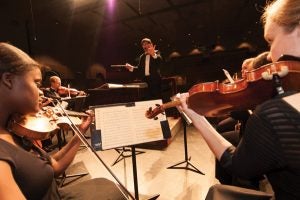 The ECU Symphony Orchestra, Jorge Richter, conductor, is in concert three times in fall semester. Concerts are Sept. 15, featuring Rota's Concerto for trombone and orchestra, Stephen Ivany, guest soloist, and Berlioz' Symphonie Fantastique, Op. 14; Oct. 6, featuring Beethoven's Piano Concerto No. 1 in C major, Op. 15, Kwan Yi, guest soloist, and Dvořák's No. 8 in G major, Op. 88; and Nov. 10, featuring Bernstein's Symphonic Dances from West Side Story, Mignone's Concertino for Clarinet and Orchestra, Douglas Moore-Monroe, guest soloist, and Ginastera's Dances from Estancia, dance suite from the ballet.
All ECU Symphony Orchestra performances are at 7:30 p.m. in ECU's Wright Auditorium and are free and open to the public. For information, call 252-328-6851.
Bands and Ensembles
The Symphonic Wind Ensemble, the Concert Band and the Symphonic Band take the stage for Bandoramas on Sept. 25 and Nov. 8. Both concerts are in Wright Auditorium at 7:30 p.m.
Oct. 18 is all about the mallets and sticks, timpani and tom toms, and cymbals and gongs at Fletcher Music Center when the Percussion Ensemble performs in
Room B110 at 7:30 p.m.
Classical guitarists perform together when the ECU Guitar Ensemble concertizes Nov. 27 at 7:30 p.m. in A.J. Fletcher Recital Hall.
Cool cats rule at Wright Auditorium on Dec. 1 with the ECU Combined Jazz Ensembles in a jazzy concert at 8 p.m.
The annual Holiday Band Concert featuring songs of the season and a visit from Santa is Dec. 2 in Wright Auditorium at 2 p.m.
Band and ensemble concerts are free and open to the public. For information, call 252-328-6851.
Choirs
The ECU Chamber Singers are in concert at Peace Presbyterian Church in Winterville on Oct. 12 at 7:30 pm. The ECU University Chorale and Concert Choir performs Oct. 22, and the ECU Collegiate Choir takes the stage Nov. 26, both in A.J. Fletcher Recital Hall at 7:30 p.m.
All concerts are free and open to the public.
Faculty Recitals
Fall ECU School of Music faculty recitals include Nicole Franklin, soprano, Sept. 17; Faculty Brass Concert, Oct. 1; Jarrod Williams, tuba, Oct. 26; Faculty Chamber Recital, Oct. 29; and Christine Gustafson, flute, Nov. 12.
All faculty recitals are in A.J. Fletcher Recital Hall at 7:30 p.m., are free and open to the public and include a post-recital reception. For information, call 252-328-6851.
Guest Artists
Two tuba guest artists perform at the School of Music in fall 2018 — Tom Holtz on Sept. 16 and Seth Horner on Nov. 6.
Recently retired from his position as a tubist with the United States Marine Band, Holtz is a freelance performer in classical and jazz venues across the mid-Atlantic region. He will be joined by ECU faculty members for a concert of traditional jazz.
Horner joined the North Carolina Symphony in 2017 as principal tuba. Previously, Horner was acting principal tuba of the Baltimore Symphony Orchestra for three seasons and held faculty appointments teaching tuba and euphonium at Towson University and the Peabody Institute of the Johns Hopkins University.
The School of Music celebrates National Hispanic Heritage Month this fall with three guest artist recitals: guitarist Adam Kossler on Sept. 18; the North Carolina Guitar Quartet on Sept. 26;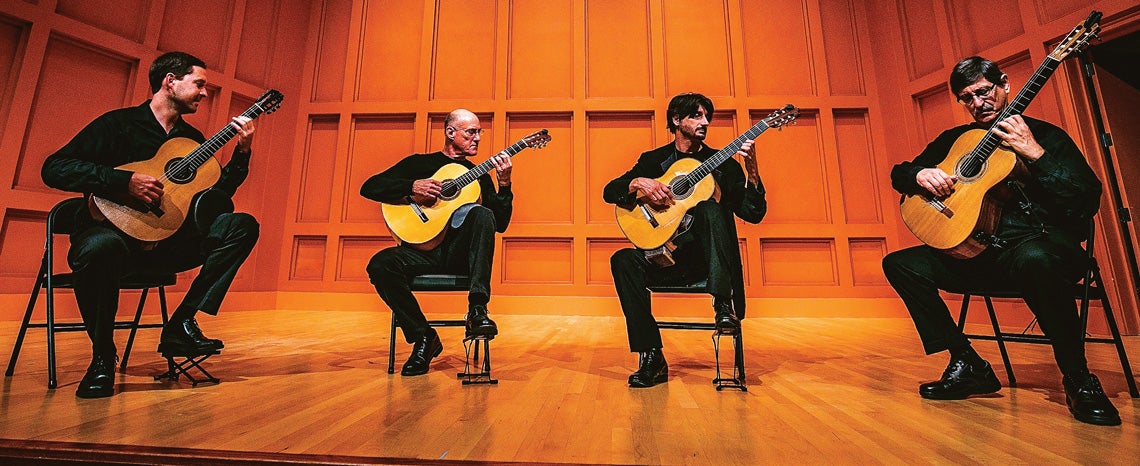 and Duo Guitiano, featuring guitarist Carlos Castilla and pianist Amanda Virelles, on Oct. 2. The concert series features composed and arranged guitar music of vibrancy and intensity by Spanish and Latin American composers. The works draw on the diverse cultural influences of Spanish and Latin styles.
All guest artist recitals are in A.J. Fletcher Recital Hall at 7:30 p.m. and are free and open to the public. For information, call 252-328-6851.
---
Exhibits
The Wellington B. Gray Gallery in the Jenkins Fine Arts Center presents the Keaton and Umberger Gala Art Auction and Sale of fine art, crafts and decorative pieces Sept. 22 from 6 to 9 p.m. The evening features the auction and sale and hors d'oeuvres and beverages from local establishments. Tickets are $25 and may be purchased by calling 252-328-1268 by Sept. 14. Proceeds from the event will support scholarships and programs at the School of Art and Design.
The Beyond Ornament and ECU Metals exhibition will be presented Jan. 7-Feb. 15, with a First Friday reception Feb. 1 from 5-8 p.m. Beyond Ornament is a major survey exhibition highlighting North Carolina makers of studio jewelry. The artists selected for the exhibition produce objects that enhance and embellish the human body and also question what jewelry and ornament can be.
Two associated exhibitions will take place during Beyond Ornament — Cadavre Exquis will explore the role of collaboration in jewelry design, and ECU Metals will showcase teachers and students
from the university's master of fine arts in art with a concentration in metal design in the School of Art and Design graduate metals program.
Other Gray Gallery exhibitions include the Undergraduate Exhibition Oct. 5-20, reception Oct. 5; the MFA Exhibition Nov. 2-26, reception Nov. 2; and the BFA Group Exhibition Dec. 5-14, reception Dec. 7. Details are at ecu.edu/graygallery.
Gallery hours are Monday through Thursday 10 a.m.-7 p.m. and Fridays and Saturdays noon-4 p.m. Admission is free. The gallery is closed for all university holidays. For more information, call 252-328-1312.