Homecoming
Oct. 20, 2018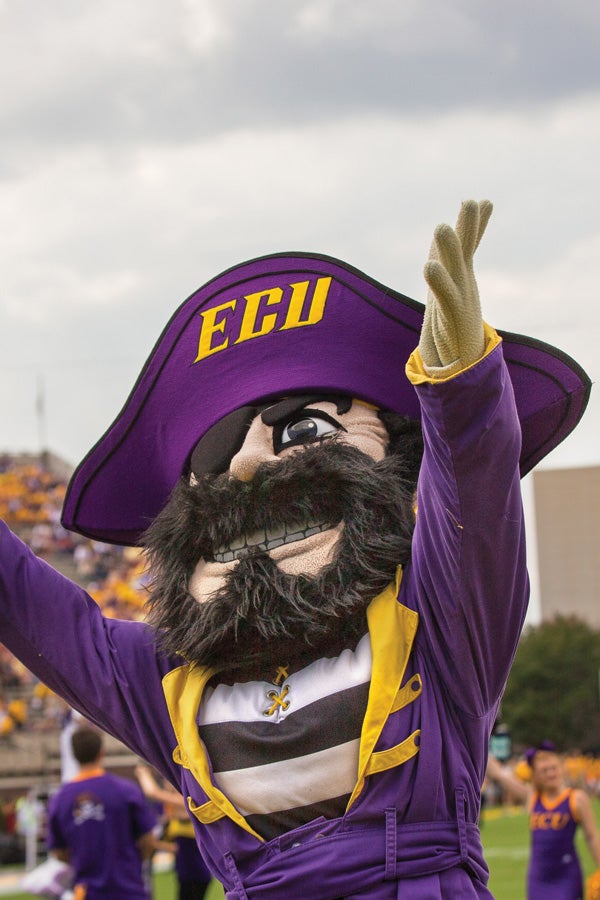 Pirate Doughnut Party and homecoming parade
Oct. 20, 8 a.m.
Join us at the Taylor-Slaughter Alumni Center to watch the parade. See PeeDee, the Marching Pirates and other bands, ECU cheerleaders, student organization floats, the homecoming court and Alumni Award recipients. Also enjoy various Pirate-themed doughnuts provided by sponsor Krispy Kreme. The Pirate Doughnut Party starts at 8 a.m. followed by the parade at 9 a.m.
Pirate game-day tailgate
Oct. 20, three hours before kick-off
Join fellow alumni and fans at ECU's Johnson Stadium for tailgating fun before the homecoming football game against UCF. Enjoy a variety of food, beverages, music, door prizes and more. More information is at PirateAlumni.com/tailgate.
The Black Alumni Chapter of the ECU Alumni Association presents
the 2018 Black Alumni Reunion. More information is at PirateAlumni.com/2018BAR.
Marching Pirates Alumni Reunion
Join fellow former band members for a weekend of fun, music and football. More information is at PirateAlumni.com/MPReunion.
Golden Graduates Reunion for 1967 and 1968 alumni and friends as well as all Pirates who have achieved their Golden Graduate status. More information is at PirateAlumni.com/GGR.
Dowdy Student Stores
homecoming celebration and sale
Oct. 18-20
Dowdy Student Store, Wright Building.
Sale prices throughout the store. Alumni show us your class ring and we'll give you 1 percent off your regurlarly priced purchase for each year since graduation, up to 30 percent off regular prices. Enter our drawing for a tailgate tent, and show your Pirate Pride in our selfie–station photo booth Saturday. More information is at studentstores.ecu.edu and on Instagram and Twitter.
Homecoming canned food drive
Oct. 19, 11 a.m.-4 p.m.
Food Bank of Central and Eastern North Carolina. Contact homecoming@ecu.edu or 252-737-1808.
Homecoming Pep Rally at Freeboot Friday
Oct. 19, 5-8 p.m.
Uptown Greenville
Free, contact homecoming@ecu.edu or 252-737-1808.
COLLEGE, SCHOOL AND DEPARTMENT EVENTS
College of Allied Health Sciences
Homecoming tailgate
Oct. 20, three hours before kickoff
Free, location TBD
RSVP by Oct. 1
Alyssa De Santis Figiel, desantisa14@ecu.edu
College of Fine Arts and Communication
Four Seasons Next Generation Concert</em
Oct. 19, 7 p.m.
A.J. Fletcher Music Center
Free, contact John Holloway, 252-328-6019 or hollowayjo14@ecu.edu
College of Education
Breakfast on the porch
Oct. 20, 8:30–10 a.m.
Speight Building Porch
Free, no RSVP
Lisa Marie Hagen, hagenl@ecu.edu
College of Health and Human Performance
Homecoming breakfast
Oct. 20, 8 a.m.
Tent in front of Rivers Building (Fifth Street side)
Free, RSVP by Oct. 8
Kathy Muse, musek@ecu.edu
College of Nursing
Homecoming festivities
(Refreshments and hors d'oeuvres served)
Oct. 19, 5–7 p.m.
College of Nursing front lobby
Free, RSVP by Oct. 1
Jane Boardman, boardmanj@ecu.edu or 252-744-6504
Thomas Harriot College of Arts and Sciences
Homecoming breakfast
Oct. 20, 8 a.m.
Lawn beside Whichard Building facing Fifth Street
Free, RSVP by Oct. 12.
Jessica Nottingham, thcas@ecu.edu or 252-737-1753
Honors College
College Fall Festival
Oct. 19, 4–8 p.m.
Brock's Farm, 862 Laurie Ellis Road, Winterville
Free, RSVP by Oct. 5
honorscollege@ecu.edu or 252-328-6373
Biology
Homecoming Biology Nerd Nite
Oct. 19, 7 p.m.
Tapped, 650 E. Fire Tower Road, Winterville
Free, contact Chris Balakrishnan, balakrishnanc@ecu.edu
Department of Chemistry
Homecoming celebration
Oct. 19, 5 p.m.
Science and Technology Building third floor atrium area
Cost TBD, RSVP by Oct. 1
Department of Criminal Justice
Alumni reception & tailgate
Oct. 20
Time/location TBD
Free, contact Bradley Fornes, fornesb17@ecu.edu or 252-328-4192
GREEK EVENTS
NPHC Step Show
Oct. 19, 7 p.m.
Cost TBD
Wright Auditorium
Dorothea Mack, mackd@ecu.edu or 252-328-4235
OTHER
Volleyball alumni reunion
Oct. 20 alumni game at 10 a.m. and tailgating afterward
RSVP by Oct. 1
Mo Simmons, simmonsm18@ecu.edu or 252-737-1589
Career Services homecoming parade watch
Oct. 20, 9-11 a.m.
Career Services house on Fifth Street
Karen Franklin, 252-328-6050
Blackbeard 300 exhibit viewing and family open house
Oct. 20, 10 a.m.
Joyner Library
Enjoy refreshments and free kids activities including story time and face painting.
ECU volleyball
Football isn't the only game in town homecoming weekend. ECU volleyball is also in action in Williams Arena at Minges Coliseum.
ECU vs. UCF
Oct. 19, 7 p.m.
ECU vs. USF
Oct. 21, noon
Adults $6, age 12 and under $3
800-DIAL-ECU or ECUPirates.com
---
2018 Alumni Award Recipients
The following Pirates will be recognized Oct. 19 at the Alumni Awards Ceremony and Dinner and during halftime of the Oct. 20 homecoming football game.
Danny Scott '84 of Swansea, Illinois, spent a 30-year career in corporate business at Anheuser-Busch, Monsanto and Nabisco before cofounding the specialty food company All-N-Food LLC in 2011. He also served on the ECU board of trustees for eight years.
Austin Bunch (posthumous) served as assistant to three Chancellors, an adjunct assistant professor in the College of Education, and associate provost and senior associate provost.
Dr. Kodi Azari '97M of Pacific Palisades, California, is professor of orthopedic surgery and plastic surgery and surgical director of the hand transplant program at UCLA Health.
Lt. Commander Kathleen Ferguson '07 of Atlanta is a quality-assurance specialist for the Centers for Disease Control and Prevention.
Charles Jenkins '66 '67 of Laurinburg is a clinical professor/professor emeritus of educational leadership at UNC-Pembroke, where he has worked in numerous roles for more than 47 years.
Tywana Lawson '07 '13 of La Grange is director of nursing programs at Nash Community College.
More information about the award recipients and their photos can be found here.
---
The alumni awards ceremony and dinner begin at 5:30 p.m. Oct. 19 at the Greenville Convention Center. Alumni, friends and guests are welcome; advance registration is required. To be a sponsor or for general information, contact Shawn Moore '91 '98 at 252-328-5775 or mooresh@ecu.edu. More information is at
www.PirateAlumni.com/APurpleGoldEvening.
The alumni association is accepting nominations for the 2019 Alumni Awards Nov. 1-Jan. 31. More information is at PirateAlumni.com/AwardsProcess.