Buying officially licensed ECU products supports the Pirates
One of the strongest traditions at ECU is showing your pride by wearing and displaying your favorite purple and gold products. From apparel, tailgate tents and flags, to blankets, bags, picture frames and jewelry, you can find it branded for Pirate Nation.
Loyal Pirate fans should look for the "official licensed products" label when shopping at your favorite retail outlets. The officially licensed products label confirms the university has approved the product, and royalties derived from the sale support the Pirates.
When looking for officially licensed ECU products, try our online store, shop.ECUPirates.com, or visit one of our retailers. More information can be found here and here.
ECU was a national leader when it established its trademark licensing program in 1983 to protect the use of its name and symbols. The university has established formal licensing procedures that also enable the institution to share in the benefits derived from the commercial use of its name and symbols.
Remember, every Friday is a 'Paint It Purple' Friday for all of Pirate Nation to show your pride by wearing purple and gold wherever you go. For more information, please contact the ECU Trademark Licensing Office at 252-737-1508.
---

Where to buy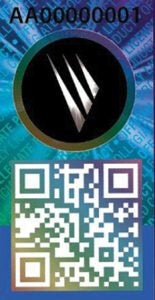 Look for the label
This tag indicates official merchandise.