Horizons
Changing lives, changing communities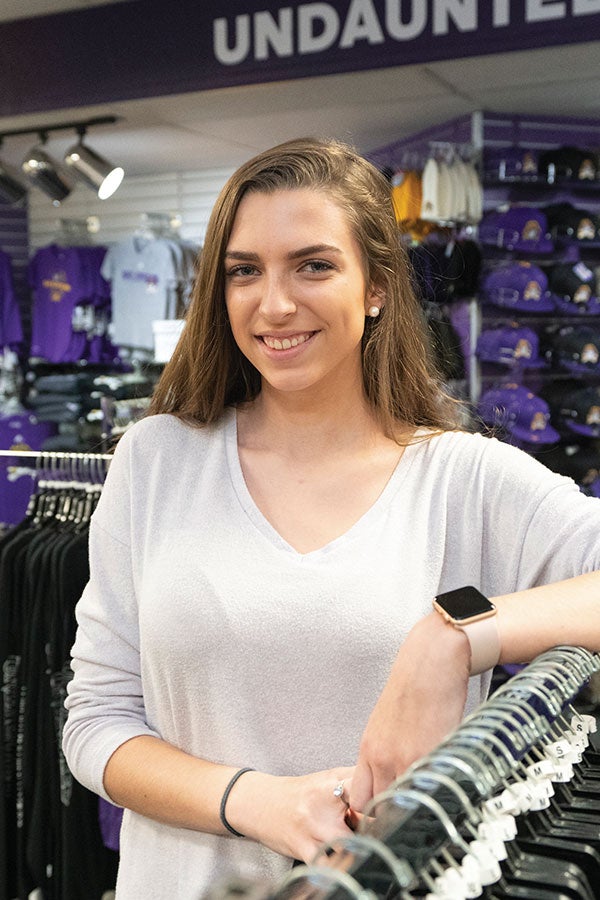 Bethany Alligood
---
Hometown: Pinetown
Year: Freshman, health service management major
Career goals: Work at Vidant Medical Center in Greenville

---
Philanthropy and service
Almost all of my family has graduated from ECU, including my grandma, mother and cousins. My father currently attends ECU as well.
Receiving (a $1,000) scholarship has helped me and my family out tremendously. My parents and grandparents are helping pay for my college, but it is difficult at some times because my dad is in college the same time as I am, and my sister will be in college shortly. This scholarship has helped me not have any student debt.
Why give?
If a donor is considering giving to a scholarship fund, I would greatly advise them to do so. Scholarships help students and even the smallest scholarship can be impactful in some way.
Support scholarships at ECU
Scholarships don't have to be large to benefit students like Bethany. An example is the new Chancellor's Scholars program, which seeks to significantly increase general scholarship offerings for first-year students who might not otherwise receive financial aid. Starting in fall 2019, the program will award freshmen scholarships each averaging $1,000 a year. A $1 million gift from James and Connie Maynard and their daughter, Easter, will fund the first year of the program. The university intends to build and sustain these scholarships long-term through continued support from alumni and friends as well as through endowments. Visit ecu.edu/give for more information about how to support the Chancellor's Scholars program.
---
THE DARRAGH SCHOLARS PROGRAM – THE BEST SCHOLARSHIP YOU'VE NEVER HEARD OF
A lesser-known scholarship at ECU aims to attract high achieving students on par with top scholarships at other universities.
The Gordon Darragh Leadership Scholars Program, valued at up to $100,000, provides a merit-based, four-year scholarship that covers tuition, fees, room and board and emphasizes leadership development with the goal of enhancing the overall image of the university.
The scholarship's namesake is a retired Greenville resident with a passion for supporting students. He said he hopes his scholarship helps attract the greatest talent to ECU.
"I didn't realize how competitive it was to attract the top students in the state," Darragh said. "It's a lot like recruiting for football or basketball. It's about what you can offer."
One thing that distinguishes the Darragh scholarship is that if a student decides to pursue a master's degree at ECU, the scholarship will cover tuition, books and fees for that as well, Darragh said.
The scholarship program, now in its third year, requires students to maintain a 3.5 cumulative GPA, participate in an annual alternative break experience trip with the Center for Leadership and Civic Engagement and live on campus for the duration of the scholarship. The student selected each year participates in the Jarvis Leadership Living-Learning Community and completes the ECU Leads program.
Erin Mackey is the first Gordon Darragh scholar.
"I felt very honored that I had been chosen for such an amazing scholarship and was all the more enthusiastic about starting my journey at ECU," she said. Since receiving the scholarship, Mackey has worked as the student leadership assistant in the Center for Leadership and Civic Engagement, served as the president of ECU's Design and Production Club and participated in two alternative break experiences.
For 2018 Darragh Scholar Makayla Harris, the scholarship was an opportunity she couldn't pass up.
"College can become a financial burden, and I did not want that to weigh on me or my family," Harris said. "Actually being seen as someone who was worthy enough to receive (this scholarship), I am honored."
– Erin Shaw
---
AWARDS RECOGNIZE ECU BENEFACTORS
Chancellor Cecil Staton honored the contributions of the Minges and Jenkins families as well as the Kate B. Reynolds Charitable Trust at the Chancellor's Amethyst ceremony Nov. 1.
---
---
The Chancellor's Amethyst is a special recognition of philanthropic commitment and generosity to ECU that is awarded each fall and spring.
"Our donors are partners in creating an extraordinary ECU. They allow us to sustain innovation, excellence and competitiveness for the long term," Staton said.
The first award went to the Jenkins family. Its patriarch, Leo Jenkins, was ECU's sixth president. He pushed for campus expansion and stronger academic programs. He succeeded in gaining university status and NCAA recognition. He then led the creation of a medical school, recognizing the eastern part of the state desperately needed doctors. Jenkins died in 1989.
The next amethyst went to the Minges family. Dr. Ray Minges was a guiding force in promoting the development and growth of the athletic program as well as the East Carolina University Century Club (now the Pirate Club). His brother, John F. "Jack" Minges, donated $25,000 to the school to build a basketball arena. The donation was the largestever gift to the university at that time. In 1968, the university named the building Minges Coliseum to honor the family's ongoing support.
The third amethyst recipient, the Kate B. Reynolds Charitable Trust, is an organization with a mission to improve the health and quality of life for North Carolinians in need. The trust has partnered with ECU for much of its 70-year existence to support programs such as a case management program for school children with chronic illness and increased services for people with HIV/AIDS in eastern North Carolina.
– Erin Shaw