Horizons
Changing lives, changing communities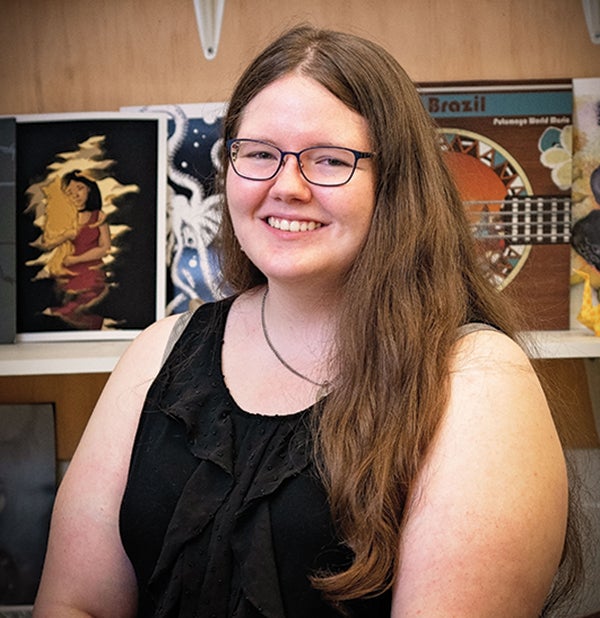 Rebecca Breece
---
Hometown: Smithfield
Year: Senior
Major: Illustration
Career goals: Become a freelance illustrator for children's books or product packaging

---
What do you enjoy about illustration?
I enjoy being able to take objects, people or environments and changing, stylizing or combining them into something new and different. I get to let people see my own take on how I view the world. I also just feel like illustration is very open, as you can do so many things with it and combine so many different artistic mediums to create an image.
How has having a scholarship helped you?
I have many loans out under my name, so any money is helping me with art supplies and paying off debt. With all the pressure I am under, it has definitely helped lift a bit of the weight off my shoulders. It is important to give art scholarships as you are helping to build someone's future by supporting them in their creative pursuit. Every bit of money donated is going toward creative visual solutions that enhance all of our lives.
---
Donor spotlight: Richard Bean
The Richard Bean Scholarship supports students such as Rebecca who are majoring in art or art education with concentration in graphic design, illustration or photography. Bean, of Greensboro, had a deep appreciation for education as evidenced by his scholarships at N.C. State and ECU.
---
BB&T LEADERSHIP CENTER RECEIEVES $5 MILLION GIFT
A $5 million gift to East Carolina University from an organization that wishes to remain anonymous will support the BB&T Center for Leadership Development, which has provided opportunities for leadership growth at ECU since 1983.
"Faculty and student leaders are made here with invaluable help from the BB&T Center for Leadership Development," said Chancellor Emeritus Cecil Staton. "This tremendous donation will help ensure leadership is truly a part of the university's DNA, thereby enabling Pirates to lead in the community, the state and beyond in whatever capacities they wish to pursue."
ECU, with the continued support of the BB&T Center, strives to ensure every student has the opportunity to develop leadership skills. The goal of the BB&T Center is to embed leadership development across all curriculums with a focus on developing student leaders as a part of regular classroom instruction. The center has provided grants to colleges and schools across the university.
Successful initiatives include a four-course leadership component in the College of Business curriculum, the implementation in the Brody School of Medicine of the LINC Program (Leaders in Innovative Care) and the Enhancing Leadership course of study each year for all students in the College of Nursing.
The center also provides opportunities for leadership development through several programs for faculty, including the BB&T Faculty Leadership Fellows Program, the BB&T Active Learning and Leadership program and the Chancellor's Leadership Academy.
By teaching faculty how to cultivate classroom leaders, students in turn learn the art of motivating, influencing and directing others. The 146 faculty members who have completed the programs have incorporated leadership development in 2,400 sections of close to 900 courses for over 40,500 students.
"The center is truly a unique aspect of the university and of the University of North Carolina higher education system," said Steve Ballard, former chancellor and director of the BB&T Center for Leadership Development. "It fully supports our vision that ECU students will receive a great classroom education, practical problem-solving experience and a better understanding of who they are as leaders."
– Erin Shaw
---
JENKINS SOCIETY INDUCTS NEW MEMBERS
Every year, donors make planned gifts to East Carolina University that support scholarships, professorships and endowment funds. This year was no different, with donors championing areas from business to nursing to math education.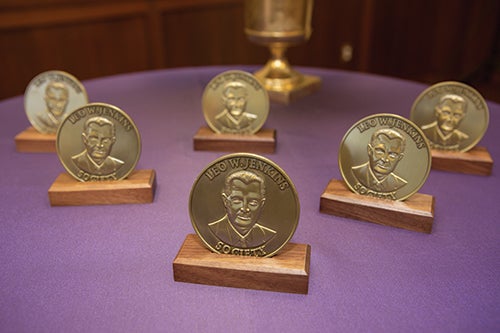 Their philanthropy earns them membership in the Leo W. Jenkins Society, a group of benefactors who support the university through will bequests, retirement plan beneficiary designations and life insurance policy designations. The nature of these gifts means many donors will not be alive to see their gifts implemented. But they give anyway.
This year, ECU inducted 26 new members into the Leo W. Jenkins Society at a luncheon honoring the inductees. Chancellor Emeritus Cecil Staton expressed his gratitude and spoke of the trust in ECU a planned gift demonstrates.
"ECU is a wonderful university where wonderful things are taking place," he said. "I'm so grateful to the Pirates and friends like you who believe in ECU enough to step up and support our students, our faculty and our mission."
One donor, Sallie Chauncey Mercer, said her bequest will establish a scholarship in the risk management and insurance program in the College of Business. Mercer spent 30 years working in insurance and spoke highly of her experiences working with ECU students and graduates. Her scholarship is in memory of her son, Jack, who died last June.
"This scholarship keeps his name alive and supports a career that I loved. It was absolutely the right choice for this," she said.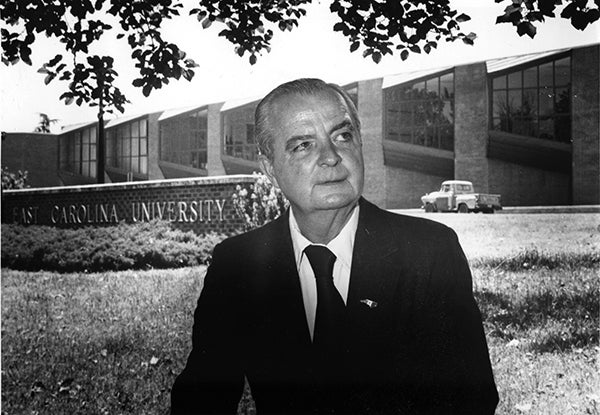 The Leo W. Jenkins Society
is named after the university's sixth president. The fine arts center also bears his name, but lesser known is the fact Jenkins was an artist in his own right. When he wasn't leading the university, Jenkins was an amateur painter who often gave his paintings as gifts to donors.
Learn more about the Jenkins family:
– Erin Shaw