Horizons
Changing lives, changing communities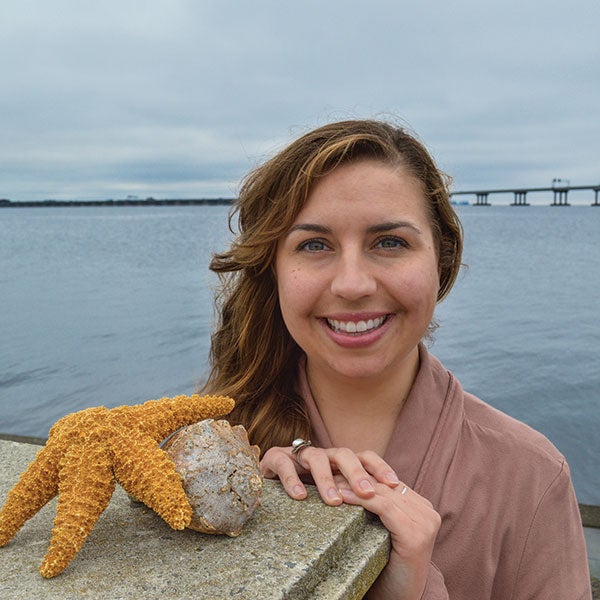 Julienne Beblo
---
Hometown: Cabot, Pennsylvania
Year: First-year graduate student
Major: Master of fine arts – ceramics
Career goals: I want to work in a position that allows
me to combine my interest in marine science and art in
a way that helps further marine conservation efforts.

---
How would you describe your artwork?
Most of my work is rooted in functional pottery. I love creating pieces on the wheel – everything from bowls to vases to jars. Some of my pieces directly mimic natural elements and organisms while others indirectly utilize textures, colors and forms that can be found in a marine environment.
What made you decide to combine marine topics and art?
The natural world is a major source of my inspiration, especially the ocean. I began my undergraduate degree at the University of North Carolina Wilmington majoring in marine biology. But as I took elective art courses, I decided that I wanted to major in studio art also. As I completed courses in both disciplines, I found that there a strong connection between the two. Ceramics is the ultimate combination of science and creativity. I enjoy juxtaposing the precision of science with the organic forms and uncertainty of working with clay. Art is also a powerful communicator and I started to see the value of incorporating artistic approaches into efforts to inform others about the need to understand and protect coastal environments.
How do scholarships help you accomplish your academic goals?
Being an out-of-state student and completing a graduate degree is a significant financial commitment. Scholarships have been incredibly helpful for me. They have provided financial relief and security so that I am able to better focus on my courses rather than on external jobs. As an artist, I also need to purchase certain materials and tools. Having scholarships provides additional income to support the purchase of materials that will enhance my work. I would not be able to complete my degree so comfortably or capably without the support provided by scholarships, and I am so grateful for the donors who made that possible.
Scholarships:
Claire E. Armstrong Scholarship and Hannah Graduate Scholarship. For more information on how to support students such as Julienne, visit ecu.edu/give.