Horizons
Changing lives, changing communities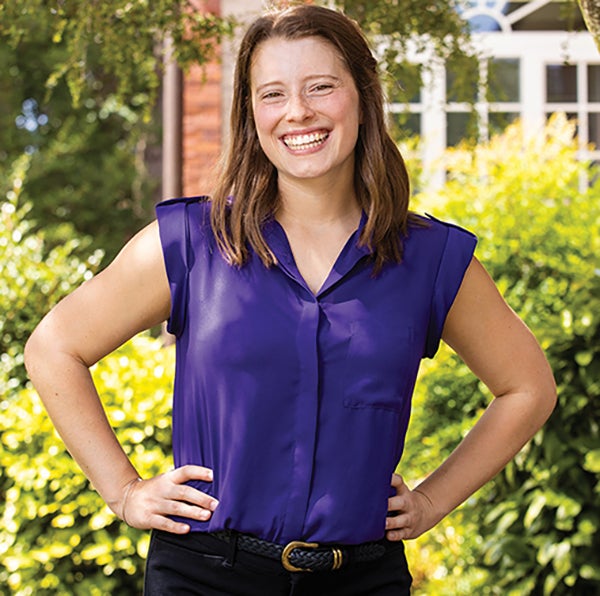 Jocelyn Bayles
---
Hometown: Wake Forest
Year: Senior
Major: Nutrition science and Hispanic studies
Career goals: Become a registered dietitian with a focus on child health; join the Peace Corps and serve in Latin America

---
Research
For the last three years, my research has been centered on Head Start, a federally funded preschool program for low-income children and their families. My project aims to assess the effect of a food-based nutrition education curriculum on preschool children's vegetable liking and consumption. The main goal is to find ways to set kids up for a long and healthy life, because if you learn that broccoli is yummy when you're 5 years old, you're going to keep loving broccoli your whole life. This could make the difference between growing up and being obese, having type II diabetes or hypertension.
EC Scholar impact
The EC Scholar Program has provided me with a tight-knit, supportive, challenging and rewarding community. Over the past four years, Scholars has allowed me to study abroad in Granada, Spain, for a semester to study nutrition and politics, work with migrant farmers in eastern North Carolina, speak at ECU's first TEDx event, apply and be awarded multiple research grants and, most recently, be named a National Truman Fellowship Finalist. Most of all, EC Scholars has helped me find my passion for nutrition.
Donor spotlight: Ann Schwarzmann
Ann Schwarzmann '57 '58 was an elementary school teacher and member of the ECU Educators Hall of Fame. She funded two scholarships: one for an EC Scholar within the Honors College and one for a children's theatre major in addition to the Rhem-Schwarzmann Prize for Student Research. Schwarzmann was also a member of the Women's Roundtable and a lifetime member of the ECU Alumni Association.
For information on how to support the Honors College, contact Nate Evans, senior advancement officer, at 252-737-5232 or evansna@ecu.edu.
---
Little by little, Brody professor donates $100,00 for scholarships
In his 35 years at the Brody School of Medicine, Dr. James Peden has helped patients in clinics, supervised residents, served as an attending physician on medical services and overseen the admission of 23 classes of medical students.

And starting in his very first year, 1984, Peden took a little money out of every paycheck and gave it back to the university.
He calls it his "tortoise and the hare" approach to philanthropy. "Obviously, I'm the tortoise," he says.
Every few years he would up the amount as he was able. At the time of his retirement in June, Peden's giving surpassed $100,000 and provided seven scholarships to help students pay for medical school.
The Whitener-Peden Scholarship honors Peden's mother, Ann Whitener Peden, and father, James G. Peden. Every year it goes to a Brody student with academic achievement and financial need, preferably from the Hickory area.
Peden is a Hickory native who completed his medical education at the University of North Carolina at Chapel Hill and was the first graduate of the medicine/psychiatry residency program at West Virginia University-Charleston. He joined the ECU medical faculty because he was drawn to the school's willingness to work with faculty members on their teaching and clinic goals.
Peden developed ECU's combined internal medicine/psychiatry residency program before becoming dean of admissions and being charged with selecting 72 to 80 students annually from a typical applicant pool of more than 900.
He received a Lifetime Achievement Award from the Association of Medicine and Psychiatry in 2015.
"I knew many of the students here didn't have the same resources that kids in Raleigh, Durham and Asheville did. Being part of a worthwhile mission and seeing the need for scholarships, I decided to give a little out of every paycheck. The good thing about payroll deduction is you never miss it, because you never see it," Peden says.
Trevor Hunt, a 2016 recipient of the Whitener-Peden Scholarship, says Peden was one of the reasons he chose to attend the Brody School of Medicine.
"Compared to the admissions deans at the four other schools I interviewed at, Dr. Peden was very personable and more concerned with us applicants rather than just seeing us as another task to cross off before the end of the day," Hunt says.
Hunt, who is paying his own way through medical school, says the scholarship has given him the freedom to take a research year and pursue his interest in urology without worrying about how much his loans are growing.
"I'd like to thank him for his generosity, for believing in me and for giving me the chance to chase my dreams," he says. "None of this would be possible without his immense generosity through this scholarship."
– Erin Shaw