A helping hand with health
Geriatrics health program working for rural seniors
Loraine Hall walks into the Farmville Senior Center, clearing a bucket of arts and crafts supplies from her usual table. The 60-year-old Farmville resident listens to a presentation on dementia provided by East Carolina University representatives. Now, Hall has a difficult question to answer: Should I get tested for early signs of dementia?"I'm usually always the first one in line," Hall said. "I've learned if I volunteer for something, it puts others at ease and they join on up, too."
For Hall, taking part in the dementia screening is an easy choice. Her mother, who died in November 2017 at age 93, suffered from Alzheimer's disease.
"I worry about my brain," she says. "Sometimes I'm at home and I get forgetful. I wonder if I'm going through the same stuff my mom went through. She was in the early stages of Alzheimer's, so she wasn't too bad off. She didn't forget us, but she'd repeat herself a lot."
To keep up to date on her health, Hall takes part in general wellness screenings offered by ECU's Geriatrics Workforce Enhancement Program. GWEP, initially funded by a three-year, $2.5 million grant from the U.S. Department of Health and Human Services, was recently approved for a fourth year and an additional $880,387.
Farmville resident Loraine Hall is fitted with an EEG cap during a dementia screening at the Farmville Senior Center.
The screening was part of ECU's Geriatric Workforce Enhancement Program, which offers wellness screenings to seniors living in rural areas as well as interprofessional training and education. Above, the Goshen Medical Center mobile van was on display at a GWEP health screening in Varnamtown. The van provides medical care to rural residents who struggle receiving traditional health care services.
The program focuses on interprofessional education among nurse practitioners, physician assistants and medical students; primary-care provider training, including wellness screenings; community-based education positioned around the needs of farmers, loggers and fishermen; and dementia and Alzheimer's education.
GWEP hosts health screenings, like the one in Farmville, and educational seminars up and down North Carolina's coast, providing primary care providers with knowledge and skills to care for older adults.
Each community-based wellness screening is unique to its intended participant pool, but the screenings traditionally include three main assessments: fall risk, cognitive impairment and depression. Nurses may also perform blood pressure and blood sugar checks. If participants are deemed to be high-risk in any of these areas, GWEP nurses will encourage participants to make an appointment with their primary care provider.
Screenings are usually accompanied by a short educational presentation, like the one on dementia provided to Hall and her fellow senior center members.
Farmville Senior Center manager Cindy Mazzleni says she appreciates the in-person screenings because many Farmville seniors face barriers to health care access, including transportation.
"It's not easy to get all the way to Greenville," Mazzleni says. "It doesn't seem like it's that far, but it is when you don't have a car."
Many rural senior residents have fewer public transportation options than their urban counterparts and must travel farther distances to see their primary care providers. "Getting access to medical care is important," Hall says. "It's real tough to get care. It's hard to get an appointment for these kinds of services. I usually go to the doctor when I'm sick, not for screenings like these. It's a great help to have them around."
Hall says taking part in screenings allows her to track issues that may be a detriment to her wellbeing as she ages.
"Being here with other people and seeing them go through things, you learn," she says." They always say, 'Wait until you get my age.' I pray I do get their age. Programs like GWEP can help me get there.
---
Health affects rural prosperity
---
ECU is one of three North Carolina universities, along with the University of North Carolina at Chapel Hill and Duke University, that have been awarded grants from the U.S. Department of Health and Human Services to begin their own geriatric workforce projects.
Entering its third year, GWEP allows ECU's College of Nursing and its partners to build a novel, comprehensive approach to caring for eastern North Carolina's senior population. The university partners with Roanoke Chowan Community Health Center, Goshen Medical Center, Cypress Glen Retirement Community, the Regional Area Agencies on Aging, the North Carolina Agromedicine Institute and the Dementia Alliance of North Carolina to provide unprecedented access to senior health care in the region.
With the nation's senior population expected to reach 78 million by 2035, according to the U.S. Census Bureau, evaluating how seniors are cared for is a growing priority.
"The grant has had numerous successes over the past three years," said Donna Roberson, an associate professor of nursing and executive director of program evaluation for GWEP. "Interprofessional education activities are ongoing and other disciplines have been added to make the training in geriatric care truly interprofessional. This is a busy, yet vital grant program with much more to offer eastern North Carolina." Through its partnerships, GWEP has provided grant-funded continuing education for health care providers, screened more than 1,200 community residents for fall risk, depression and cognitive impairment, and provided education to more than 3,000 family dementia caregivers.
Jean Matthews, a Roanoke-Chowan site nurse and consultant with GWEP, says from the start of the program community based education has been a key component.
I NEED TO WORK FOR A LONG TIME, AND I CAN'T DO THAT UNLESS I'M HEALTHY. PARTICIPATING IN THIS PROGRAM HELPS ME DO THAT.
- Stanley Hall, fisherman and GWEP participant
---
In the community
---
Three weeks after the Farmville Senior Center screening, GWEP's team of nurses and consultants was on the move again. In Varnamtown, just off North Carolina's Intracoastal Waterway in Brunswick County, 58-year-old fisherman Stanley Hall steps into Varnamtown's town hall with his wife, Lorie.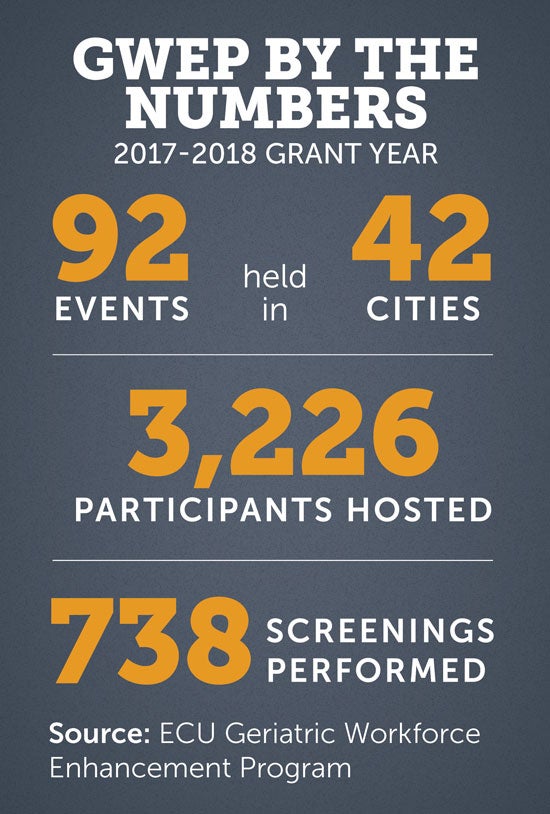 Hall is there for a GWEP-sponsored health screening for fishermen in the region. The program partnered with Brunswick Catch, a local seafood recognition program, to put on this community event. Area fishermen attended the screening, receiving hearing, blood pressure and general wellness checks. "There are a lot of people in the industry that live around here that won't come to this," Stanley said. "It's unfortunate because they're missing out. Events like these are so important. We don't have a lot of young people coming into shrimping, so it's important we stay healthy."
Stanley, who began shrimp fishing full time five years ago, says trying to survive in his industry can be stressful. In 2016, the U.S. Bureau of Labor Statistics ranked loggers, fishers and agricultural workers as the first, second and eighth most dangerous civilian jobs in the country, respectively.
Stanley said that the ups and downs that come with fishing can add a burden not felt in other industries. "Don't get me wrong, I enjoy the work," Stanley said. "I really do; I love it. But fishing is a very stressful thing. It's feast or famine. It feels like you're either catching a lot or not catching anything at all. You can't get discouraged, though. It's just what you do."
In the future, GWEP will be able to affect even more rural eastern North Carolinians through the Goshen Medical Center's mobile unit – which provides health services on the go – and its Virtual Dementia Tour, a groundbreaking experience that allows caregivers to experience the physical and mental challenges those with dementia face.
The additional year of funding will allow the GWEP team to add to its mission, including access to treatment for opioid use.
Stanley said he'll do what he can to share GWEP with others, letting his family and friends know ECU and its partners are here to serve them. "I like to know what's going on with my health," Stanley added. "I don't want to die; I got to keep working. Everyone asks me how long I'm going to work and, for me, it's until death do us part. I need to work for a long time, and I can't do that unless I'm healthy. Participating in this program helps me do that."