EC Scholars renaming reflects donors' $30 million commitment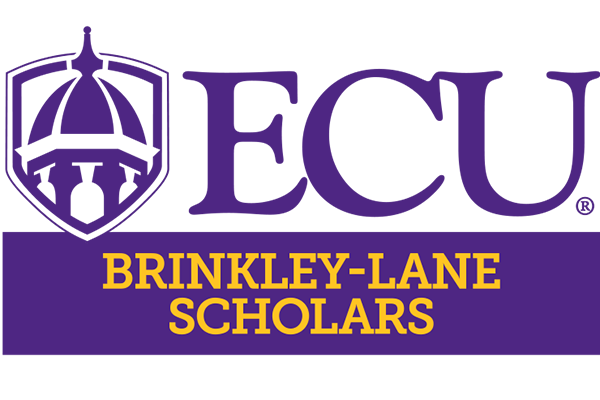 In a milestone moment for ECU, Chancellor Philip Rogers announced a combined $30 million commitment to the institution from Robert Gentry Brinkley '78 and Amy Woods Brinkley and Lewis Patrick Lane III '67 and Lynn Lewis Lane. The EC Scholars program will now be known as the Brinkley-Lane Scholars program to honor their investment.
"Robert and Amy Brinkley and Pat and Lynn Lane have sustained ECU with unwavering devotion. They have joined together in a commitment, which will be the cornerstone of the university's continued success and standard of excellence," Rogers said. "We are humbled by their dedication to ECU and overwhelmed by their generosity. It is our honor to recognize their historic support by renaming the EC Scholars program the Brinkley-Lane Scholars program."
The families have made the largest combined commitment in the university's history. Brinkley and Lane also join a distinguished list of names renowned for the top academic scholarships in higher education around the nation.
Robert Brinkley received a bachelor's degree from the College of Business and was a four-year letter winner on the Pirate baseball team. The Brinkleys have been avid champions of ECU, supporting the EC Scholars program, the Honors College, the Access Scholarship program and athletics. Amy Brinkley had a three-decades-long career at Bank of America. Over the course of her career, she served as the company's marketing executive, as president of consumer products and as the company's chief risk officer.
Pat Lane is a College of Business accounting graduate. The Lanes have been steadfast proponents of ECU, supporting the EC Scholars program, the Honors College, the College of Education, the College of Fine Arts and Communication, the Medical & Health Sciences Foundation, the Pirate Club and the alumni association. They are in the Educators Hall of Fame.
Lynn Lane has served as chair of the ECU Foundation board of directors, is chair of the Honors College Advancement Council and served on the Board of Visitors. She is also a 2001 ECU Honorary Alumni Award recipient.
The Brinkley-Lane Scholars program is the hallmark of the Honors College and represents the most prestigious undergraduate award program offered at ECU. The impact of the Brinkley and Lane families' lifetime commitment will be felt immediately in the Honors College.
"This is a significant milestone for the Scholars program, the Honors College and all of ECU," said Todd Fraley, dean of the Honors College. "The word we have been using around the office is transformative. We want to thank the Brinkley and Lane families for their tremendous generosity and demonstrated commitment to the success of our students."