A flare for excitement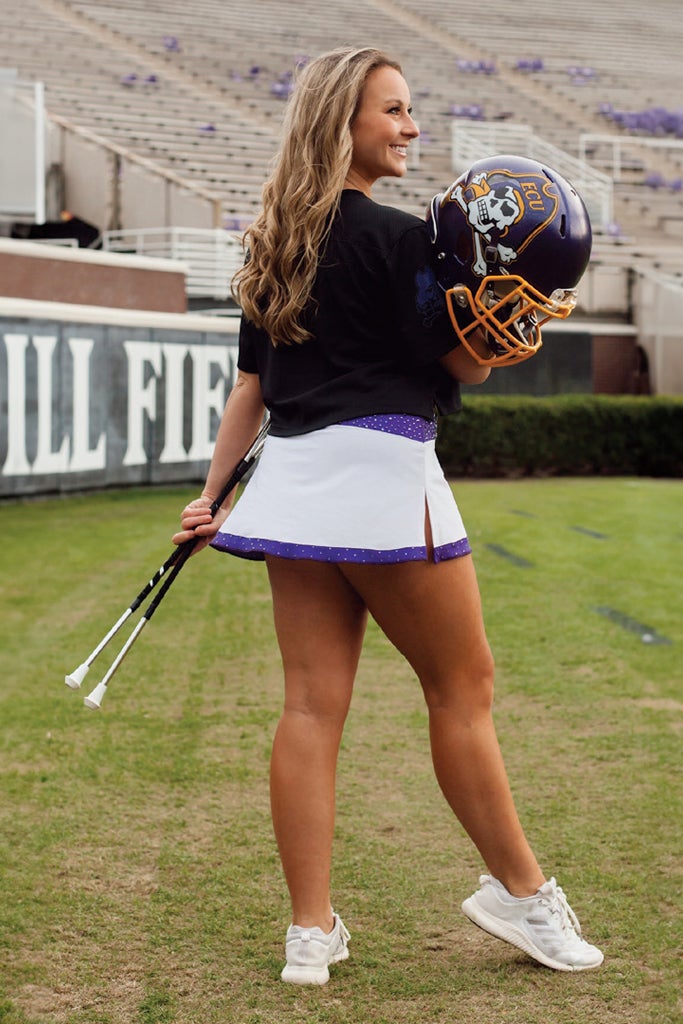 Kasey Rogers
Year: Junior
Major: Public Health
Hometown: Sykesville, Maryland

If you've watched halftime shows at Pirate football games, you've probably seen Kasey Rogers. She's the one twirling fire.
"The fire element is crazy," said the junior public health major who hopes to become a physician assistant working in orthopedics. "I used to make sure my hair was completely pulled back, and I was wearing tight clothing just in case. Now I go out in front of thousands with my hair drenched in hair spray, and everyone loves it."
Rogers started twirling batons when she was 4 years old. "My mom signed me up, and I just never stopped," she said. She did teams, then individual events and added flames in high school. Being the featured twirler at ECU isn't easy. Rogers had to audition.
"Usually, one of the highest levels you can reach in baton twirling is the collegiate level," she said. "Collegiate baton twirling is what a lot of girls spend their whole careers working for, so getting the email that I was becoming the featured twirler for ECU was a moment I will never forget."
Rogers has always loved parades, and performing in the ECU Homecoming parade each year has been no exception. "When you go to a school you become a part of that community, and with that comes a sense of pride in representing that community," she said. "Meeting the alumni was an amazing experience for me because we all share the same love for ECU."
Band director Joe Busuito described Rogers as "a 10/10ths person."
"Kasey brings a real, passion and energy to the field that the whole band feeds off," he said.
That dedication was clear last year when she won the title of 2022 Miss Majorette of North Carolina. In the NBTA Nationals last July, she placed eighth in the Miss Majorette of America contest and qualified for the International Baton Twirling Federation Nations Cup being held in Liverpool, England, Aug. 4-9 as part of the NBTA-USA Nations Cup Team. She has a GoFundMe site to help cover the costs of attending.