Shooting for the Stars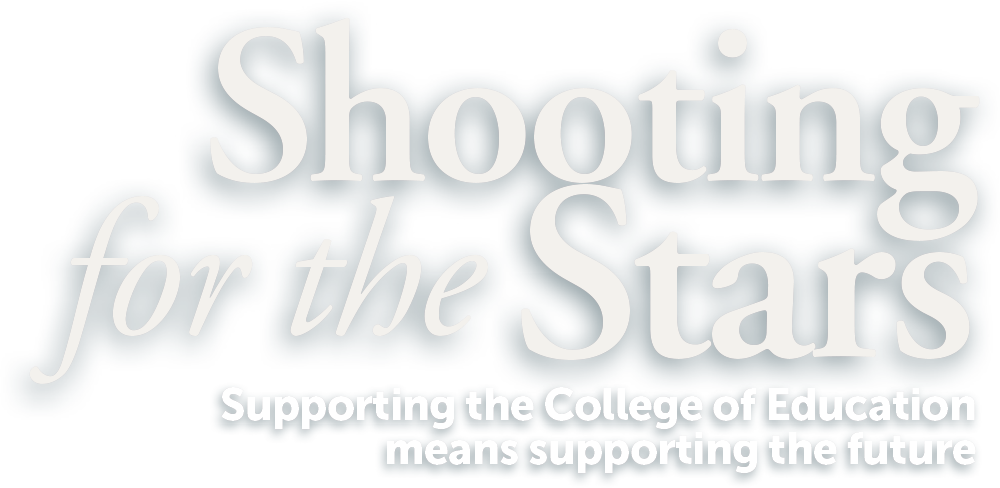 Supporting the College of Education means supporting the future
Artwork colors the walls inside East Carolina University's Community School, where 105 children learn to read, write, add and subtract. The elementary students write reports about their heroes, highlighting everyone from LeBron James to local firefighters.
Principal Tracy Cole '02 knows all about heroes, especially the unsung people who provide donations to support the school's children, many of whom face the struggles of food insecurity, housing, poverty or violence on a daily basis."We have some wonderful partners here at the Community School," Cole says. "All of the work that we do really is built upon the partnerships that we have, and our goal is to be able to support not only children but to support their families."
ECU was created more than a century ago to train teachers to support education in eastern North Carolina. Thanks to philanthropic support of College of Education programs such as the Community School, that mission is as strong as ever today.
"We have a way of turning a dollar into five, really maximizing our donors' generosity," says Art Rouse, acting dean of the college. "We are so appreciative, and those dollars are just so, so valuable because they allow us to provide the additional resources that we can use to impact our region and to impact students in our entire service area."
Community School
Cole walks the halls of the Community School, admiring student work that hangs on the walls. There's so much good work that "we change them out a lot," she says.
The school in south Greenville opened in 2017, thanks to legislators who approved a "lab school" that not only educates academically at-risk students, but also helps train future teachers.
With climbing test scores and declining behavioral issues, the school sees success, thanks to faculty, staff and donors who give time, effort and dollars.
Beast Philanthropy — a nonprofit created by Greenville YouTube star MrBeast — provides food for students as well as families in the surrounding neighborhoods.
The school received $250,000 in books and literacy materials, allowing bookshelves to be filled.
An ECU Department of Nutrition Science fundraiser netted $4,500, and the ECU Honors College raised $4,200 in a Books that Embrace Race event. Students from the College of Education Living Learning Community spent a Saturday picking up trash and cleaning desks and chairs. ECU School of Dental Medicine students gave teeth-brushing kits.
"Philanthropy plays a tremendous role in the support that we are able to provide children," Cole says. "We are very thankful."
Maynard Scholars
Abby Norris knew she wanted to be a teacher when she was in high school, but paying for college would not be easy.
"My parents helped me every bit of the way, but going to college was something I was going to have to do myself," she says.
A $20,000 scholarship through the James and Connie Maynard Scholars Program helped her fulfill her dreams. She's now a special education instructor in Beaufort County after graduating from ECU in May.
"I love being able to help students," Norris says.
Norris thanked James Maynard and daughter Easter during a ceremony for the scholars in 2018.
"They are the most down-to-earth people ever. They are so friendly," she says. "They picked me, a random person they've never met, to support through their scholarship, and to actually get to meet that person and express how thankful I am for their support was so encouraging and a great experience."
The Maynards established the scholars program in 2006. It supports future teachers, who then commit to teaching in one of 50 counties in central or eastern North Carolina for at least four years.
"The Maynards have been so generous in their giving of time and resources to our students for so many years," Rouse says. "It's just so impactful. It's been 15 years, and it's about 10 students a year. And think about all the K-12 students those teachers have impacted. The Maynards' impact has been felt and will continue to be felt for many, many, many years."
Kayla Walton '14 teaches first graders at Beaufort Elementary School in Carteret County. She says being a Maynard Scholar had many benefits.
"From volunteering and community service to educational trips, the Maynard scholarship provided me much more than financial aid," she says. "I was given the chance to give back to our communities, experience inner-city schools and make lifelong friendships I likely would not have made otherwise."
She believes she pays that Maynard scholarship forward every day she's in the classroom preparing students for the future. "Teaching first grade is such a foundational year," Walton says. "They come in like kindergarteners and leave like second graders. It's so rewarding."
Rural Education Institute
ECU's Rural Education Institute provides resources and support to improve education for students in rural areas, and thus, improve the communities where those students live. It's of particular importance to Jesse R. Peel, who grew up in rural Martin County.
He provided an initial gift of $25,000 in 2020 to create the REI Diversity and Inclusion Support Project that provides professional development to educators on topics such as equity, social justice, diversity and inclusion.
"Jesse is very committed to helping serve rural communities and providing resources to rural North Carolina," Rouse says. "… These communities have a lot of assets, and providing those philanthropic dollars helps us to continue partnerships in those communities and leverage our assets with the communities' assets to really impact those regions, the quality of life and the quality of education that students receive in those communities."
Peel is a supporter of numerous scholarships and is the namesake of the Dr. Jesse R. Peel LGBTQ Center at ECU.
Partnership Teach
Seeing a need to increase the number of quality teachers in local communities, ECU began the Partnership Teach degree completion program in 2003. Students take courses at partnering community colleges before transferring to ECU to complete their teaching degrees online.
Wells Fargo, formerly known as Wachovia, provided initial seed funding of $1.25 million to start what was then called Wachovia Partnership East. In 2013, the State Employees' Credit Union Foundation agreed to fund scholarships for the program with a $1.36 million investment. An anonymous trust of $225,000 in 2019 and a $500,000 commitment from Blue Cross Blue Shield in 2020 have followed.
That so many dollars from so many donors have supported the program speaks to its importance, Rouse says.
"When you think about the nearly 20 years since this partnership began with Wachovia and all the changes in leadership in all these organizations that have occurred, Partnership Teach is still here," he says. "And for Blue Cross Blue Shield to come in and give half a million dollars to support it, I think that shows how important it is. I think that speaks volumes about the whole region's commitment to education."
Scholarships
As impressive as large donations are, Rouse sees the importance of even a $25 contribution to a scholarship fund.
For the 2022-23 academic year, the College of Education will award more than $700,000 in scholarships, an increase of more than $70,000 from the previous year.
"I think the pandemic has really put a lot of pressure on our students, our finances and our resources, and our donors responded tremendously," Rouse says.
He says he doesn't take any support the College of Education receives for granted.
"That's a direct reflection on our donors and their generosity and their commitment to our students and to our region, and their trust in the College of Education and impact that they see," Rouse says. "People get to choose where they want to have an impact, and for them to choose the College of Education, it's very humbling for me to know that people give of their money and time to us. It's something I do not take lightly."