'Gritty, quick, smart'
Elizabeth Wilson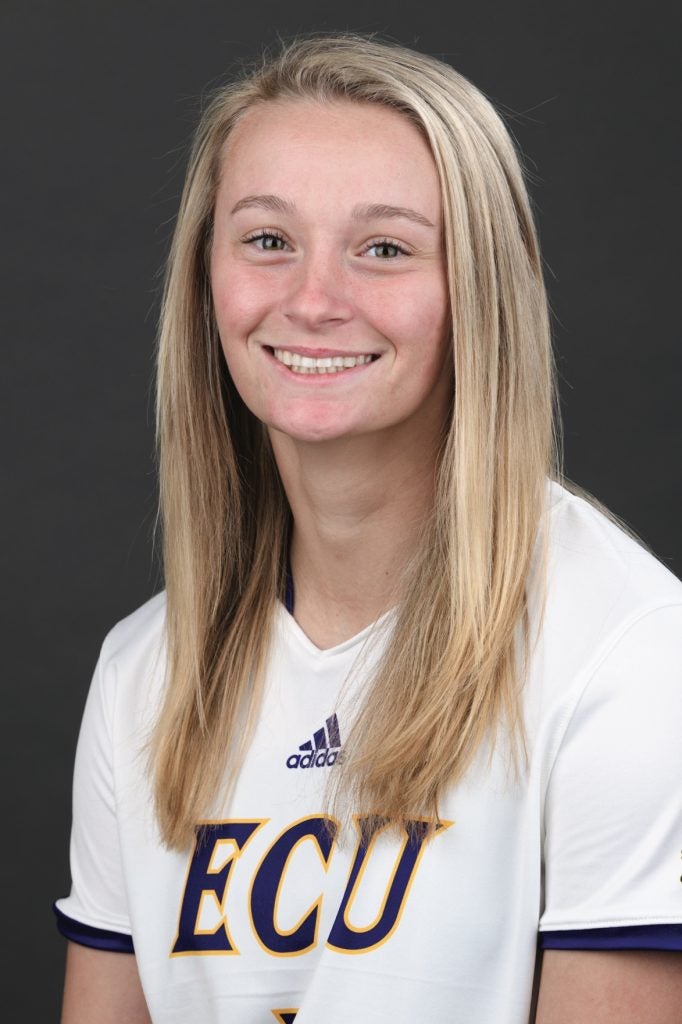 Elizabeth Wilson
Year: Senior
Major: Business Administration
Hometown: Raleigh, North Carolina

It's been said lacrosse is a game that combines soccer, basketball and hockey, with the ultimate goal of getting the ball in the other team's net. The players who do that scoring are called attackers.
"Attackers are gritty, quick, smart and aggressive," said Elizabeth Wilson, a Raleigh native and attacker on ECU women's lacrosse team. She graduated in May with a degree in business administration with a concentration in marketing.
Those attacker attributes have translated off the field as well for Wilson. She earned the Donald L. and Barbara Hatch Scholarship in Marketing making her one of a select few Pirate athletes to earn both academic and athletic scholarships during their time at ECU.
"My parents have always worked so incredibly hard to provide my siblings and I with opportunities," said Wilson. "My goal was always to earn an athletic scholarship so that I could take the burden off my parents. I also applied for academic scholarships because I wanted to do everything in my power to contribute.
"The Hatch Scholarship was an incredible surprise. It means so much to me that ECU provides these opportunities for students. Being so interested in what I was studying, having professors who worked with us during the pandemic, and having online classes, I really discovered I also was passionate about school. From there, I was just really driven on and off the field."
In addition to academics, the College of Business focuses on leadership and professional development. Wilson helped lead her student group on a consulting project for a local company.
"Elizabeth is a team player who recognizes the importance of making sure everyone on her team has a voice," said Brian Taillon, assistant professor  in the supply chain and marketing department in the College of Business. Said Wilson: "I've been able to apply the leadership skills I learned in the classroom with each new group of players that comes through the program. I've noticed that I have the confidence to better express my thoughts and to lead the freshmen players both on and off the field."

– Michael Rudd 
I'VE BEEN ABLE TO APPLY THE LEADERSHIP SKILLS I LEARNED IN THE CLASSROOM WITH EACH NEW GROUP OF PLAYERS THAT COMES THROUGH THE PROGRAM. ... I HAVE THE CONFIDENCE TO BETTER EXPRESS MY THOUGHTS AND TO LEAD THE FRESHMEN PLAYERS BOTH ON AND OFF THE FIELD.