A dynamic decade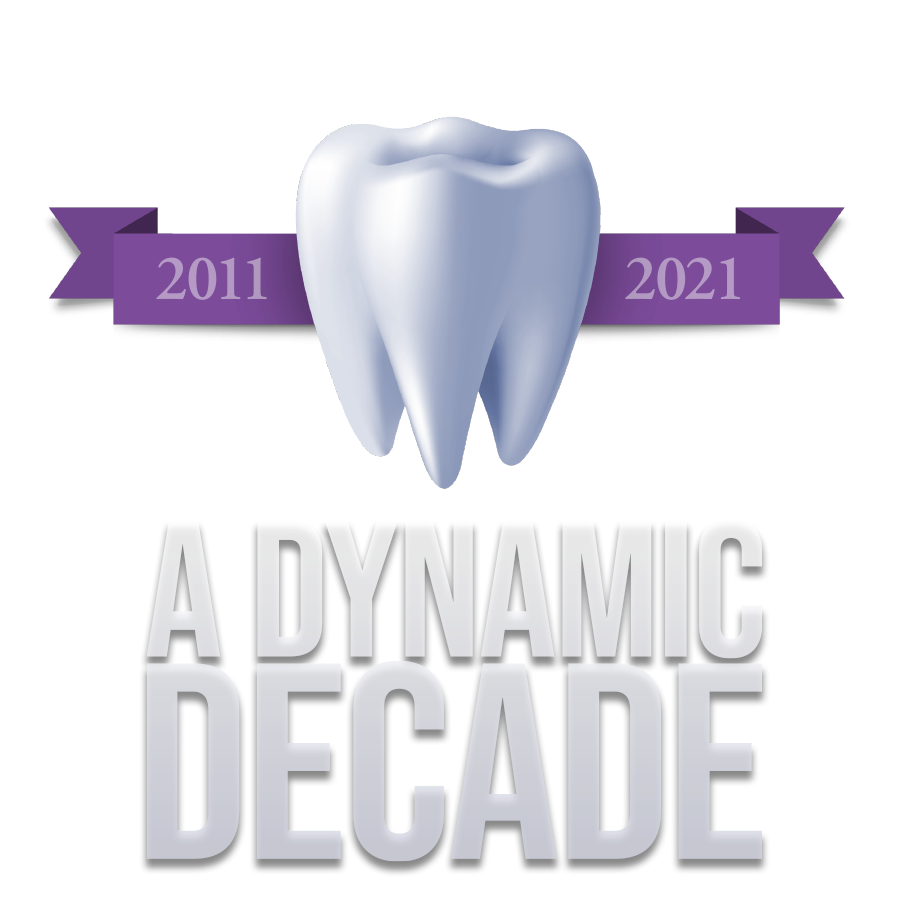 In just 10 years, the School of Dental Medicine has established itself as a leader in care and education
The ECU School of Dental Medicine celebrated its 10th anniversary in 2021
Several years ago, Victoria Hardy stared out the window of an East Carolina University Transit bus at Ledyard E. Ross Hall, the new home of the School of Dental Medicine on the northwestern edge of ECU's Health Sciences Campus.
"I remember when they were almost done building it, and I was on the bus out front just staring at that building like, 'I'm going to be there one day,'" says Hardy, now a fourth-year dental student looking forward to providing oral health care for patients in eastern North Carolina.
Hardy, her classmates and alumni who have practices, careers and futures that stretch across North Carolina are part of the School of Dental Medicine's legacy as it celebrates 10 years of educating new dentists for North Carolina.
The first class of students began in 2011 and graduated in 2015, setting a standard with a unique model of education and patient care. Today, 90% of the school's 357 alumni practice in North Carolina. Its graduates are hard at work in 65 of the state's 100 counties, helping bridge the oral health care gap that placed North Carolina toward the back of the pack nationally for dentist-to-patient ratio and sounded the alarm for the need for ECU's dental school.
"We intentionally focus on our mission and keeping our promise to the state," Dr. Greg Chadwick, dean of the School of Dental Medicine, says of the school's goals of educating dentist leaders and providing care in rural and underserved areas, "and that resonates with the people of North Carolina, it resonates with the university and it's a mission that resonates with the future of ECU."
Before the first class graduated, North Carolina ranked 47th nationally for dentist-to-patient ratio. Now, the state now ranks around the mid- to high-30s, a trend Dr. Margaret Wilson, vice dean of the school, attributes in part to the newest generation of dentists from ECU. "It's a pretty significant impact that those ECU graduates are already having in communities across the state," she says.
Statistics like that are what fuel ECU Chancellor Philip Rogers as well. His history with ECU is woven into the fabric of the dental school's beginnings; from 2007 to 2013, he held various positions that allowed him a role in creating the school. From policy analyst to legislative liaison to chief of staff, Rogers spent hours strategizing and working with decision-makers at every level to make the school a reality.
His return to ECU in early 2021 coincided with the school's 10-year milestone.
"It's absolutely surreal to look at this facility that was nothing but a dream," Rogers said. "It took a village to build this facility, and now this facility is literally changing the lives of thousands and thousands of dental patients across the state of North Carolina. It's unfathomable that it's been 10 years. It feels just like yesterday we were imagining what the future would look like, who we would serve, how we would serve, where would we serve them."
'Community service entrepreneurs'
The School of Dental Medicine's community service-learning centers operate in eight North Carolina communities, from the Blue Ridge Mountains to the coastal town of Bolivia in Brunswick County. Patients and rural communities across the state benefit from oral health care, education and specialized programming and events designed over the years with the area's greatest needs in mind.
During students' fourth year, they complete three nine-week rotations at three different CSLCs, where they can experience different types of oral health care needs as well as immerse in the culture, geography and social characteristics of each community. The rotations offer clinical experiences that account for 60% of students' final year.
In 2019, the school received the William J. Gies Award for Vision, Innovation and Achievement in the innovation category from the American Dental Education Association's ADEA Gies Foundation, awarded for its breakthrough approach to providing practical experience for future dentists through rural service-learning centers across North Carolina. That's the year Dr. Hanan Elgendy, a clinical assistant professor, arrived.
"It feels great to see all the great things that are happening and seeing how the school has grown over the last 10 years and become a well-known school in dental education nationwide," she says.
Wilson said even with national recognition, the school's focus is still on the state.
"The school's mission is very unapologetically North Carolina-centric," says Wilson, who was one of the first faculty members to join the school as associate dean for student affairs. "It's really our graduates who are fulfilling the mission, and our students share that same vision. Our students are really community service entrepreneurs."
So far, more than 80,000 patients from all 100 of the state's counties have been served through the dental school, and each CSLC community has contributed more than $1 million in economic impact.
"We knew we were going to open the CSLCs, provide excellent educational opportunities, provide economic impact to these communities and offer dental and oral health care, but what we didn't realize was how well they would be accepted and the overall impact they would have as part of the university," Chadwick says. "Because of the CSLCs, the university has a footprint from Sylva to Elizabeth City."
It feels great to see all the great things that are happening and seeing how the school has grown over the last 10 years and become a well-known school in dental education nationwide.
- Dr. Hanan Elgendy: Clinical assistant professor, School of Dental Medicine
What's more, many of ECU's dental students hail from rural counties and communities, giving them a heightened understanding of the complexities surrounding rural health care. Dental students, from the Class of 2015 through the Class of 2025, have come from 86 of North Carolina's counties, representing 66 rural counties and 20 urban counties.
Dr. Jorge Arriagada graduated with the school's first class in 2015 and practices at Eastern Orthodontics and Pediatric Dentistry in Greenville. He's kept in touch with school faculty and leaders and served as a resource for students. He's watched the school evolve and grow not only in number but also quality.
"As I speak with current students, I see all the improvements that the program has obtained, like the ability of students to go on rotations to CSLCs on nine-week rotations, develop additional skills and work on their time management before they start their new professional journey," Arriagada says. "It gives an opportunity for students to be involved within the community and to narrow the gap in the dental needs our state faces." 
As I speak with current students, I see all the improvements that the program has obtained, like the ability of students to go on rotations to CSLCs on nineweek rotations, develop additional skills and work on their time management before they start their new professional journey.
- Dr. Jorge Arriagada: 2015 graduate, School of Dental Medicine
The dental school focuses on educating students from underrepresented, rural and disadvantaged backgrounds. The Class of 2025 is made up of 39% underrepresented students. Nine of 52 students in the school's Class of 2023 participated in the Preparing Tomorrow's Dentists pipeline program, which provides an in-depth look at the school for students from underrepresented populations and rural communities. In 2020, Dr. Wanda Wright was named assistant dean for equity, diversity and inclusion, a position created to emphasize equity and diversity as core values.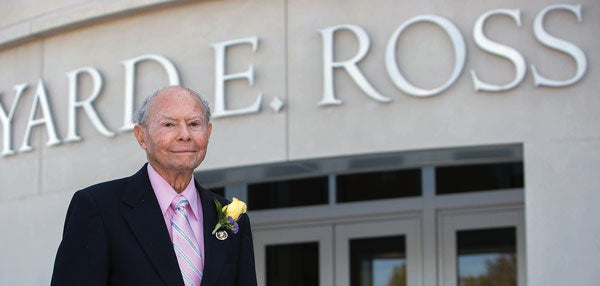 Ross Hall
is named for Greenville orthodontist
Dr. Ledyard E. Ross '51
, who made a $4 million gift to the dental school for student scholarships, faculty research and other academic enterprises. At the time it was one of the largest gifts in university history. Ross' philanthropy inspired his son, Dr. Dennis Ross, also an orthodontist, to make a gift of nearly $1 million to be divided among the dental school, the College of Health and Human Performance, and athletics. While Dennis Ross is not an alumnus, he wanted to give because of the impact ECU has on students and the surrounding community. "Dad was a giver and I'm following his lead," he said. To learn more about how you can support the next 10 years of excellence at the School of Dental Medicine, contact Jon Jones, senior director of advancement, at
jonesjona19@ecu.edu
or 252-737-7063.
Third-year student Courtney Williams helped organize the school's first Day of Unity in 2020, an event that encouraged the school community to not only find common bonds among them but also celebrate their cultural differences.
"For the next decade of students, I would hope that the school continues having a population of dental students that are representative of North Carolina," she says. "I feel like we're definitely on the right track as health care professionals that are representative of our communities."
That positive direction is thanks in part to the CSLC model and the strong technology network between the centers and the campus facility.
Dr. Ford Grant, faculty director at the school's CSLC in Ahoskie, joined ECU in 2012 and helped set the path for the other seven centers.
"Just in the last few years, we have seen the mission become reality with students from our area becoming dentists and joining us in the mission. 'Growing our own' is the term we use. The experience has been very rewarding."
Grant says he hopes the future brings stronger relationships between dentists and other health care providers as well as bridging care gaps for homebound patients and those in care facilities. He already sees the school's mission making a difference.
"It is very encouraging to see more ECU School of Dental Medicine grads going into practice in underserved areas of the state and those who pursue residency and specialty training returning to the state to be part of the solution to access to dental care," Grant says. "We will soon have graduates from almost every area of North Carolina. I see grade school, high school and college students all the time who tell us they want to be dentists. We let the students and residents know that they are role models for these kids."
A future to smile about
Hardy, a Rocky Mount native, earned undergraduate degrees at ECU in biology and economics in 2014 followed by a master's in cell biology in 2016. Her journey then led her to Ross Hall. She had finally made it. The building itself was still new, and its amenities felt almost surreal to Hardy.
"Everything was bright and shiny," she says. "We have a lot of technology, a lot of good, new equipment and a beautiful campus. It was like sparkles in the eye. It was like it was saying, 'Everything is new, and it's ready for you.'"
Her dream came full circle at a time significant for her, the dental school and her family.
She had the opportunity to provide dental care to her mother, who supported her dream and made sacrifices for Hardy's education and goals. Her mother instilled good dental hygiene early on, something she herself did not have as a youngster.
"My mom was just very concerned about my teeth growing up because she didn't receive great dental care," Hardy says. "I was always self-conscious of her self-consciousness, and nobody should be ashamed of their smile."
Hardy says she has approached her dental education and clinical experience the same way she has provided care to her mother.
"We have patients with high anxiety, and when we're talking about treatment plans, they ask, 'What would you do if I was your mom?'" Hardy says. "I always just treat my patients that way. If you're in my chair, you're my family – you're my dad, you're my mom – and I'll do the best for you that I can."
Hardy's mother, Barbara Hardy, says she has no doubt her daughter is well-equipped to provide quality care.
"When she was in middle school, the students were asked to come up with a career choice. She chose dentistry," Barbara Hardy says. "She has stuck to her goals and persevered. She has worked so hard to get here. This was her dream career; she did not have a plan B because she would not give up on plan A."
Ten years in, programming at the school focuses on reaching special populations in areas especially remote or unserved, including the four remaining counties in the state without a dentist – Camden, Hyde, Jones and Tyrrell.
"My hope is that budgetary issues will ease up, dental Medicaid will continue to be funded and that we go back to pre-COVID levels of educational experiences," Chadwick says. "We plan to expand our ability to provide preventive and restorative care services for children across the state, continue to attract outstanding candidates from North Carolina and address the future of oral health care needs."
Rogers says this anniversary is rewarding on countless levels and layers.
"There is just a deep personal connection to seeing the School of Dental Medicine succeed," he says. "To come back after being away for eight years and see it thriving, to see the students actively engaging in experiential learning opportunities and to see them smiling and thinking about what the future of rural health care in North Carolina looks like, is really the best gift a chancellor can receive."