Untapped potential
Nyah Gore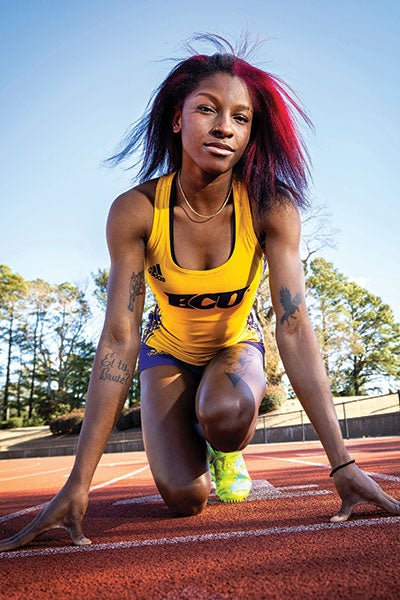 Nyah Gore
Year: Freshman
Major: Anthropology
Hometown: Evans, Georgia

When Nyah Gore was recruited by East Carolina University sprints coach Udon Cheek, he learned she had been involved in many activities in high school, including ROTC and martial arts.
That's a good thing, but it meant her performance on the track — where she was already competing at a high level — was mostly natural; she hadn't received the specialized training typical of the sport.
"I could tell that she had a ton of speed that she had yet to display," Cheek says. "You could particularly see this in relay races where you'd see her chase front runners down from considerable distances. I honestly don't believe she has any idea how good she could actually be."
Already an All-American who competed in the 4×400-meter relay in the AAU Junior Olympics, placing sixth, Gore is now getting that training with the track and field team at ECU, and the sky's the limit. Cheek says she has a quiet confidence and is a well-rounded student with an appreciation for art and exploring ideas through drawing.
Gore says she's drawn to the diversity of opportunity in the field of anthropology. As a freshman, she hasn't quite pinned down her career but is interested in biological and forensic anthropology. At ECU, she says she has learned to ask for help.
"As hard as it may be, there is always someone around who is willing to do whatever it takes to help you if you need it," she says.
That openness to help and coaching could make her one of the best sprinters ECU has ever had, according to Cheek. "Stay tuned," he says. "She's going to be special."
She's also excited for the chance to compete against new and talented athletes every time she hits the track. Whether she's running or learning, Gore says her parents are her biggest inspiration.
"I take joy in seeing their happiness and excitement while seeing me run and knowing that they are proud and will support me through my entire journey," she says.
I love being able to run with and compete against new and incredibly talented people every time I compete.