Surviving the Lockdown
While the state battled the coronavirus, eastern N.C. businesses also fought to survive.
Business owners entered 2020 with optimism. Unemployment hovered around 4%, people were spending money and the United States had a record streak of 128 straight months of economic expansion.
"Year 2020 was supposed to be the best year yet, one of setting records for us and so many in the wedding industry," said Alison Thomas '99, co-owner of Scarborough Fare Catering with her brother, Justin Wilkes. "We set records all right, and it has been a humbling experience."
The coronavirus pandemic prompted stay-at-home orders and lockdowns. In a matter of months, unemployment climbed to 14% and the gross domestic product — considered a benchmark for the economy — declined by 5% in the first quarter of 2020 and a record 31.7% in the second quarter.
Some businesses closed; many cut employees. Even East Carolina University furloughed workers and faced an estimated revenue loss of $25 million for the fall semester.
Particularly hard hit was the leisure and hospitality sector, which saw a national unemployment rate of 39% in April.
"This pandemic recession has affected services and service jobs far worse than many other industries," said Rick Niswander, an accounting professor in ECU's College of Business. "Since services are about 70% of all jobs, the effect is wide and often deep. Further, service jobs tend to be lower-paying jobs, so job loss has disproportionately affected those who were paid less to start with. This has significant long-term implications with respect to income disparities and gender inequality."
Scarborough Fare Catering, which works weddings and other events from Raleigh to the coast, is one of those leisure and hospitality businesses. Thomas said about $500,000 in catering jobs shifted from the spring and summer months as a result of restrictions on large gatherings.
Thomas said the Paycheck Protection Program provided help for the business for a couple of months. Its main event venue, the Martinsborough, was closed, yet bills continued to come in.
"You could say we have bled quite a bit with our venue, and it has been terribly painful," Thomas said.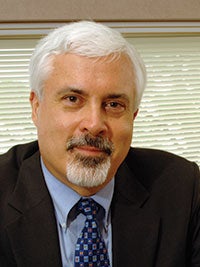 This pandemic recession has affected services and service jobs far worse than many other industries. Since services are about 70% of all jobs, the effect is wide and often deep.
- Rick Niswander, accounting professor, ECU College of Business
Adding services
Chris Loignon '08 '09 and wife Kendra '08 returned to Greenville three years ago to open Fleet Feet, which sells exercise shoes, apparel and equipment.
"When the pandemic hit, just like most people, the second half of March and April were really, really slow," Loignon said. "It picked up when people picked up new hobbies, and fortunately for us, that was people running and walking."
Loignon adjusted his business model to serve customers during the pandemic, offering curbside service and filling online orders. He also implemented an appointment system to reduce the number of customers inside the Greenville store.
He said community support has been key for his business, and he's giving back with a monthly charitable campaign that provides help to schools and soup kitchens.
"The saying is Pirates support Pirates, and it's true," he said. "Whether you went to ECU or not, you're part of Greenville, and Greenville people support each other. Our community has been so supportive. One of the things that drew my wife and I to this town is not only are we alumni, but we like this small-town feel. We're very fortunate to have met a lot of great people in this town, and to have the support of this town has been a blessing."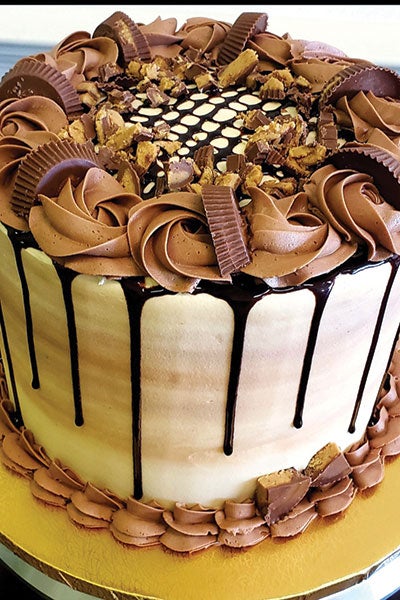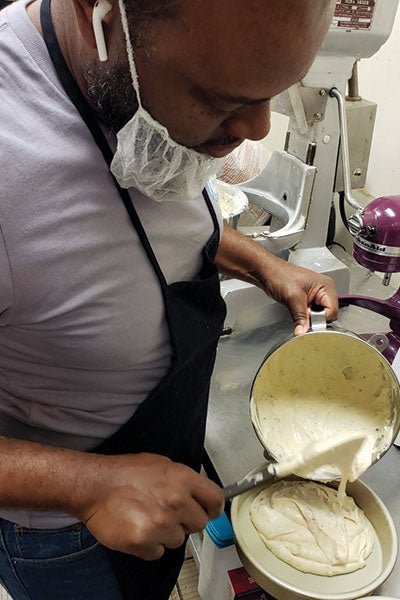 Amy '02 and Barry White '05 '11 met, fell in love and married 16 years ago. He proposed with a cake, not knowing that in 2013 they would open the Sweet Couple Bakery in Winterville. He couldn't say if opening a business was as stressful as trying to run one during the pandemic.
"Dealing with the pandemic has been stressful, just not knowing what was going to happen," he said.
They closed for about a month, and supplies for the shop proved difficult to obtain. With restrictions on large gatherings, they weren't making wedding cakes, a mainstay of the business. They adjusted, offering curbside pickup. When allowed to open, they reduced their hours and permitted just two customers in the shop at a time. Customers sometimes lined up outside the door to enjoy the couple's famous chocolate chip cookies and other treats.
"We pushed through," Amy White said. They said shop-local campaigns and social media brought them new customers as pandemic restrictions eased, and they're looking forward to a busy holiday season, though they offer no ideas about what 2021 will bring.
"We're just trying to get through the rest of 2020," Amy White said with a laugh. "Let's just get this year under our belts first."
As for Scarborough Fare Catering, Thomas hopes the worst may be over as well. Work has increased as restrictions decreased, and a partnership with a seafood company in Beaufort provided revenue opportunities with grab-and-go meals. The business expanded into a wholesale model of sorts, with five retail outlets across some rural areas.
"We are committed to these outlets even as we return to normal catering," Thomas said. "We hope to grow the volume and hire a larger team that will concentrate on this new business line."
Thomas is looking forward to a more normal 2021.
"We love full-service events and relish the day of getting back to weddings each week," she said. "2021 will prove to be the record-breaking year we thought 2020 would be."
Niswander called the economic impact of the virus "uneven." He cited construction, manufacturing, grocery and tech sectors that did fine during the pandemic, but airlines, hotels and restaurants sustained major losses.
"Yelp has estimated that as much as 60% of restaurants that are closed will remain closed permanently," he said. "Even those that are open show traffic that is down 45% from pre-pandemic levels."
He said businesses that were able to adapt, such as pivoting to online services, and those with sufficient capital may be able to sustain themselves. Still, he thinks the economy will "sputter along at best" until vaccines become generally available.
"It is important to note that this is not over yet," Niswander said. "We don't really know whether we will continue to recover economically or whether there will be another downturn. Some of the early negative economic effects were mitigated with increased government spending, particularly on PPP and higher unemployment insurance payments. Those programs have not been renewed, and the reduced spending has not yet rippled through the economy. I also believe that we are, at best, six months into a one-year — hopefully — downturn."
Supporting businesses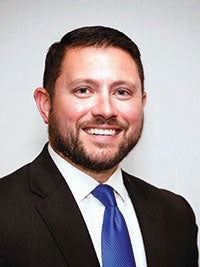 I'm convinced that a commitment to service is the only way that we will persevere through this crisis.
- Ryan Simons '04, president of the Wilson Chamber of Commerce
Ryan Simons '04 is the chamber of commerce president in Wilson.
"I think most of my members, and local businesses in general, are resigned to the fact that the coronavirus is simply a factor that we're going to have to learn to live and adapt with," he said. "The initial lockdowns and stay-at-home orders were stress tests that proved economically unsustainable, so now we're all looking to see how it's possible to calibrate business practices with safety protocol in a way that allows goods and services to be delivered, for livelihoods to be preserved and for jobs to be created."
Simons said the chamber has been a strong advocate for businesses with legislators in Raleigh and Washington during the pandemic while also providing marketing tools and resources.
"Businesses succeed and economies prosper when there is certainty, and there has been very little certainty since March," he said. "While I think there is some optimism about our economic resilience, the prevailing thought is that economic progress is going to be blunted without information about the virus that is more consistent and conclusive."
He said community strength has been evident, and he goes back to ECU's motto of Servire, or To Serve, as the backbone of business and of his role with the Wilson chamber.
"I'm convinced that a commitment to service is the only way that we will persevere through this crisis — selflessness, giving more than what is expected and a willingness to make a sacrifice for our neighbor," Simons said. "I was fortunate that an education at East Carolina not only reinforced the importance of service but made sure that the spirit of service was an integral part of my career."
I expect to see continued challenges across all sectors. I also expect to see resiliency that we as a community see despite any challenge thrown our way.
- Kate Teel '07, president of the Greenville-Pitt County Chamber of Commerce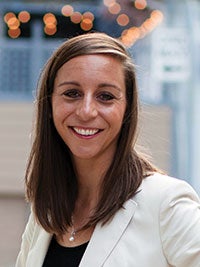 As president of the Greenville-Pitt County Chamber of Commerce, Kate Teel '07 has heard from businesses on the brink of closure and others that have thrived.
"It depends on the day, honestly," Teel said.
Teel said the chamber provided its more than 950 members an online COVID-19 resource guide and contacted business owners to answer questions and connect them with resources. Virtual marketing was implemented, and new gift cards and games encouraged support of local businesses.
"The chamber helps their businesses become stronger," Teel said. "We work with them to reach their goals, we're here to help when they can't do it on their own, and we're the biggest cheerleader for local business you'll ever find."
Teel said some Pitt County businesses are back to hiring workers. Still, the course of the pandemic makes 2021 difficult to predict.
"I expect to see continued challenges across all sectors," Teel said. "I also expect to see resiliency that we as a community see despite any challenge thrown our way."