ECU Report
---
Greenway marker recognizes Native American inhabitants along Tar River
History and recreation will come together along the Greenville Greenway thanks to ECU faculty members and a local nonprofit group.
Randy Daniel, chair of ECU's Department of Anthropology, has partnered with the local nonprofit organization Friends of Greenville Greenways and its founder, Jill Twark, associate professor of German in the Department of Foreign Languages and Literatures, to produce an educational marker documenting archaeological excavations along the Tar River that revealed Native American settlements.
According to Daniel, Native Americans lived along the Tar from about 11,500 to 3,000 years ago. Summer field schools over several summers located more than 20 Native American settlements along the stretch of the river within Pitt and Edgecombe counties. Some of the oldest were discovered almost 3 feet below the ground surface.
"What we found at these sites consisted largely of stone tools such as spear and arrow points, cutting and scraping tools and their manufacturing debris, along with pottery sherds," he said.
Twark said the marker will show the public what those digs have discovered. "They are accessible, tiny museums requiring no entrance fee to enjoy and learn from," she said.
The new marker was funded by the Greenville Noon Rotary Club in collaboration with FROGGS and was installed by the Greenville Recreation and Parks Department near the Toyota Amphitheater at the Town Common in downtown Greenville.
– Lacey Gray
---
Alumnae-owned PR agency ranked among best in US
Jamie Sigler O'Grady '01 and Sarah Evans '01 own one of the nation's top PR agencies, according to Forbes magazine's 2021 rankings of public relations firms.
The award for J Public Relations comes after a challenging year for the agency, which specializes in travel, destination and consumer brands. Its clients include tourism organizations such as Visit North Carolina and Visit Utah as well as hospitality brands Vail Hospitality, Relais & Chateaux and Iconic Luxury Hotels. When the coronavirus pandemic brought vacation travel to a near halt, clients began calling to pause or cancel their business.
"Pre-March, we had our biggest month ever in February. We had just signed Virgin Limited Editions (Richard Branson's luxury portfolio) and were working with really strong, successful hospitality companies," Evans said. "Within eight days, we lost about 60% of our business. It was completely unbelievable."
Evans was named to the university's inaugural "40 Under 40" list and is a recipient of the Incredible ECU Women Award by the Women's Roundtable. She and O'Grady have returned to campus to speak with classes, and the agency funds a scholarship for students interested in public relations. Several JPR employees started as interns from ECU. And O'Grady's son, Aidan, is a rising sophomore at ECU.
– Erin Ward
---
Chauncey leaves $5.2 million to university
A former ECU faculty member left the university a multimillion-dollar gift in her will that will support School of Music scholarships.
Beatrice "Bea" Chauncey came to ECU in 1949 and spent 41 years as a flute instructor, helping grow the small music department into one of the premier music schools in the Southeast.
Her dedication to the program was so steadfast that in 2011 she committed a $500,000 planned gift to the school. At the time, it was the biggest gift ever promised by a faculty member at the university.
When Chauncey died April 2, 2017, at age 94, her gift turned out to be much, much more. The sum was actually an eye-popping $5.2 million. Due to the complexity of her estate, the distribution process began in 2020.
The $5.2 million gift, a portion of which was counted in the total for Pirate Nation Gives, ECU's annual day of giving, will double the amount of scholarship money the School of Music can award.
"That doubles our ability to attract students. It will allow us to expand our recruiting area," School of Music Director Chris Ulffers said.
In addition to her love for music, Chauncey's hobby was making stock market investments. She became a shrewd investor and would show friends the room in her house dedicated to her trading research.
When she set up her will, the gift to ECU was conservative because she didn't want to overpromise in case of potential market fluctuations or end-of-life costs, said Greg Abeyounis, senior associate vice chancellor for development.
"As Bea grew older, there was a great amount of market growth that significantly compounded the generosity of this donation," he said.
Chris Buddo, dean of the College of Fine Arts and Communication, said there were many places Chauncey, a native of Akron, Ohio, could have given her money.
"Because she loved the school and the people that were in the school, that's where she wanted to see her money go," he said. "She really helped put the School of Music on the map, and this will keep it on the map — for a long time."
– Erin Ward
---
Jackson Tucker '14, a designer for Sierra Nevada Corp. in Durham, worked on a pair of electric motors used in the robotic arm, turret coring drill and sample caching assembly on the Mars rover Perseverance, which landed Feb. 18. "I was tasked with generating 3D models and 2D drawings for our designs, starting in the prototype phase all the way through the development of the flight products and other hardware needed during the assembly and testing," he said. He also worked alongside another designer to create and design components for the gearboxes. Perseverance launched last July 30 and was designed to provide a better understanding of the geology of Mars and to seek signs of ancient life.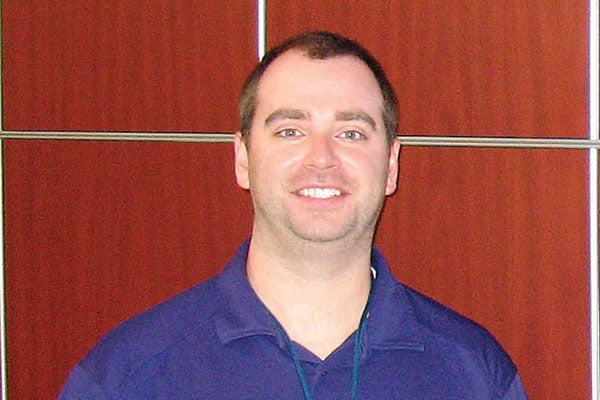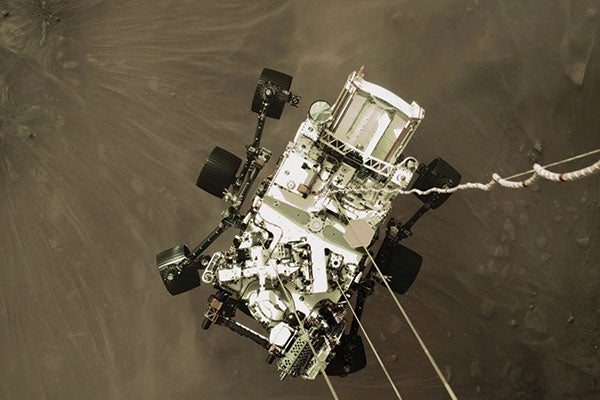 ---
Medical school, other programs receive high marks from U.S. News
The Brody School of Medicine is one of the nation's most diverse medical schools and among the best for primary care in the 2022 U.S. News & World Report Best Graduate Schools, released March 30.
ECU graduate programs in education, English, library science, public administration and public health also were included in updated rankings for 2022.
U.S. News worked with the Robert Graham Center, a division of the American Academy of Family Physicians, to publish four new stand-alone rankings for medical schools. Brody's rank in those are as follows:
Most diverse medical schools, 13th (24.9%)
Most graduates practicing in primary care, 10th (40.1%)
Most graduates practicing in rural areas, 28th
Most graduates practicing in health professional shortage areas, 16th (51.33%)
Brody ranked the highest for medical schools in North Carolina in each of the new categories. Brody also ranked 28th in primary care for best medical schools.
In addition, ECU's graduate education program ranked 136th out of 277 ranked, placing it in the top 50% of programs nationwide. Other ECU programs in updated 2022 rankings are doctorate in English, 147th; master's in library science, 47th; master of public administration, 146th; and master of public health, 123rd.
Programs offered predominantly online are ranked separately in U.S. News Best Online Programs, which is released at a different time of year.
– Crystal Baity
---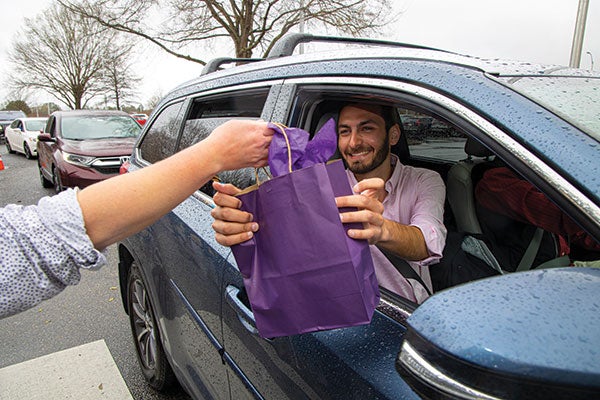 Arjun Patel receives his residency match letter and more at the annual National Residency Match Day event March 19 at the Brody School of Medicine at ECU. Seventy-six graduating medical students participated in the match, with more than 58% going into primary care residencies: 14 in family medicine, 13 in internal medicine, 10 in pediatrics and eight in OB/GYN. Twenty-seven students matched to residency programs in North Carolina this year, including six who matched at Vidant Medical Center and ECU.