Horizons
Changing Lives, Changing Communities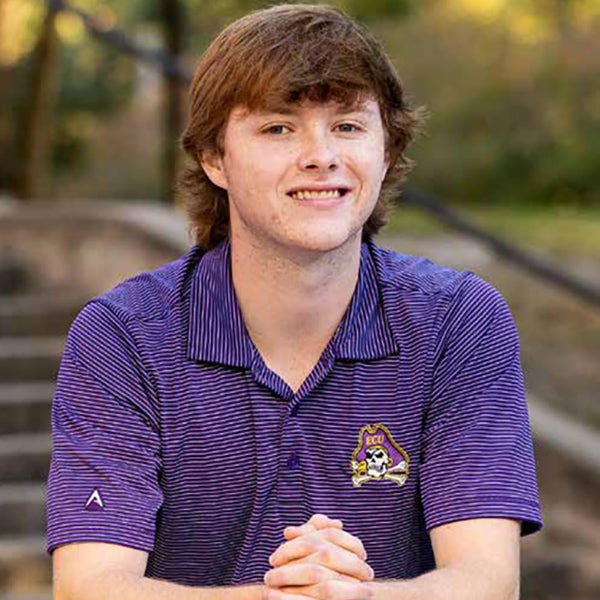 ---
Lukas Brown
Hometown:
Wallace
Major:
Biology/pre-medicine
Career goals:
Become a radiologist
Scholarships:
The David and Angie Fussell Access
Scholarship, The Golden LEAF Scholarship
---
What does receiving this scholarship mean to you?
This scholarship means the world to me. This scholarship gave me the opportunity to attend East Carolina University and to further my education. I have always been fascinated with the science of how our body is made up and how it functions. This scholarship gave me the chance to make something great happen in my life to help others in my future medical career. The Fussells have done so much for our county and our state. I am thankful to Mr. and Mrs. Fussell for helping me reach my dreams
---
Why should alumni support scholarships ?
These scholarships help students like me to attend college and receive a degree. Then we can use our knowledge and education to give back to our communities.
---
Donor spotlight: David Fussell Jr.
David Fussell Jr. '90 is president of Duplin Winery, one of the largest wineries in the South. In addition to being an active donor, he serves on the ECU Foundation board and ECU board of trustees. The David and Angie Fussell Access Scholarship supports students from Duplin County who have academic potential but not the financial means to attend the university.
---
Pirate Nation Gives
Gift creates Thomas D. Arthur Graduate School of Business
A $5 million gift from Tom Arthur '71 to the East Carolina University College of Business will transform the school's graduate program, which will be renamed the Thomas D. Arthur Graduate School of Business, and support student veterans and military.

"ECU has been very friendly to veterans. I wanted to make sure the College of Business would be military friendly," said Arthur, an Army veteran with three combat valor awards, a Silver Star, Bronze Star "V" and Gallantry Cross.
The donation is a $2.5 million cash commitment paired with an additional $2.5 million planned gift. Arthur made a previous $1 million gift to establish the Thomas D. Arthur Distinguished Professorship in Leadership in 2010. His cumulative giving is the largest of any donor to the college.
"Over the years, Tom Arthur's financial gifts have elevated our faculty, and his appearances at our annual Business Leadership Conference have inspired many students," said Paul Schwager, dean of the College of Business. "With this new gift, his legacy will be imprinted on the many lives that turn to the College of Business to grow their personal career path."
Arthur grew up in Greenville, the son of a tobacco leaf processor. He went away to college, then into the Army, and in 1969 returned home after serving in Vietnam. He met with then-dean of the College of Business, James Bearden, who convinced Arthur to join the new MBA program, "because if you can serve in the military, you're a leader," Arthur recalled. "He said, 'I'm the dean and you're in.'"
Several years after graduating, Bearden tapped Arthur again to join him, this time on the board of the BB&T Center for Leadership Development. "That association with ECU was pivotal in getting me reconnected to the university. I saw firsthand the tremendous impact ECU had on eastern North Carolina, the entire state and region," Arthur said.
After completing his MBA, he became vice president of a Florida based investment banking firm. Arthur then joined Havatampa Corp. in Tampa. In 1978, he formed a group to buy Havatampa's cigar manufacturing business and grew it to the second-largest cigar maker in the U.S. During the nearly 20 years Arthur's group owned Havatampa, annual sales increased from 160 million cigars to 1.2 billion.
Arthur was a majority shareholder until the company's sale in 1997. Since then, he's been engaged in private investments through ASAP Capital Partners, his family financial firm, which his daughter Tready Smith runs. "It really says a lot about ECU that this is where his giving is going. I hope it will leverage others to see the university in a positive light," Smith said.
"I wanted to do something while I was alive and could see it and touch it," he said. "The first best decision I made was go to into the military. The second was attending ECU. Those two things really prepared me for life."
-Erin Ward