From the Chancellor

ECU is a very special place.
That was evident to me from my first introduction to this campus. But the magic that makes it truly extraordinary reveals itself more with each new day as I meet more of the university's faculty, staff, students and alumni and as I learn new stories about their many successes, their research and the service projects always underway.
Today, after a bit more than a year as chancellor, it's more clear than ever how special this university is. Our graduates leave here fully prepared to capture new horizons. Our faculty come here energized by the impact they can make on the lives of their students and the research that will make this a better world. Our alumni come back often, with a love for this place that never wanes. And members of our university staff never tire in their commitment to fulfilling this institution's promise to change lives for the better.
All of that positive energy and so many examples of success would make anyone who knows ECU believe it's already recognized as a national leader in higher education. But the fact is our university is not as well-known as it deserves to be. That's about to change. This redesigned issue of East is just one example of the changes ahead. In the weeks and months ahead, you'll be seeing new television, newspaper and social media advertising that will make people take another look. You'll see more in the news. And in time you'll see our state and nation recognizing ECU as the great university we already know it to be.
ECU is America's next great national university. Pirate pride is justified! Thank you for your love for ECU. Catherine and I are proud to be part of Pirate Nation.
Cecil P. Staton, D. Phil.
Chancellor
Welcome to the new ECU
At ECU, our horizon is boundless.It is time to take a confident step forward. A bold vision. Big goals.Great opportunities.
Getting there means telling the ECU story in an equally bold way. Promoting a message that makes clear the path to success. And establishing an identity that is memorable, engaging and fits the path to becoming America's next great national university.
East Carolina is taking the next step forward to become known as ECU.
And we're challenging our students, faculty, staff, alumni, donors and all stakeholders to capture your horizon.
Chancellor Cecil P. Staton recommended an update of ECU branding elements in order to better represent a top national university. He wanted to include the campus community in the process. They agreed that while our brand has served us well over the years, it is time to create a new look and feel—a new brand—that represents our national leadership, our commitment to excellence and our promise to address the special needs of our state and its citizens.
Research was conducted to determine the degree to which our stakeholders felt new branding was appropriate, and the survey response was overwhelmingly positive from faculty, staff, students, alumni, donors, trustees and others.
In addition, the survey was posted on social media in order to give ample opportunity for a wider audience to participate. Informal, on-campus focus groups were held as well. Participants were asked the same questions as on the survey, and they were given an opportunity to comment on font treatments and graphic elements.
A graphic appearance that shares attributes with leading national universities while remaining authentic to ECU will help ECU look like it belongs among the very best in America.
We're ready for our close-up.
A new identity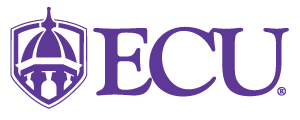 Of the more than 8,500 survey responses and 90 focus group participants, 85 percent supported elevating the ECU brand.Four-fifths expressed significant support for updating our moniker to ECU.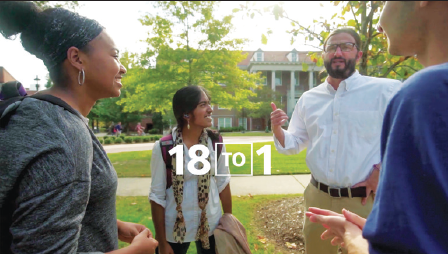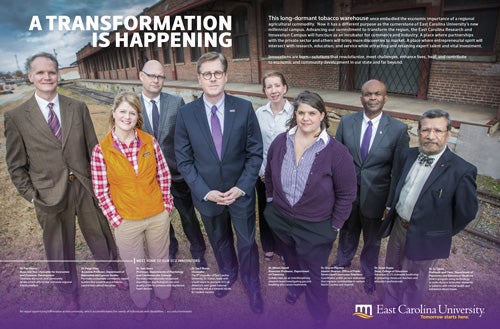 What's new
In addition to a new logo, the university is producing commercials, an admissions video (above), print ads (left) and more to showcase research, recent initiatives and achievements.