The guy in the room

ECU'S NEW
NURSING DEAN BRINGS
A FRESH PERSPECTIVE.
Dr. Bim Akintade stood quietly and alone in the front of an auditorium at East Carolina University's College of Nursing in August as faculty members filled the room for the annual faculty convocation.
The college's faculty mirror the national statistics for nursing professionals — the overwhelming majority are white females. According to the Journal of Nursing Regulation's 2020 National Workforce Survey, males accounted for only about 9% of the 4.2 million registered nurses in the United States and only 6.7% of the total registered nurse workforce reported being Black/African American.
For the past 60 years, the college's leadership followed a similar trend, with all five of the previous deans being white women, mostly from the South. In fact, the two previous deans, Sylvia Brown and Phyllis Horns — whose combined tenure spanned 32 years — grew up within 60 miles of ECU.
So Akintade's presence in the room was significant before he even spoke a single word, because a Black male nurse from Maryland — who had not stepped foot in North Carolina for nearly 20 years before coming to ECU — was about to address the faculty for the first time as their dean. For Akintade, however, the moment was significant for different reasons.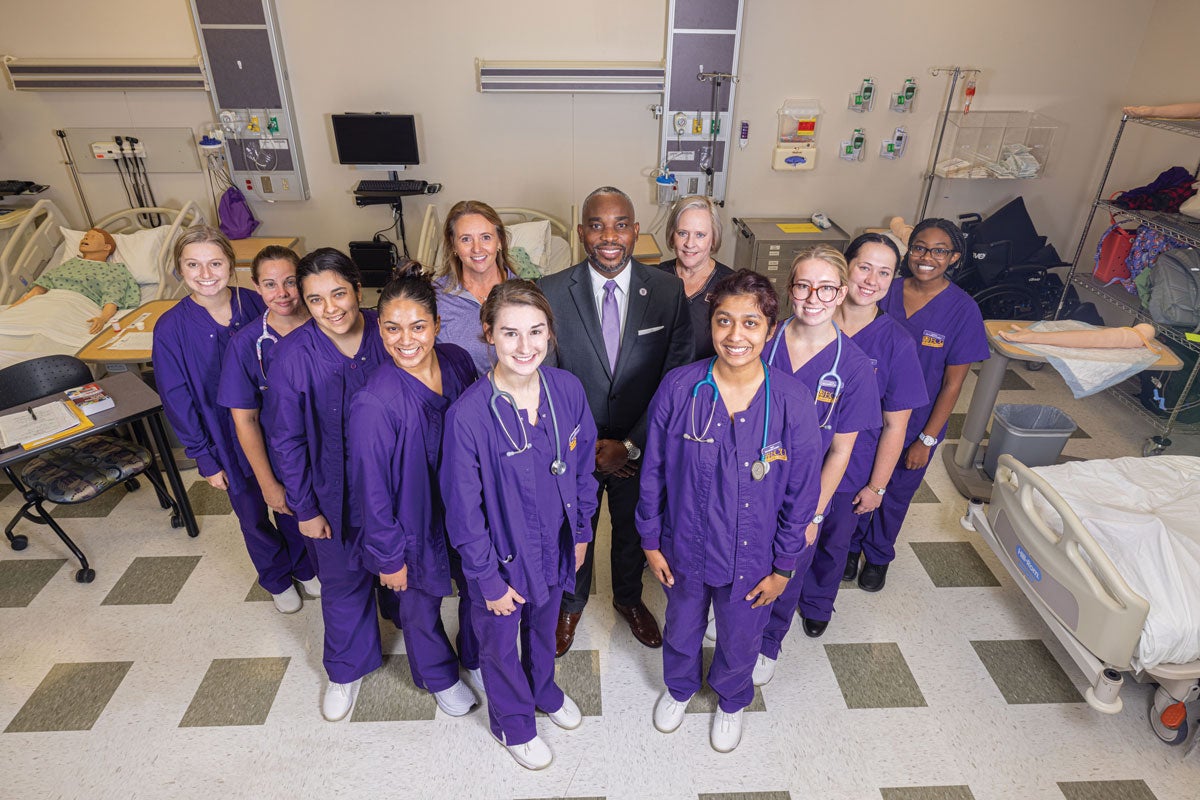 "Throughout my nursing career, I have usually been the only Black guy in the room. This was the case in every class I took in nursing school, and then when I became a program director, and later when I became an associate dean it was a similar story," he says. "In that moment during convocation, I was focused on the fact that this was my first opportunity to set the tone, to set a new direction and for the faculty to get to know me and see me in my most authentic form – who I am as a person and who I am as a leader."
The first step he took toward setting a tone was to intentionally delay the start of the convocation. Instead, he let the faculty members continue to talk to each other for several extra minutes. This has been a rare in-person opportunity for the College of Nursing faculty and staff in recent years due to COVID-19.
"We need to rebuild a sense of community and an inclusive community, where faculty gets to regularly interface with other faculty and staff, and more importantly, mentor and role model for our students," he says. "While I stood there, I was observing people smiling, talking and laughing. It was time for the convocation to start, and I didn't stop them for several minutes because I wanted to leverage that excitement to help rebuild that sense of community." When he started the meeting, Akintade took some time to introduce himself, explain the pronunciation of his last name (ah-kihn-TAHday), show pictures of his wife, two sons and dog, and share some of his personal hobbies. For example, he is an automobile enthusiast.
As internal and external stakeholders meet him, they're coming back and saying how wonderful he is and that he has so much energy. I think this is true throughout the faculty, staff and the rest of leadership.
- Annette Peery, associate dean for academic affairs
As soon as he started talking about college business, however, it was clear he was no longer an outsider. He was already deeply committed to the college's mission, was already inspired by its reputation for excellence and was already passionate about building the brand of ECU's College of Nursing well beyond North Carolina's borders.
"Dr. Sylvia Brown was here for many years and did a phenomenal job. She increased the number of programs, and she increased enrollment here by nearly 70% as dean; that is huge," Akintade says. "For me coming in, it's about building on that legacy while also identifying opportunities that I have either heard the faculty and staff mention or that I recognize as gaps that are relatively easy things to implement."
The 'unknown' of change
Uncertainty and anxiety are common emotions during times of change, and the College of Nursing was not immune after Brown announced her retirement in September 2021.
This is understandable considering ECU already has a nationally ranked nursing program that graduates more new nurses than any other four-year institution in North Carolina — 79% of whom stay in the state after graduation — and has received four consecutive "Center of Excellence in Nursing Education" designations from the National League for Nursing.
"There is always going to be some caution when there is new leadership, regardless of who that person is or where they are from. People will not be sure of what to expect and wonder how it is going to turn out. And this 'unknown' creates anxiety," says Annette Peery, whose connection with the College of Nursing spans three decades, from her time as a graduate student through her current role as associate dean for academic affairs.
"But there is also a lot of excitement right now," Peery added. "Because as internal and external stakeholders meet him, they're coming back and saying how wonderful he is and that he has so much energy. I think this is true throughout the faculty, staff and the rest of leadership."
One of the reasons for the excitement is that Akintade brings not only a fresh perspective and different energy to Greenville but also his own national reputation for nursing excellence.
Before coming to ECU, he served as the associate dean of the Master of Science in Nursing program at the University of Maryland Baltimore School of Nursing and was engaged in clinical practice as an acute care nurse practitioner in the post-anesthesia care unit at the University of Maryland Medical Center and the trauma surgical intensive care units at the University of Maryland Capital Region Health Center.
Akintade earned his doctorate in 2011 from the University of Maryland Baltimore as well as a master's in health care administration/health care organizational leadership the same year from the University of Maryland University College. In 2012, he received an MBA in international health care business from the University of Maryland University College. He received a master's in 2005 with a focus on the acute care nurse practitioner/clinical nurse specialist role and a bachelor's in nursing in 2003.
He is a member of several national organizations and chairs an expert working group for the American Association of Colleges of Nursing. In October, he was inducted as a fellow in the American Academy of Nursing — one of the highest honors nurses can receive from their peers.
Akintade has acknowledged that he had multiple job opportunities before he chose to leave the University of Maryland, but he was ultimately drawn to ECU because of its mission to improve health care in the state's rural and underserved communities, its strong simulation programming and the opportunity to foster academic practice partnerships, including forging a closer relationship with ECU Health.
"Fortunately, he saw that there is a lot of potential here, there is a lot of opportunity and we already have an outstanding College of Nursing that doesn't always get the recognition that we probably deserve," Peery says. "I think he is a visionary type of leader who is already working on things that will bring the College of Nursing forward, to help us grow and also bring us more recognition."
Roles and representation
Lilesville native AJ Hill graduated in December with a bachelor's in nursing. He chose to pursue a career in nursing after serving for six years as a medic in the U.S. Army.
"During my time as a medic, I realized that I enjoyed spending time with people one-on-one and helping them get better," Hill says. "I also knew that I did not want to make a career out of the military, so nursing was the closest thing to that for me and so far, it has been amazing."
During the first week of the fall semester, one of Hill's professors announced the college's new dean would be coming to speak with his class. "I didn't know anything about the new dean, so I was definitely expecting to see another older, white woman … because there is not much representation in nursing, as far as Black males, specifically," Hill says. "In my class right now, there is only one other Black male besides myself. So, when I saw that the new dean was a Black male, it gave me this excitement and joy, but also this hope that I really can pursue further to get my master's degree or a doctorate and maybe run a nursing program myself one day."
The significance of this kind of reaction is not lost on Akintade.
"I am going to do a good job because that is what I was hired to do and I have this personality that is geared toward excellence — not only because I want to be a role model, but because it's the right thing to do. I am probably going to work myself to death one day," he said jokingly. "But I do recognize that there is a community of people rooting for me because I am representative of them and it's important for them to see someone who looks like them in leadership.
"I don't dwell on it; I'll be the first to tell you that. But I do understand the magnitude of the role."
Timeline of ECU's nursing deans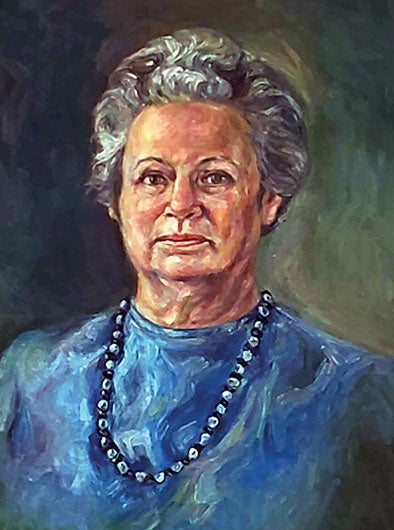 1960
Eva W. Warren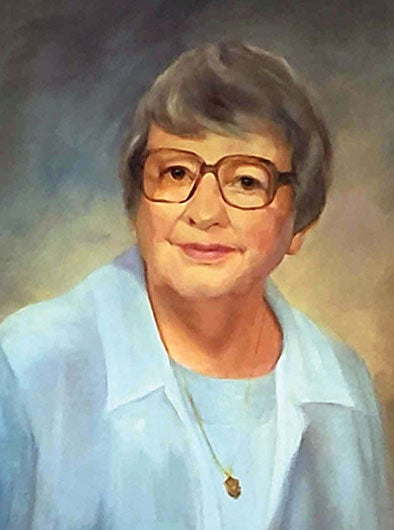 1969
Evelyn Perry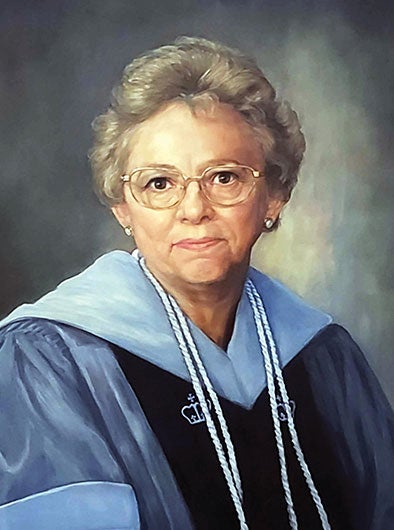 1982
Emilie Henning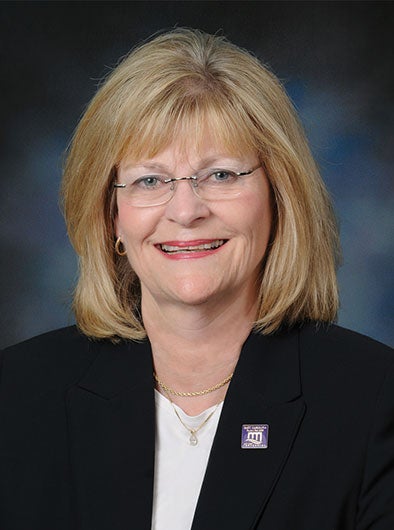 1990
Phyllis N. Horns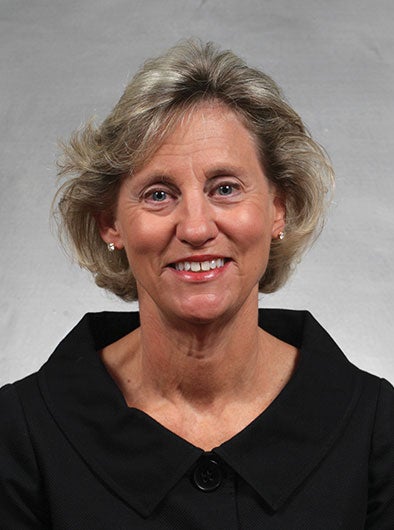 2009
Sylvia Brown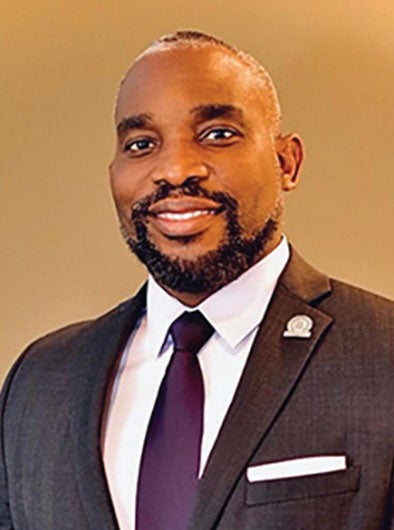 2022
Bimbola Akintade
Growth strategy
While the Bureau of Labor Statistics projects the registered nursing workforce to grow by
6%
over the next decade, it also forecasts
203,200 openings for RNs
each year through 2031. Akintade hopes to leverage his role as dean and his vision for the college to grow enrollment by
up to 50%
in the coming years to help meet the growing need for nurses.
"We've seen unprecedented growth here at the College of Nursing over the last several years. And while the national average for enrollment decreases this year was about 11%, we were only at about 3%. So we're still doing great," he says.
"But there is a pipeline shortage with the number of students graduating from high school decreasing, and the pandemic certainly didn't help," Akintade adds. "That is why my vision surrounds social and professional community building, which I believe tends to create a significant return on our efforts. I think it will give us the opportunity to recruit more students, strengthen our academic practice partnerships and perhaps better engage more of our alumni of Pirate nurses to serve as faculty or preceptors."