After the Fact

Scott Avett '99 '00 explores mystery in the creative process
On a morning in late summer, Scott Avett had hoped to spend a few hours painting. Soon, though, the details of a busy day came into focus. There were errands to run, conversations to have and plans to finalize ahead of the next touring leg with the Avett Brothers, the band he co-founded with his brother, Seth, more than two decades ago.
When he realized painting would have to wait, he submitted to an essential part of his artistic process: knowing when it's OK not to create. Instead of trying to force some studio work, he decided to take a walk in the woods.
"I trust that was right," says Avett, who earned degrees in communication and art at ECU. "I just trust it was."
Beyond the certain
The mystery of artistic expression is a theme that resonates throughout Scott Avett: After the Fact, an exhibition at the Greenville Museum of Art.
Running through Jan. 21, After the Fact expands on a 2019–2020 exhibition at the North Carolina Museum of Art in Raleigh and accompanies a show hosted this past fall by Southern Comfort (SOCO) Gallery in Charlotte. Both venues collaborated with the Greenville museum to bring the show to town.
Avett, who returned to Greenville in October for the exhibition's launch and to spend time at ECU's School of Art and Design, says the meaning of a work transcends the physical act of creating.
"Something else goes way beyond me into some sort of an unknown that I very much aspire to stay close to," he says. "It's a contemplative space that becomes like prayer. It's trying to get beyond what the facts are and closer to what the mystery is."
Spanning two galleries, the Greenville exhibition includes more than two dozen pieces showcasing Avett's pursuits as a painter and a printmaker. Some large-scale canvases tower more than 8 feet on the museum's walls.
"Scott's work is really diverse both in terms of subject matter and style, which is always appealing when planning an exhibition like this," says Trista Reis Porter, executive director of the Greenville Museum of Art. "There's a wide range of types of works. They're very impactful. You can see his heart in them. It's an intimate look into his personal life."
Linda Dougherty, chief curator and curator of contemporary art at the North Carolina Museum of Art, worked closely with Avett in preparing for the Raleigh and Greenville exhibitions.
"He's equally a great visual artist and a talented musician," she says. "It's phenomenal to me to see all of that in one person.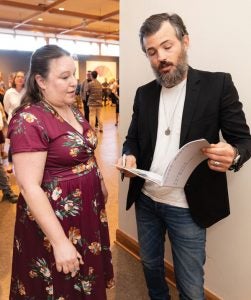 "In both his music and in his art, he talks about things that are extremely personal — his family, his marriage, being a parent — but also things that are really universal: about love, spirituality, seeking and the challenges of life."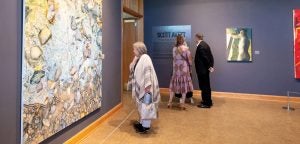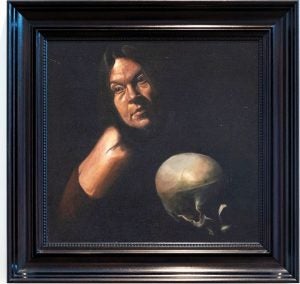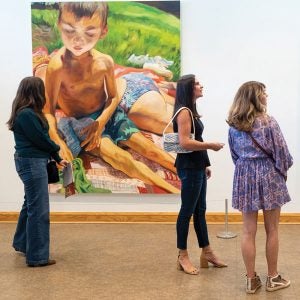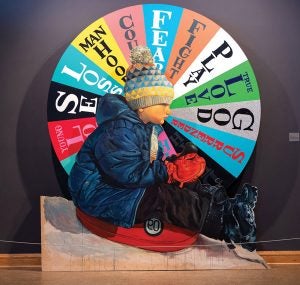 Commitment to craft
When Avett starts a new composition, he often turns to images that present themselves through life at home in North Carolina on a small farm in Cabarrus County. In that environment, he finds fertile ground where he can explore what he calls purpose — whether he's painting a portrait, writing a song, or spending time with his wife, Sarah '03 '07, and their three children.
"I do keep the circle small; I keep the navigation very local," he says about sources of inspiration, especially in the context of raising two sons and a daughter. "That's such a fascinating relationship. There's no word other than 'life' to describe the beauty and the messiness of the pain and the joy that come in all of it."
As he did on the morning of his walk in the woods, Avett takes care to let the creative process unfold organically.
"When it's time to paint, it will come," he says. "If a melody is calling today, I will commit to it. I won't overanalyze why, how, what will happen with it. The point is I am committed to it. I'm making it to put it into this world for my self-expression — ultimately, I hope, to make the world brighter and to love the world the best way I can."
Discovery in community
"It was like staring into the sun for me," Avett says with a chuckle about the mosh pits, clubs and dear friends composing Greenville's vibrant music scene in the late 1990s and early 2000s.
He speaks with the same enthusiasm about developing as a visual artist on ECU's campus.
"I didn't even digest it as academics as much as I did a vocation," he recalls of his years as an art student. Guidance offered by School of Art and Design faculty such as Scott Eagle and others still resonates.
"To this day, his voice — just like Michael Ehlbeck and Leland Wallin and Michael Voors — echoes in my studio, even with just the organization of my palette," Avett says. "To this day, I hear it and I use it.
"It was pragmatic; it was logical; it was nuts and bolts. I couldn't have gotten that anywhere but Greenville. The school of art understood what I needed, and it gave it to me. It was really a wonderful exchange."
Eagle remembers Avett as a student with incredible skill as a painter, draftsman and printmaker who also had sights on pursuing a career in music.
"He was confident and passionate about his art and his beliefs," Eagle says. "He was also part of a large and very talented cohort in the painting and drawing program that spent a lot of time together in the studios and outside of school.
"Somehow, Scott has made the time to keep painting and be a rock star and make time for his family. His paintings today are absolutely beautiful, and he is now asked to speak at some of the top art programs as well as appear with some of the most well-known contemporary painters."
Avett is grateful for that strong sense of community during his college years.
"There were so many people in and out of my periphery and in my vision I learned from — artistically, visually, musically, life," he says. "I went from being completely lost and completely terrified to feeling completely cradled and prepared, then, to leave."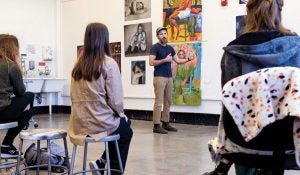 A lot of moving
While the solitary nature of visual art remains a vital creative outlet, so does the more communal expression Avett finds in music.
The Avett Brothers have released recordings steadily since 2000, and the band keeps an active performing schedule. This past year included their own music festival in Riviera Playa, Mexico; a three-night run at Red Rocks Amphitheatre in Morrison, Colorado; and a string of dates on Willie Nelson's Outlaw Music Festival tour.
They maintain a close relationship with renowned producer Rick Rubin, whose collaboration with the band dates to the release of the Avett Brothers' major-label debut, 2009's I and Love and You.
"It's friends first at this point," Avett says of Rubin. "He's such a good compadre, a good partner. He's very loving and a dear friend. He's like family, and he's been very good to us."
New music is in the works, too.
"We're excited about it," Avett says of the body of songs yet to take flight. "It's going to be very special. We always put everything into it. It's exciting to release into the world. It's our life's work, you know?"
The Greenville Museum of Art, 802 Evans St., hosts Scott Avett: After the Fact through Jan. 21. Visit Greenville Museum of Art for details.