Decadelong project documents WWII wrecks off N.C. coast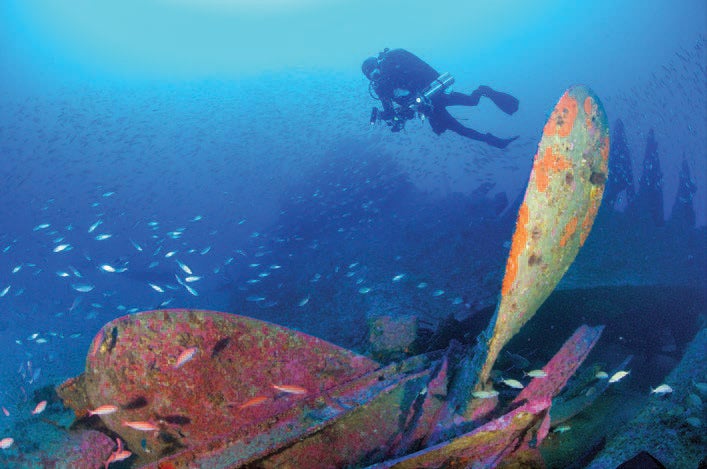 A project involving the Bureau of Ocean Energy Management and the National Oceanic and Atmospheric Administration has identified, surveyed and documented the location and condition of more than 50 wrecks associated with Germany's effort to disrupt Allied supply lines during World War II. 
ECU faculty, staff, students and alumni have played key roles in the project, which led to the government publication in November of Battle of the Atlantic: A Catalog of Shipwrecks off North Carolina's Coast from the Second World War. Eight of the 10 authors are connected to ECU. 
Interest in the project began with German U-boats, said Nathan Richards, director of maritime studies at ECU. Three have been identified off the N.C. coast in the years since WWII, he said. 
Around 2008, there was a report someone was seeking to retrieve material from one of the wrecks, which was a problem due to issues of jurisdiction and the possibility of disturbing human remains. 
"So in 2008 there was a collaboration to record a baseline," Richards said. "When we refer to a baseline, we're going to go out as archaeologists to record a site, and then we can measure changes of the site through time. … And that kind of opened the door to the consideration of this resource and of the untold story of the Battle of the Atlantic off North Carolina." 
From the coast to about halfway to Bermuda, approximately 90 vessels are known to have been lost in the war, said Joe Hoyt '04 '08, lead author of the study and national coordinator of the Office of National Marine Sanctuaries' Maritime Heritage Program. "For this study, we primarily focused on sites that we believed from the historic record would have been on the continental shelf … before it drops off into much, much deeper water." 
Documented in the report are 44 merchant vessels, seven Allied warships and support vessels, and four German military vessels. Some had been located and identified since the war. 
One notable discovery was that of the freighter Bluefields. 
"In July 1942, the U-576 attacked a convoy of 19 ships off Cape Hatteras and struck three of them," Hoyt said. "One sunk immediately … but when it did this, the U-boat popped to the surface in the middle of the convoy in broad daylight, and it was attacked and sunk." 
The researchers obtained an American Battlefield Protection Program grant to search for the Bluefields and U-576, and John Bright '08 '12 did his master's thesis on the project. In 2014, the team found the remains of the vessels 240 yards apart in 700 feet of water, 35 miles offshore. 
In August 2016, researchers visited the underwater battlefield using two manned submersibles, becoming the first people to lay eyes on the vessels since the day they sank.