LOOKING BACK

at 9/11 and two decades in Afghanistan
2021 brought two significant events in America's long-standing war on terror: The 20th anniversary of the Sept. 11 attacks that started the conflict, and the withdrawal of U.S. troops from Afghanistan, one of the focal points of the war.
John Hurley '19 turned 21 the day terrorists flew commercial airliners into the Twin Towers of the World Trade Center in New York and the Pentagon in Washington D.C., A fourth airliner crashed in Shanksville, Pennsylvania, after passengers revolted. A total of 2,977 people died as a result of those acts.
Hurley was a U.S. Army nurse at Walter Reed National Military Medical Center, about to graduate from nursing school that day. Instead, he and his fellow medical professionals went to work.
"Washington D.C. was in hysterics at that point. People were just running away from their cars," Hurley remembered recently. "There was a group of us out in front of the bus, literally picking up cars and moving them – shoving them out of the way, doing anything we could to try to navigate abandoned vehicles."
His group gathered at an overpass and started to head into the Pentagon in small teams. However, he doesn't remember ever getting into the area near where the plane crashed, as sirens kept going off and they had to constantly retreat for any number of reasons, including the fear of another incoming plane.
"There literally is – the majority of the day – that I just have no memory of," Hurley said. "I remember this one guy with a – he had a big rag on his head, it was covered in blood. I think somebody found a foot. And that's honestly it."
9/11 would shape the next 20 years of Hurley's life. He wanted to get into the battle. He found out what he had to do to become a Green Beret and started to check the boxes until he was eligible and ultimately accepted.
"I joined the military. I was going to become a nurse, get out. It was a way I could get a good job. Now there was an attack on U.S. soil," Hurley said. "If we were going over to war, I wanted to make my family proud, and I wanted to make my hometown proud; all of the misguided things, stories people read. Nothing better than running headlong into battle and then having somebody crying over your flag somewhere. So, I wanted that to be me."
Hurley's career in special operations would lead to multiple deployments over the next 10 years. Several would be to Afghanistan. Hurley said the country was beautiful despite the war. After serving, he enrolled in medical school at ECU and is completing residency training in emergency medicine in Florida. He supports the decision to leave the country.
"What is happening right now is exactly what would have happened if we would have done this 10 years ago. It's what would have happened if we would leave in 20 years," Hurley said. "We needed to get out of there and let them do their thing."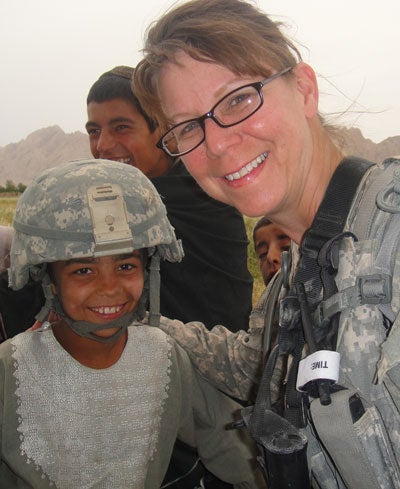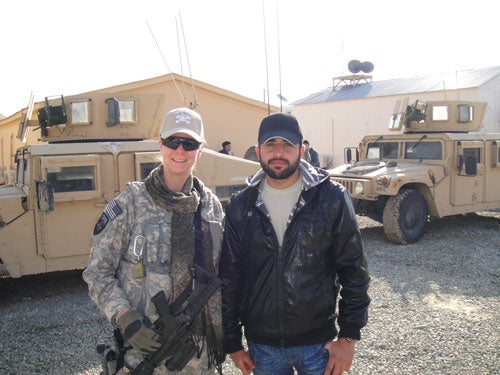 In 2009-2010, ECU human resources staff member Pat Frede also served in Afghanistan as a Navy reservist. She was the non-commissioned officer in charge of support and an instructor at the counterinsurgency training center at Camp Julien in the Darulaman compound in Kabul. She was embedded with a female engagement team that traveled into Helmand province.
"What I remember most is how friendly and kind the Afghan people were to us, especially the women and children," Frede said.
"Apparently it's customary to treat your guests like VIPs."
She received beautiful gifts including head scarves and a hand-crafted jade ring. Because Frede was a woman, she was the only one allowed to meet the mother of her team's translator in his home.
"I have learned that for all the differences between American women and Afghan women, whether it's working outside the home, who we believe is our higher power or how we interact with members of the opposite sex, as women, we generally have one thing in common – to give a better life to our children and those entrusted to our care," Frede said.
Before her deployment, Frede knew there were many cultural differences between Western and Muslim women and wasn't sure what to expect. She also wondered how Afghan men would react to her.
"I learned that whether women are carrying weapons or not, they are seen as caregivers more so than as a threat, in general," Frede said.
Keeping women safe is a concern, because sexual violence is directly related to ethnic conflict and fighting factions, Frede said. Rape was a systemic problem during the Soviet war in Afghanistan. "It remains to be seen how the (U.S.) withdrawal will impact human as well as women's rights," she said.
After nearly 12 years, Frede said she has lost touch with most everyone from Afghanistan, except for her translator, who now lives in the U.S. She asked him recently about the country's future with the U.S. military withdrawal. He believes the U.S. will find itself involved in Afghanistan again because of the terrorism that's still there.
He added that the support of the international community paved the way for Afghan women – such as one of his sisters – to go to school and establish careers, and that democracy couldn't be maintained because the younger generation was not powerful enough to overcome older tribal leaders.
Her latest deployment has taken her to Djibouti, a small country on the Horn of Africa, where the United States and several other nations have military bases. On the 20th anniversary of 9/11, her base hosted several events at Camp Lemonnier. The memorial ceremony included the playing of the U.S. and Djibouti national anthems, a flyover by an allied partner nation, a reading of each person's name who was killed on 9/11 and a viewing of footage from the day.
"I was a reservist back then as well, and we all knew that the world was going to change. None of us knew how much," she said.