The TikTok Doc will see you now
TikTok celebrity Makall Lauren had a contact lens stuck in her eye. The college student posted a teary video about her dilemma on the popular social media platform asking for help.
Dr. Brittani Carver-Schemper '96 answered her plea. The Fayetteville-based optometrist demonstrated how to remove the contact lens, and unknowingly created a viral video in the process.
On the TikTok app, creators make a variety of short videos on everything from dance moves to cooking hacks to makeup tutorials. It is also increasingly a place to educate their audiences. For Carver-Schemper, it's ideal for teaching people about eye health.
Carver-Schemper, who uses the name @bettervision (the same as her practice) on TikTok, has 10.6 million account likes and 250,000 followers. She initially heard about TikTok from her kids and started making videos about a year and a half ago.
"It was slow at first, and a lot of trial and error. When I hit 10,000 followers, I was so surprised," Carver-Schemper said. "Now some people come into the practice having found us on TikTok."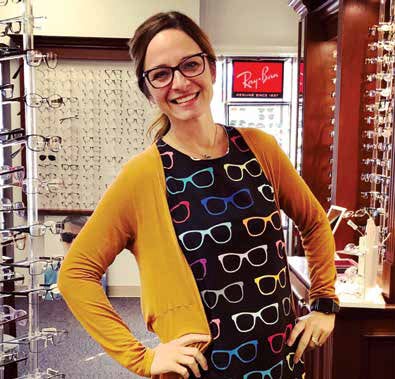 Top Tips from the TikTok Doc
Get your eyes examined.
I see patients all the time who haven't had an exam in 10 to 15 years. Even if you have good vision or don't need glasses, it's very important to still get a health check.
Watch for dry eyes.
With the amount of computer work we're doing these days, dry eyes are a big issue. Many people have severe damage to their oil glands, but wouldn't know it until they come in.
Eat healthy and exercise.
What's good for your body is good for your eyes.
In her videos, she posts about multiple topics, including what to expect at an eye exam, common eye issues and how not to apply eyeliner (tip: avoid your waterline).
"My favorite part is getting messages from people all over the world. They're asking questions, and maybe don't have proper eyecare where they are," she said.
Before she became an optometrist, Carver-Schemper thought she was going to be a pediatrician. As a senior studying pre-med at ECU, she decided that career path wasn't what she wanted.
"I felt lost. I went to my guidance counselor and she suggested going to an intro session to learn more about optometry. I went to that meeting and ended up shadowing a local optometrist in my hometown," she said. "I wouldn't be where I am today if I hadn't walked in that guidance counselor's office that day."
Now Carver-Schemper is using her eye expertise to help and educate others. A bonus? "My kids think it's awesome," Carver-Schemper said of her TikTok popularity. "I ask them, 'Are you sure I'm not embarrassing you?' They're 12 and 16, and they say they're proud of me."
— Erin Ward