School of Rock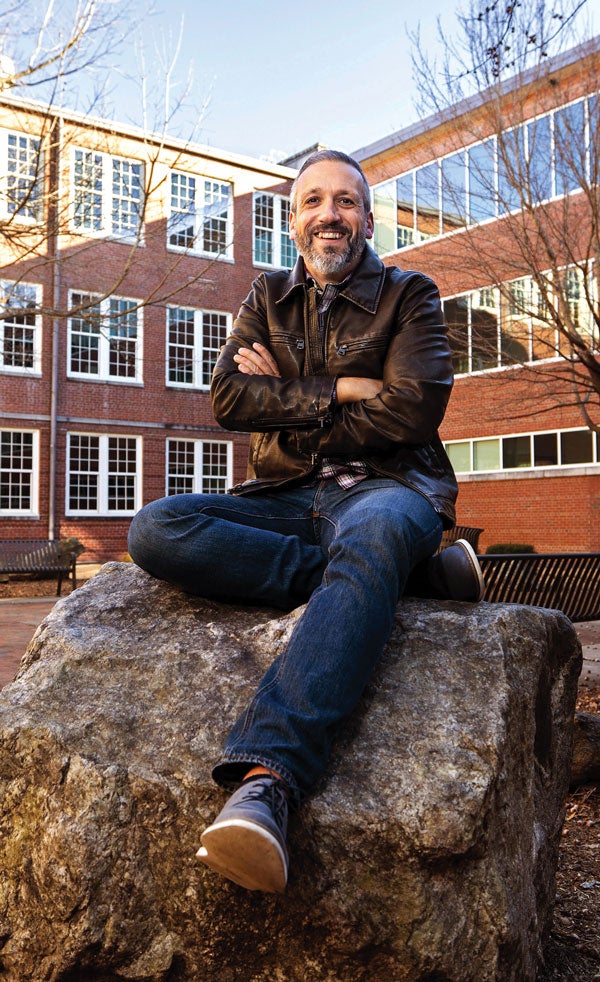 Class takes on Hollywood's portrayal of epic disasters
How do you stop a gigantic asteroid from hitting Earth? If you're in a Hollywood movie, you fly into space and detonate a nuclear bomb. When Earth's molten core stops rotating? Nuke that, too. Doomsday comet? Nuke! (With a crack team of dashing scientists, of course.) Natural disasters lend themselves to big-budget films, but how accurate is the science? Professor Eduardo Leorri asks just that question. His introductory geology class is so cool it might make you wish that you were a student again. Here's a sneak peek at GEOL 1010.
You're taking: Geology Goes to Hollywood: Natural Disasters
Your professor is: Eduardo Leorri, associate professor in the East Carolina University Department of Geological Sciences
Your classroom time will be spent: Watching films, video tutorials and documentaries to understand geological concepts and processes, with special emphasis on earthquakes, tsunamis, volcanoes and hurricanes. You'll watch blockbusters such as Armageddon, Deep Impact, San Andreas and The Core, which will be followed by a discussion of their scientific accuracy. The course will focus on how science is perceived in Hollywood films and the real, rather than fictional, societal impacts of geological processes.
"This is an introductory course, and I wanted to do something more engaging than lectures that also showed students the societal value of the science," Leorri said. "Using movies shows how natural disasters affect all of us. It's a visual medium that relies less on textbooks."
A lot of the time, the science in movies is junk, Leorri said, but not always. Deep Impact, for example, is one of the better depictions of cinematic catastrophe, he said. "I'm not sure nuking a comet will work, but the other science was pretty accurate based on what we knew at the time," Leorri said, noting the size and surface of the comet as well as its impact in the ocean are plausible.
You'll learn about: How geological scientists approach problems, conduct research and report their findings. You'll also discuss the impact of the geological sciences on our own and others' cultures.
You'll leave the class with: The ability to think critically when exposed to information. "I hope that after this class, when students see or read something, even if it's not science-related, they'll be able to stop and think, 'Does this make sense?'" Leorri said.
What they say:
PROFESSOR LEORRI'S CLASS ALLOWS US TO STUDY GEOLOGY BY SEEING HOW IT IS PORTRAYED BY HOLLYWOOD WHILE ALSO LEARNING THE REALITIES OF THE SCIENCE. IT'S A FUN AND UNIQUE WAY TO INCLUDE POP CULTURE IN OUR EDUCATION.
- Anna McMillan, sophomore psychology major