Carbon-fiber bridge coming to the coast
While the entire bridge won't be built of the black composite material, its use as a reinforcing component should reduce construction and maintenance costs while extending the life of the bridge.
That's according to Amin Akhnoukh, an associate professor in ECU's Department of Construction Management. He's part of two research projects that could shape the way North Carolina builds bridges in the future.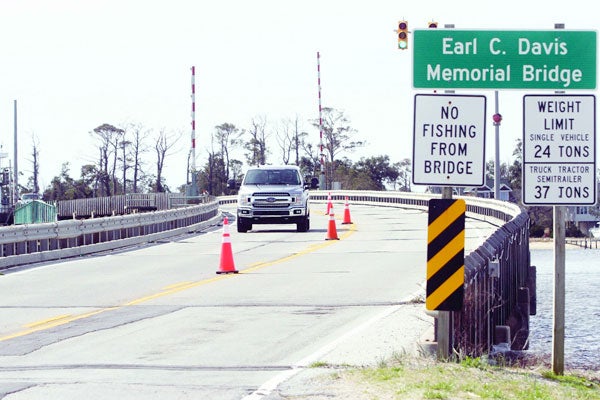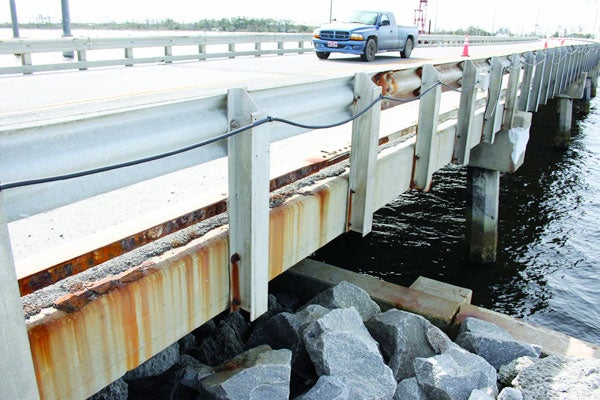 Bridges have traditionally been built with steel rebar and concrete. However, a new replacement bridge that is planned to link Harkers Island to mainland Carteret County will be built using non-corroding, carbon fiber-reinforced polymer strands instead of steel.
"There are a lot of corrosion issues for steel and a lot of concrete durability issues in the long term, so we are trying to design the first carbon fiber-reinforced bridge," Akhnoukh said. "The sections will be smaller because carbon fiber sections are smaller than steel or concrete. It's lighter, so there won't be the need for heavy construction equipment. It's safe in the long term because carbon fiber never corrodes."
That's especially important along the coast, where the marine environment can lead to expensive maintenance costs and decrease the lifespan of bridges. The two bridges that link Harkers Island to the mainland are 45 years old. Sections of one of them, the Earl C. Davis Memorial Bridge, are mottled with rust stains.
The new high-rise bridge will be better structurally and will not need the repairs associated with corrosion in traditional steel-reinforced concrete, thus increasing the lifespan of the structure, Akhnoukh said.
Generally made from polyacrylonitrile, carbon fiber was invented in Cleveland, Ohio, in 1958. It's strong, stiff and light and has been used to build everything from race cars to wedding bands.
"It's stronger in the short term and better and more durable in the long term," he said. "In general, it will be much better for the future. There will be lower maintenance costs." Work on the grant is expected to start in August, correlating with the expected start of construction of the new $47.9 million bridge.
"This is a significant project for NCDOT because it will be our first complete structure reinforced with FRPs (fiber-reinforced polymer)," said Hon Yeung, project team lead for NCDOT.
Akhnoukh is a co-principal investigator on the project, funded for $365,000 by the NCDOT, along with Rudolf Seracino, Mohammad Pour-Ghaz and Giorgio Proestos from N.C. State University.
In a separate grant, Akhnoukh is the principal investigator in a $208,992 grant through NCDOT to look at bridge drainage systems.