Ready to take off
Sommer Knight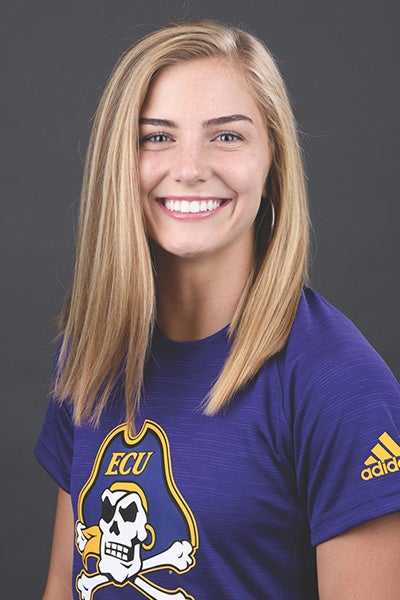 Sommer Knight
Year: Senior
Major: Nursing
Hometown: St. George, S.C.

Sommer Knight has her sights set high — in athletics, academics and beyond.
The senior ECU women's pole vaulter is the school indoor and outdoor record holder. She is a member of the Student Athlete Advisory Committee and one of the team's diversity and inclusion coordinators. She's ECU's first female vaulter to clear 13 feet and make it to the first round of the national championship.
Although she's setting the bar for the team's pole vaulters, her coaches point first to her personal qualities that make her such a valued contributor.
"Sommer is a wonderful athlete and a wonderful student, but she's an even better person," said pole vault coach Brie Berkowitz. "You just want to clone student-athletes like Sommer. Her work ethic is relentless."
When the 2020 outdoor season was canceled due to COVID-19, Knight said she took the extra time to refocus on her relationship with God while continuing to train. The nursing major returned to campus in the fall and is taking classes online while completing her clinical requirements in person.
"I still trained hard over the summer," she said, adding that her dad installed a high bar in their yard for her to do drills on. "I think that because of this extra time (away from competition) we'll be more prepared going into this season, so I'm really excited about it."
There are lots of goals on Knight's checklist for the upcoming year, some specific and others less so. Berkowitz and Curt Kraft, director of track and field/cross country, hope to see Knight return to the national championship and possibly get to the final rounds.
Knight, meanwhile, is prioritizing goals more localized but no less lofty.
"My main goal is to just have fun and not stress myself out. I tend to put a lot of pressure on myself, and that's when I don't perform well. My number one goal since freshman year has been to clear 14 feet, and I've been getting closer to it," said Knight, whose personal record in competition is 13 feet 9 inches. "Hopefully this will be the year."
My main goal is to just have fun and not stress myself out.