Go-to Teammate
Popovic is a Leader in the Pool and Lab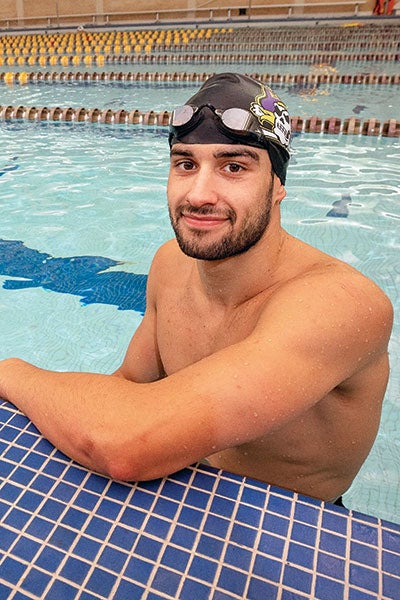 Grega Popovic
Year: Graduate Student
Major: Chemistry
Hometown: Maribor, Slovenia
Grega Popovic has traded his swim goggles for safety glasses.
Popovic, a four-year member of the Pirates swim team, saw his athletic eligibility end after the American Athletic Conference championship in February. The ECU record holder earned a bachelor's degree in chemistry in May 2019. He plans to graduate with a master's in chemistry in 2021 and is interested in medicine.
Popovic has been working on research projects under Adam Offenbacher, assistant professor of chemistry, and Nathan Hudson, assistant professor of physics. One looks at cell function that can lead to various diseases including kidney failure, and another involves precursors for blood clotting.
His attention to detail in the lab is a carryover from his success in the pool.
"It's one of the hardest sports out there," said Popovic, a freestyle swimmer. "There's a lot of satisfaction with getting a best time and the amount of effort it takes."
Popovic routinely rose at 6 a.m. for morning practice, followed by class or lab time and afternoon practice before returning home at 7 or 8 p.m., six days a week. Popovic swam 30-35 miles in a typical week of practice — plus weights and dryland training.
He is a two-time All-Conference swimmer and received All-Academic honors. He said being part of winning the conference title his freshman year stands out. The Pirates repeated as champions this year in Houston.
Popovic, from Slovenia, says going to school in the U.S. was a dream.
"ECU made that happen," Popovic said. "I loved the atmosphere of the team — that really convinced me to commit. These guys have pretty much been my family the last four years, and I love the coaching staff, the professors."
Associate head coach Kate Moore recruited Popovic, describing him as a fierce competitor and hard worker. "He's a go-to guy for our younger swimmers," she said. "He's encouraging to his teammates. He has meant a lot to us.
"He's very smart and driven. I'm excited for his future. We'll lose that leadership role, but he's rubbed off on our younger swimmers."
THESE GUYS HAVE PRETTY MUCH BEEN MY FAMILY THE LAST FOUR YEARS, AND I LOVE THE COACHING STAFF, THE PROFESSORS.
Grega Popovic: Swimming Chemistry