He started 'Bo Time.' Now it's 'go time'
When Erik Jones won the Bojangles' Southern 500 at Darlington on Labor Day weekend, the high point for Randy Poindexter '78 probably wasn't on the track. More likely, it was all the times the fried chicken chain's name was broadcast across the country and even around the world.
Poindexter retired in August as senior vice president of marketing for Bojangles' Restaurants – a role he had held since 1990. He counts the sponsorship of the NASCAR race as a highlight of his career – one that he worked hard to get going.
"Coming out of East Carolina I knew I wanted to be in advertising. I dreamed big," Poindexter said.
After a year-and-a-half of rejections, Poindexter landed a job with Chesapeake Bay Advertising, a small Virginia Beach agency.
He worked on the Burger King account until Burger King hired him away to Houston. Then, KFC offered him a job in Atlanta. Soon, one of his former mentors at KFC bought Bojangles' and offered Poindexter a job in Charlotte – closer to his hometown of High Point – and that's when "Bo Time" started.
While Bojangles' would use celebrities in its commercials, such as former Carolina Panthers Jake Delhomme and Steve Smith, NASCAR legends Jeff Gordon and Dale Earnhardt Jr., professional golfer Bubba Watson and country singer Scotty McCreery, Poindexter said the star was always the chicken, biscuits and iced tea.
"When people are looking at commercials you want them to hear and see the message, and the use of humor in commercials attracts people more so than boring, bland commercials – just like our food," Poindexter said. "Our food's not bland. Our food is pretty awesome. Food is what brought Bojangles' to the dance, and today we still focus on the quality of the food."
A lifelong race fan, Poindexter started going to racetracks with a couple of thousand dollars, finding the drivers who qualified for the races but didn't have major sponsorship and negotiating to get "Bojangles'" on their car. Now, the company is title sponsor of one of the top NASCAR races each season.
"That was our sort of introduction to more national media because the Bojangles' Southern 500 is televised on NBC across the entire United States," Poindexter said.
He stays connected to ECU by serving on the marketing and supply chain advisory board in the College of Business. And looking back on his career, he said he's most proud of the team he helped build in Charlotte.
"When I joined Bojangles' in 1990, there were only two people in the marketing department," he said. "Now that I'm leaving Bojangles', there's almost 20 people in the department, and I'm very proud of the fact that I've helped develop them."
---
Videos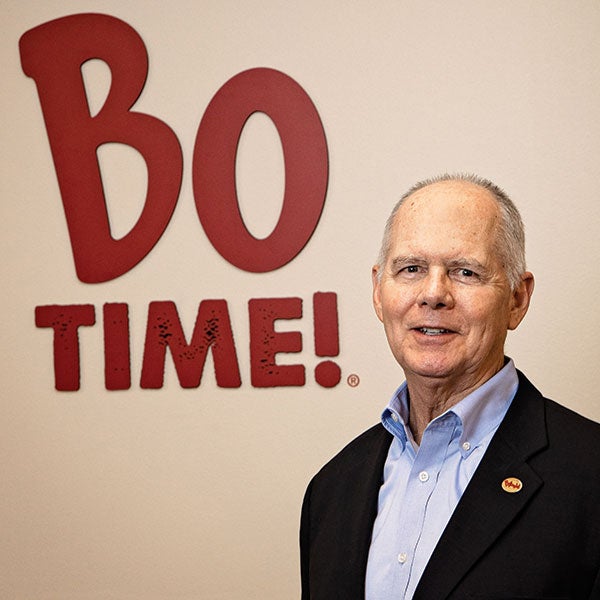 Randy Poindexter '78
Senior VP, marketing, Bojangles' restaurants (retired)
What's your favorite food at Bojangles'?
Cajun filet biscuit with seasoned fries and Bojangles' legendary iced tea
What's your favorite Bojangles' commercial?
"In a Bojangles' Town" with singer Scotty McCreery