Making an impact
Turner is all-in on Football, Academics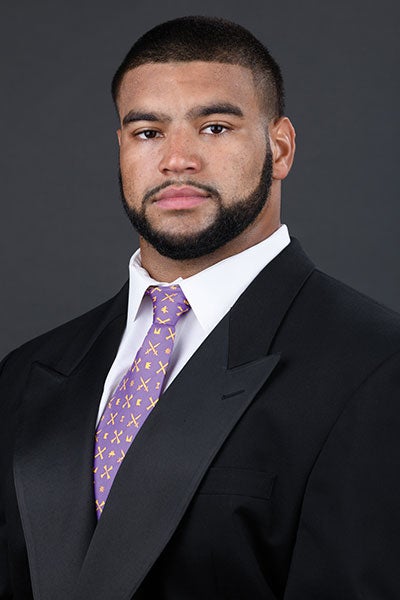 Alex Turner
Year: Senior
Major: Neuroscience and psychology
Hometown: Houston
When he's not taking down opponents as the anchor of the Pirates' defensive live, Alex Turner is tackling some of medicine's most important questions in the laboratory.
The neuroscience and psychology double major dreams of not only playing in the National Football League but also putting his brain to work as a neurosurgeon once his playing days are done.
Turner, who will graduate a semester early in December, is studying in Johanna Hannan's lab in the ECU Department of Physiology, exploring the effects of prostate cancer treatments.
"One in nine men is the U.S. will be diagnosed with prostate cancer in their lifetime," Turner said. "I'm looking at external beam radiation therapy on the prostate and how that can affect bladder and local nerve function. I hope the work I'm doing helps lead to a better quality of life for those fighting cancer."
Turner was one of 32 students to receive an Undergraduate Research and Creative Activity award last spring. The award, presented by the Office of Undergraduate Research, supports faculty-mentored research and creative projects. Turner says academics and athletics have some similarities.
"You have to be self-disciplined, but if you love what you're doing, you'll put in the extra hours and effort to succeed," he said.
The 6-foot-2, 293-pounder believes the Pirates will be turning heads on the field this season.
"We're going to bring our fans a completely different team this year," he said. "When coach (Mike) Houston says it's going to be rocking and roaring, we're going to deliver on that. We're changing the culture here, and we're going to get it done."
Turner is a two-time academic all-district honoree and American Athletic Conference All-Academic Team selection.
"When I can no longer use my body to help others and be an inspiration, I want to use my mind," Turner said. "I'm going to do my best to get to the level where I can save lives one day and make the world a better place."
YOU HAVE TO BE SELF- DISCIPLINED, BUT IF YOU LOVE WHAT YOU'RE DOING, YOU'LL BE WILLING TO PUT IN THE EXTRA HOURS AND EFFORT TO SUCCEED.
Researching Prostate Cancer Treatment Effects