Batter up!
Despite a possible big-league future, Bryant Packard is all in on ECU baseball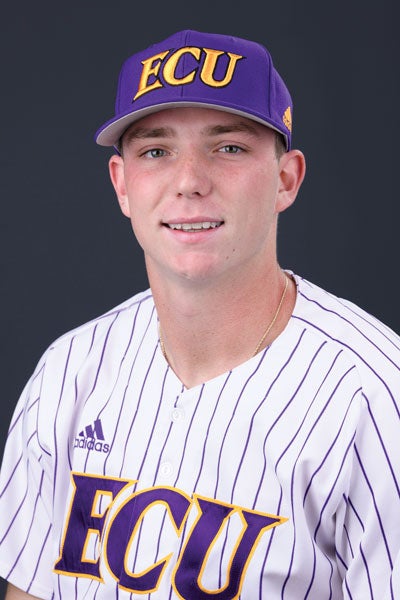 Bryant Packard
Year: Junior
Major: Communication
Hometown: Greenville
Pirates baseball coach Cliff Godwin calls him "one of the best left-handed hitters in the country." And junior Bryant Packard is living up to that description this season.
Following a mid-March sweep of Maryland – in which teammate Jake Kuchmaner pitched a perfect game – Packard was batting .324 with two home runs and eight RBIs. Before the season started, he was named to five preseason All-America squads and was the preseason American Athletic Conference Player-of-the-Year.
On defense, the 6-foot-3, 200-pounder plays left field.
Born in Seattle, Packard came to Greenville in fifth grade. His father, a Navy recruiter, was stationed here, and Packard remembers driving by the Pirates' baseball stadium and saying he wanted to play there. He was a star at D.H. Conley High School and a four-time 4A All-State selection.
Packard said making the jump from high school to college athletics is a challenge.
"Not a lot of people want to put the work in because they have outside – we call it noise – they want to do what all the regular kids are doing," he said. "But you have to be different to play college sports."
Packard also performs in the classroom, placing four times on the Director of Athletics Honor Roll and twice being an AAC All-Academic team selection.
While he's serious about school and baseball, he has a lighter side, too.
"He's probably the funniest kid I've ever met," said his roommate and Pirate pitcher Jake Agnos. "He's an awesome asset to take your mind off the field and baseball." He's also an avid Fortnite player, working in a little gaming in the mornings before classes.
There's a good chance a Major League team will select Packard in the June draft. But he tries to stay focused on today.
"It's been the best three years of my life playing here," Packard said. "It's definitely worth it, all the hard work through high school, through middle school. Making this one of the biggest priorities in your life definitely pays off."
IT'S BEEN THE BEST THREE YEARS OF MY LIFE PLAYING HERE. ... MAKING THIS ONE OF THE BIGGEST PRIORITIES IN YOUR LIFE DEFINITELY PAYS OFF.
Watch Packard talk about this season: