Fairways and greens
ECU sophomore looks to build on her rookie-of-the-year season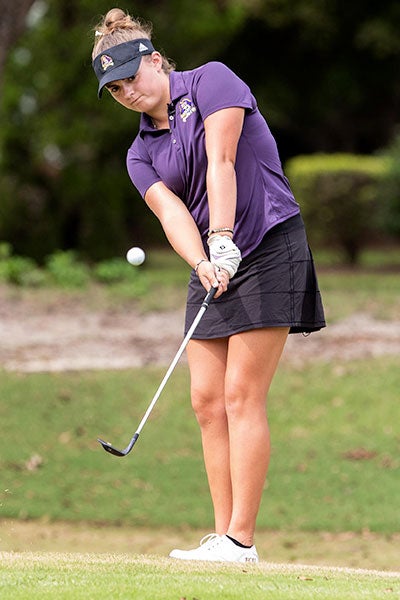 Kathryn Carson
Year: Sophomore
Major: Exercise physiology
Hometown: Mooresville
THERE'S ALWAYS SOMETHING TO IMPROVE ON. IT'S NOT LIKE YOU HAVE TO GO TO PRACTICE AND DO THE SAME THING EVERY DAY. IT'S ALWAYS INTERESTING
Kathryn Carson spends a lot of time sending balls soaring through the air at ECU's golf facility at Ironwood Country Club outside Greenville.
"You never get bored," she said about working on her game. "There's always something to improve on. It's not like you have to go to practice and do the same thing every day. It's always interesting."
That shouldn't be a surprise coming from this sophomore from Mooresville, who's become a team leader after only one season with the Pirates.
"I knew she was a good player," said ECU women's golf coach Kevin Williams. "I didn't know she was that good. She was very sneaky in a sense. She flies under the radar is how I'd have described Kathryn."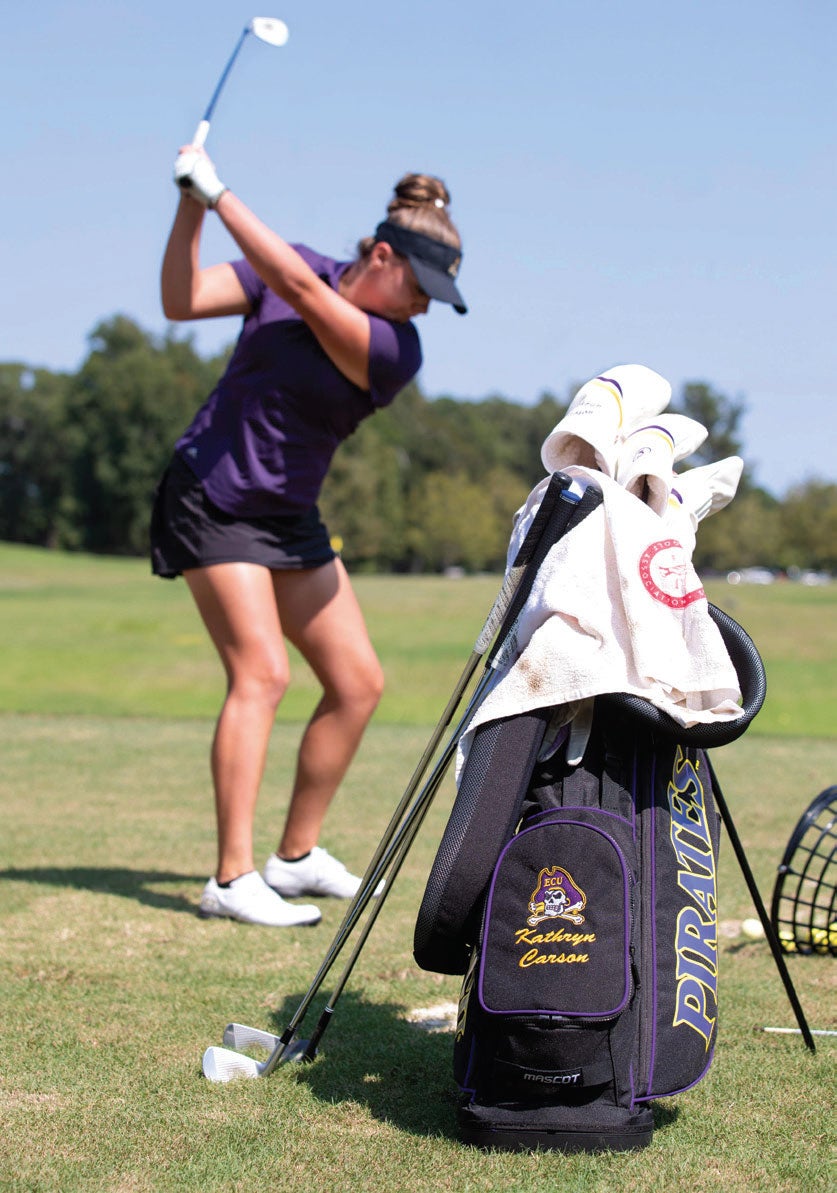 But not anymore. The reigning American Athletic Conference freshman of the year has already made a name for herself in the college golf world.
In 12 events during her rookie season with the Pirates, Carson had a 74.31 stroke average, with her best single-round score being a 68 at the UCF Challenge. She received the 2018 Kristi Overton Female Scholar-Athlete Award, which recognizes an outstanding female student-athlete from North Carolina who has excelled as a freshman. In her first college tournament, the Minnesota Invitational, she shot 5-under over three rounds – tied for ninth all-time at ECU.
"She's a great teammate to have," says senior Kate Law. "She's probably one of my closest friends on the team. It's fun to go out there and play around, but I also like to beat her. If one of us is having a bad day, she's got our back."
Carson excels in the classroom, too. With a GPA of 3.5, she earned a Women's Golf Coaches Association Division I Scholar All-America honor and was named to the AAC All-Academic Team. Her career goal is to become a physical therapist. But if she meets her other goals – All- AAC, All-American, Academic All-American and to go to the NCAA regionals – she'll consider playing professionally.