Grabbing Opportunity
STANDOUT RECEIVER LOOKS TO LEAVE HIS MARK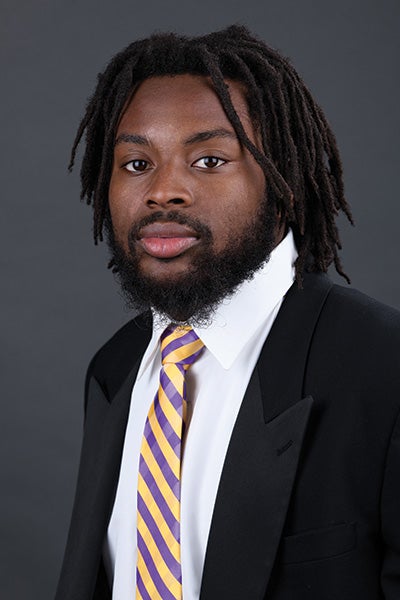 Trevon Brown
Year: Senior
Major: University studies
Hometown: Wilmington
Position: Wide receiver

I WANT TO SHOW EVERYBODY THAT I'M… LEADING FROM THE FRONT AND NOT BEHIND.
Trevon Brown could have folded.
He could have become a statistic, another kid from a tough neighborhood who never found a way out. Instead he spent his time at the Boys & Girls Club, playing drums and sports.
He could have given up on his dreams when he had a son as a senior in high school. Instead he dedicated his life to something bigger than himself.
"I just have to do everything in my power to make his life better," says Brown, a senior wide receiver and kick returner for the Pirates football team.
He could have crumpled when, faced with the challenge of maintaining his grades in a college setting, he found himself short of the credits he needed to play in the 2016 season. Instead he sought academic help and shored up his grades.
"Coming from high school to college, not really knowing how to take stuff out of a book and turn it into your own words, I needed help," he says. "All I had to do was use it, and when I used that help, I made the dean's list."
Brown returned to the field and turned in a breakout performance in 2017. He led the Pirates in nine statistical categories, including receptions (60), receiving yards (1,069), touchdowns (seven) and kick-return yards (452).
After being named second-team All-AAC following last season, Brown is a First-Team Preseason All-AAC selection this year by Athlon Sports and Phil Steele's College Football Preview magazine. He's also on Athlon's list of the Top 50 Underrated Players for 2018.
Head coach Scottie Montgomery described Brown as a team player who works hard. "It's easy to see that Trevon Brown has great chemistry with anybody that he goes into the game with. He's hard to stop," Montgomery said.
Following in the footsteps of star Pirate receivers who have made it to the NFL, Brown has set out to be a vocal leader for his teammates.
"I want to make sure I finish my routes and play every play," he says. "I want to show everybody that I'm still positive and … I'm leading from the front and not behind."
Off the field, he wants to make an impact through his study of child development and an internship with the Boys & Girls Clubs of the Coastal Plain in Greenville, where he wants to pay forward the care and guidance he received as a youth.
Brown says he can't wait to take the field with his team this fall.
"You really don't understand until you put (that uniform) on," he says. "It's just a feeling you can't even explain – to walk out of the tunnel for warmups and not see too many people, but when you come out for the game and you see 50,000, it's mind-blowing. I never thought I'd be here playing in front of 50,000 great fans, so it's unbelievable."
Watch Brown talk about his time at ECU