Marnie Oursler's BUILDING BIG
The 2001 alumna's beach homes are prime time
When Marnie Oursler was at East Carolina University, she packed her days with softball practices, sorority activities and a job at a real estate office, where she'd run around Greenville snapping photos of houses for the agency's website.
---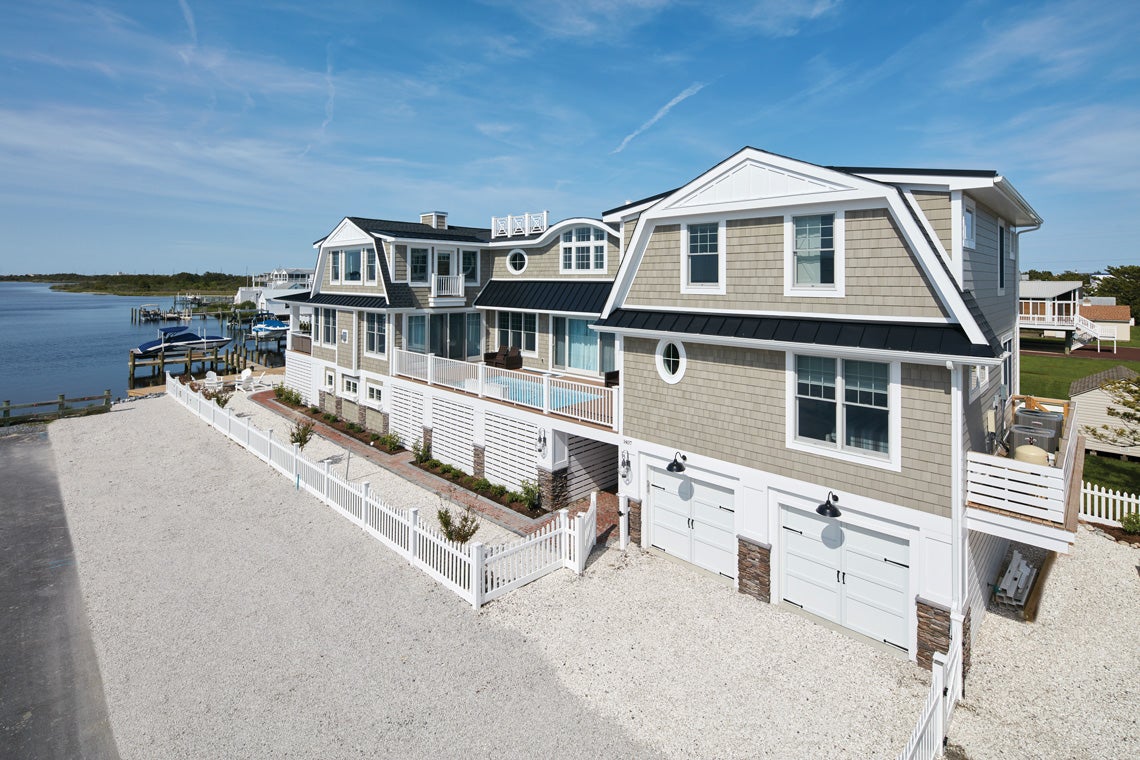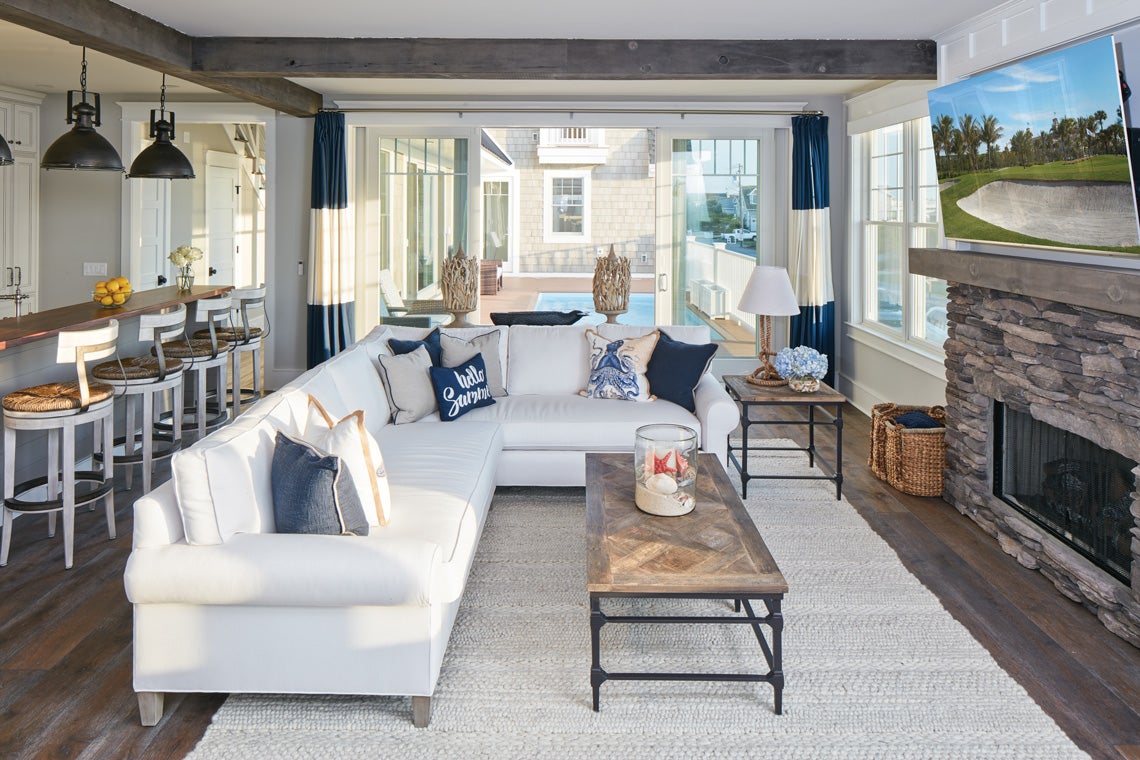 ---
She's still just as busy, only now she's juggling her own business, Marnie Custom Homes, and a TV show on the DIY Network, "Big Beach Builds."
"My days are kinda crazy," she says. "If we're filming, the days are long – 15 hours easily. I'm out on job sites all the time, or going over blueprints or kitchen designs. The one constant is work."
On "Big Beach Builds," Oursler transforms dated homes along the Delaware coast into her clients' fantasy beach retreats. The series aired in 2017 and is in its second season. On the show, Oursler can do it all, from foundation fixes to finishing design touches. Her favorite part – like any home repair show fan – is the big reveal at the end when clients see the jaw-dropping end product.
"Seeing their reactions – most of these homes are a dream come true for clients," she says.
In one episode this season, Chris and Nancy Brown look to Oursler to expand and lighten up their beach abode's unwelcoming exterior and cramped kitchen.
Oursler jumps to work, using a pink spray can to mark items for demolition. Then she and her crew rip up planks, smash walls with sledgehammers and level the sinking front porch. The dark brown siding is replaced with white vinyl and cedar shingles.
The kitchen is gussied up with a big island, wet bar and open shelving. The dining room wall is pushed out to accommodate a huge table made from a single slab of oak and illuminated by a custom-built light shaped like a boat.
The result is clean, contemporary and bright. When the Browns arrive to see the transformation, they gasp with delight.
"You nailed it," Chris Brown tells Oursler. "It looks fabulous. Love it. Love it," Nancy Brown adds. She and her husband beam at the camera. Nancy continues, "You know Marnie is good, but you don't realize how good she is until you really come in and open your eyes to the surprise and see it."
Oursler grew up in a family of builders. Her father, grandfather, uncles and brother made careers in the industry. She spent summers in the Washington, D.C., area working for her dad as a job site laborer, sweeping out houses, picking up trash and eating lunch on an upturned drywall bucket.
"It was nothing glamorous," Oursler says, but it instilled in her a valuable work ethic. She's still the first one on the job site to pick up a broom or stay late and does "whatever it takes" to get the job done.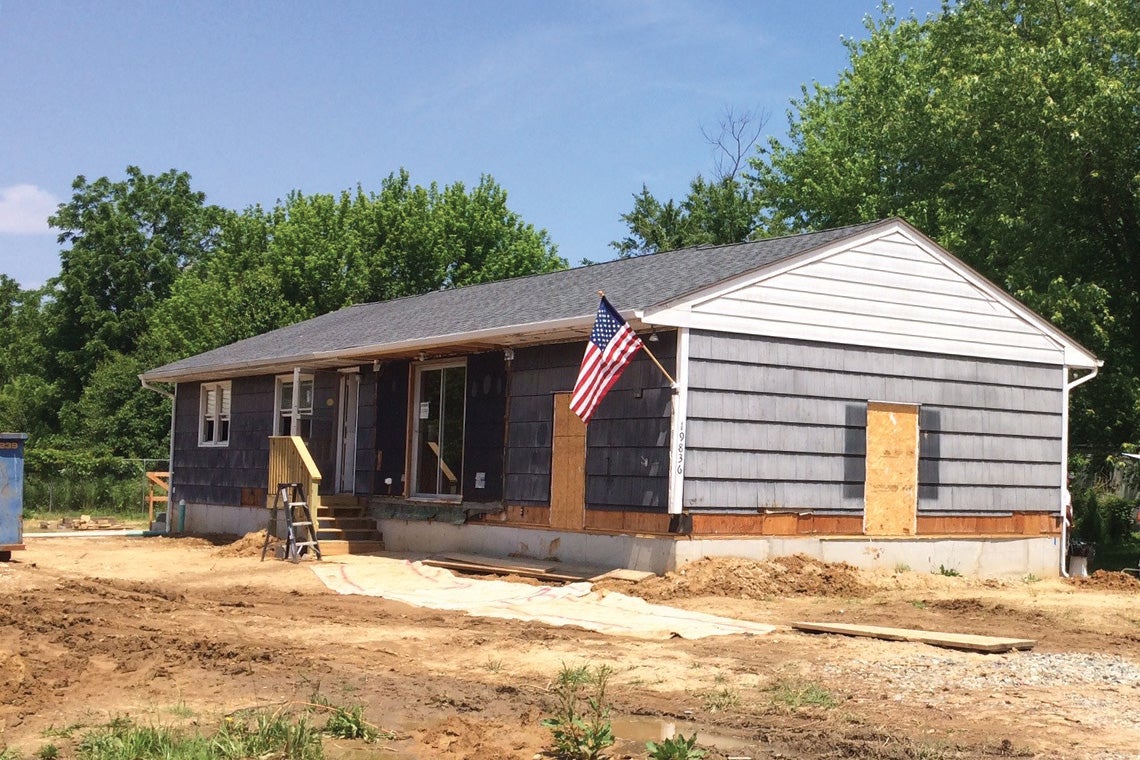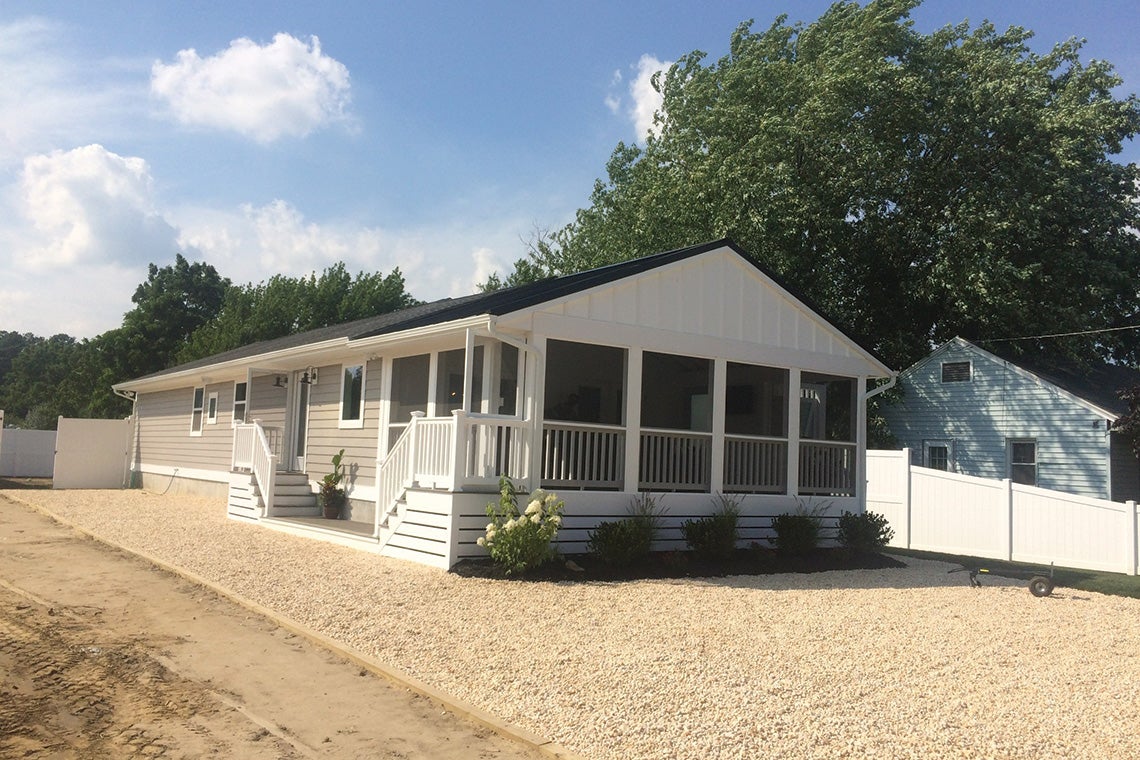 ---
Oursler grew up in a family of builders. Her father, grandfather, uncles and brother all made careers in the industry. She spent summers in the Washington, D.C., area working for her dad as a job site laborer, sweeping out houses, picking up trash and eating lunch on an upturned drywall bucket.
---
A softball scholarship brought her to ECU, where she played shortstop and graduated in 2001 with a degree in business education.
"We were all for it," her father, Marvin Oursler, says of his daughter's college choice. His older daughter attended Elon but visited ECU when considering schools. For Marnie, "ECU was the right place at the right time," he says.
Oursler would often make the five-hour trip from southern Maryland to Greenville to watch his daughter's softball games. "She gave the sport everything she had," he says.
Jenny Parsons, the assistant softball coach during Marnie Oursler's playing days, says she recently saw her on TV and thought, "Holy cow, there's my shortstop." But she wasn't surprised.
"You could always tell she was going to be successful," Parsons says. "She was a dedicated athlete, a hard worker but also had a great personality. She did a lot for our program."
Through it all, Oursler stayed focused, organized and grounded.
"She's always juggling two or three things at one time. That's how she's built, I guess," Marvin Oursler says.
After ECU, she got her master's in business administration from Duke University's Fuqua School of Business. She worked as a real estate agent before starting Marnie Custom Homes, combining her construction know-how with a knack for style combinations that ooze calmness and relaxation. Her custom home business builds around seven houses a year for $8-9 million in annual revenue. In 2014, she was approached by TV producers for a potential series, which became "Big Beach Builds."
Oursler's father and brother are guest consultants on the show, helping her combat the unique challenges that come with building and renovating beach homes.
"Weather is the main issue," she says. Being so close to the water means understanding flood zones and hurricanes, where the rain and water are going to go and making sure houses can withstand that.
Episodes often feature materials and techniques – using an underlayment beneath shingles to help with ventilation or a deck with mold-resistant composite planks – that beach-savvy builders need to think about.
Oursler's father says these tips are part of what make the show fun to watch. "If you look at the show, you see how Marnie really understands the building process. You can learn something from it."
Even though cameras are rolling, Oursler says her main focus is always the clients and making sure she's doing everything she can for them, not the show. She helps them navigate decisions regarding color palettes and finishes and keeps the construction on schedule whenever they change their minds. The clients also provide the design inspiration, although Oursler's work often combines modern coastal and traditional styles.
"No matter what, I know the end product is going to be good," she says. Oursler has received a number of accolades, including Professional Builder magazine's 40 Under 40 Award, a Strong, Smart & Bold Award from Girls Inc., and a gold 2013 Stevie Award for Women in Business in the category of Female Entrepreneur of the Year.
While the show and her business remain in Delaware, Oursler returns to North Carolina for work on the Duke business school's board. And she still keeps in touch with her ECU friends from Chi Omega and the softball team.
"ECU was definitely one of the best things that ever happened to me," Oursler says. "I had a great experience there and met so many amazing people. It was definitely a special place for me."