Living, Learning in Tuscany
ECU'S ONLY RESIDENTIAL STUDY ABROAD PROGRAM MARKS 10 YEARS IN CERTALDO ALTO
On a 500-year-old brick courtyard, 22 East Carolina University students are practicing their poses in yoga class while the hilltop village of Certaldo Alto wakes up. Birds are chirping in the distance and the sun is rising over the rolling green hills of Tuscany.
---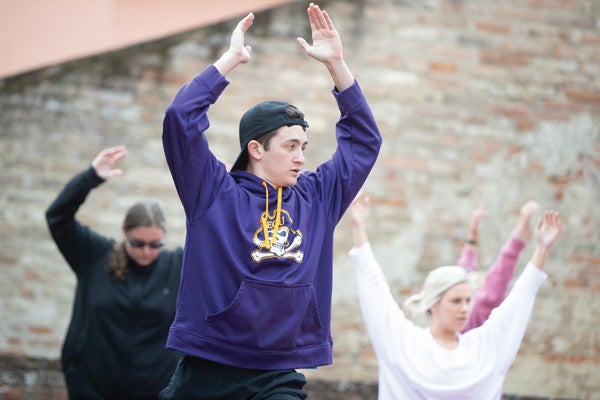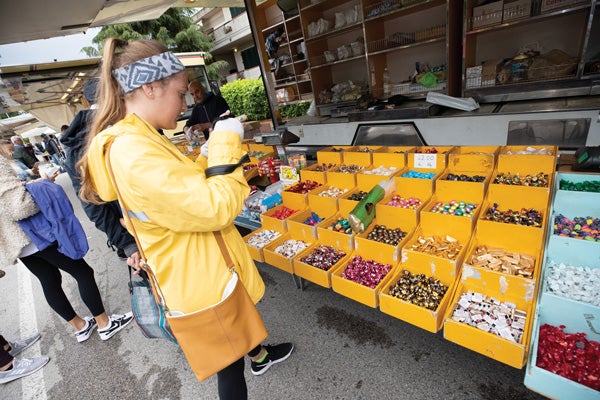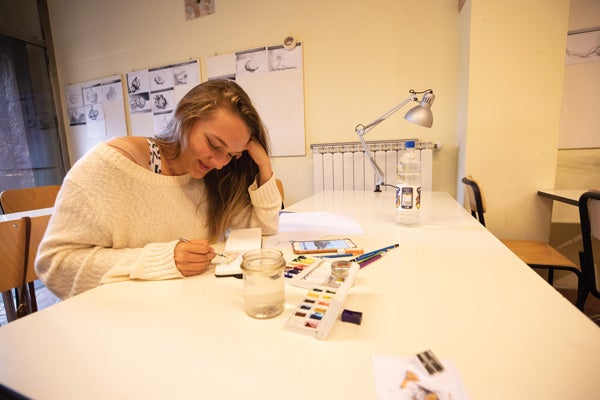 ---
A group of preschoolers walks by two-by-two holding hands with their classmates. They chatter in Italian while staring at the Americans on their colorful mats. Later, the students will fan out with their cameras and sketchbooks in hand for market day in the larger city of Certaldo Bosso, its 12,000 residents located below Certaldo Alto. This is what Linda Darty envisioned when she dreamed of establishing an ECU campus in Tuscany – the students live and study in Italy. They aren't just tourists checking sites off their list; they live among Italians and have Italian landlords.
Darty is director of the ECU Tuscany program,which was originally named Italy Intensives, and professor of metal design in the School of Art and Design. She sits in a work room in the Palazzo Stiozzi-Ridolfi, which in the early 15th century held the market in its porticoed courtyard. Today, the building houses ECU's classrooms downstairs with student and staff housing upstairs.
Above Darty's work table, pinned to the room divider is "Congrats on 10 years" spelled out in hand-cut large letters over a purple-and-gold ECU pennant and an image of the Tuscan hillside printed on fabric with signatures of previous students framing it. The students presented it to Darty at the end of a spring semester of classes.
"I really want the students to have that transformative experience that I did when I was 21 years old and studied abroad. It stays with you all of your life," Darty says. "You don't even know what it is; you internalize it. Then you suddenly look at the world in a different way. You begin to ask questions you would have never asked before."
What started in 2008 as a summer abroad trip is now a year-round program in Certaldo Alto, a walled medieval village that in the early 15th century was the political center of the Florentine Republic.
Today, the "unofficial mayor" of Certaldo Alto, Elio Ansaldo, proudly tells hikers and tourists visiting his village that it is also home to "the East Carolina University."
The students, he says, using an Italian phrase, "bring the wind of youth." They can be seen walking along the bricked streets to and from class and ducking into alleys to head to their apartments or local restaurants for lunch. Their youthful energy along with their financial boost are beneficial to the village, which looks like it could be a movie set instead of home to 150 residents.
Since that first group arrived in summer 2008, more than 800 students have studied in Italy as part of the program.
I WISH I HAD STUDIED ABROAD. IT'S TRANSFORMATIVE. I'VE NEVER HEARD A STUDENT SAY, 'I WISH I HAD STAYED ON CAMPUS.'
- Jon Rezek, assistant vice chancellor for global affairs
---
Study abroad at ECU
Jon Rezek, assistant vice chancellor for Global Affairs, arrived at ECU in January 2017 and has been tasked with raising the profile and numbers of ECU's global affairs office.
During the 2016-2017 academic year, 586 ECU students participated in an international experience. That number rose 19.8 percent in 2017-2018 to 702, according to global affairs data. But there's more to be done to provide more students the opportunity to study beyond Greenville, Rezek says.
Chancellor Cecil Staton often speaks to students about how his time in England at the University of Oxford while earning his doctorate helped shape his life.
"It's important to remember that you can study abroad and graduate in four years," Rezek says. "We have full-semester programs; students can take classes in the humanities, business and health sciences. And we have shorter terms – 35 to 40 summer programs most often led by ECU faculty members."
ECU Tuscany is the university's only program with a year-round permanent facility abroad and three dedicated staff members. Six to eight ECU faculty members join them for each semester.
The University of North Carolina system has two residential programs abroad – ECU Tuscany and the N.C. State European Center in Prague.
"I wish I had studied abroad," says Rezek. "It's transformative. I've never heard a student say, 'I wish I had stayed on campus.'"
In mid-May, Rezek visited the ECU Tuscany site for the first time and was impressed. "It's a safe environment. They travel to Florence, Sienna, Venice, Rome and then come back to Certaldo Alto, where everyone knows each other. It's comfortable here," he says.
He also noted the level of dedication by the faculty and staff toward the students and the program itself.
"The faculty members and staff get to know the students, mentor them when they are here. It's a tight-knit community; the city embraces the students. It's a great program for them as well," Rezek says.
EC Scholar Emma O'Brien studied in Italy during the spring semester, which was her first time in Europe. In summer 2017, O'Brien participated in a monthlong study abroad program in Australia and New Zealand, which she said was a great experience and set the bar high for her semester in Certaldo. The five months in Tuscany surpassed her expectations.
"I did not realize all of the amazing things we were going to get to do during our semester in Italy. Almost every weekend we were traveling to different parts of the country, touring amazing museums, having classes in engaging environments and meeting interesting people," she says.
The junior business management major from the town of Wake Forest also challenged herself by taking three studio art classes. "My favorite class, metal design, showed me that I do have a more creative side. … Being abroad showed me that there are so many people, places and things out in this world to explore, that tunnel-visioning yourself into one hobby, passion or job only hinders your growth."
---
BEING ABROAD SHOWED ME THAT THERE ARE SO MANY PEOPLE, PLACES AND THINGS OUT IN THIS WORLD TO EXPLORE, THAT TUNNEL-VISIONING YOURSELF INTO ONE HOBBY, PASSION OR JOB ONLY HINDERS YOUR GROWTH.
- Emma O'Brien, EC Scholar
I REALLY WANT THE STUDENTS TO HAVE THAT TRANSFORMATIVE EXPERIENCE THAT I DID WHEN I WAS 21 YEARS OLD AND STUDIED ABROAD. IT STAYS WITH YOU ALL OF YOUR LIFE.
- Linda Darty, director of the ECU Tuscany program
---
About ECU Tuscany
COST OF TUITION
Since program fees include tuition and housing, it's often less expensive to study in Tuscany. "It is such a bargain," says Linda Darty, director of the program, adding they aim to make it as affordable as possible for every student. Two scholarships are available for students accepted into the ECU Tuscany program.
CLASSES
Classes vary each term and include courses to earn general education requirements, such as world history, art history, literature, Italian language, geology, digital photography, drawing, color and design, jewelry making and painting.
"Courses are chosen for the program that take advantage of our location in Tuscany. Geology students climb to the top of Mount Vesuvius and into the caves of Lucca. History students walk through the Roman Colosseum and ruins of Pompeii. And literature and art history students can walk in the footsteps of Plato, Da Vinci, Michelangelo and live next door to the writer Giovanni Boccaccio's house," Darty says.
LIVING
Students live in historic apartments – fully renovated and equipped with modern appliances – near the classrooms in Certaldo Alto. And on days when classes are held, the students dine with faculty and staff as part of the community building. The cost of both is included in the student's tuition and fees.
TRAVEL
On weekends and semester breaks, students can travel independently or with classmates throughout Italy and other European countries.
STAFF
Since that first summer study abroad trip in 2008, Darty has been the director of ECU Tuscany, formerly called Italy Intensives. She studied in Italy as an undergraduate in the 1970s and dreamed of taking her ECU students not only to see the Italian masterpieces but also to experience Italy firsthand. Darty does everything from teaching art history and jewelry design to giving a maternal hug to a homesick student on those first days.
"When students arrive in Italy, they are not sure what to expect," she says. "They come here and experience not only a bonding experience as students together from ECU, but they realize not only are we very different from the culture in Italy, but we are all very much alike. I see them grow up and change. They know more about themselves."
In addition to Darty, Stuart Watson, a photographer in Philadelphia for many years, is on site as assistant director, managing the facilities and finances, helping the students with everything from navigating the local Coop grocery store to contacting landlords about broken water heaters. He also archives the program.
Lucy Plato Clark arrived in Certaldo as a student in 2011; she stayed in Florence completing her jewelry design degree. Clark's ability to switch between fluent Italian and English in a single conversation and knowledge of the Italian culture are invaluable, Darty says. When she's not organizing the multi-layers of logistics for class trips to Florence or Rome, she is also a photographer.
Working closely with the staff is assistant Francesca Maddalena, who grew up not far from Certaldo Alto; her artist father, Pietro Elia Maddalena, whose nearby pottery studio brings students from around the world to study with him, helped Darty solidify the initial plan to bring students to Tuscany.