Lax to the max
ECU's newest team plays college's fastest-growing sport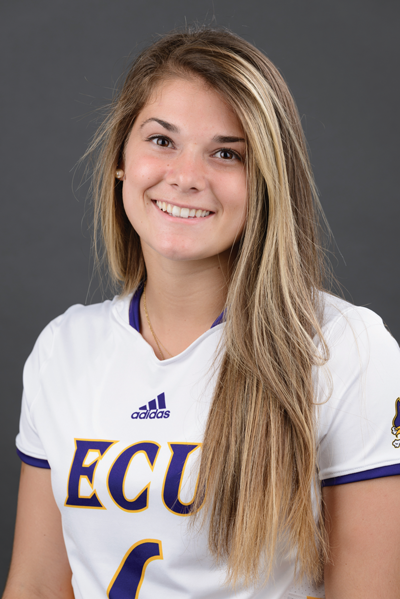 MacKell Schultes
Year: Sophomore
Major: Business administration
Hometown: Woodbury, N.J.
Position: Midfield
I THINK ECU STARTING A LACROSSE TEAM IS GOING TO CAUSE A CHAIN REACTION IN THE STATE. IT'S GOING TO BE HUGE.
Feb. 18 was a historic day for ECU.
The university's new women's lacrosse team scored its first victory that day, an overtime win against Gardner-Webb, and the team's first player scored a key goal.
MacKell Schultes, who in 2016 decided to pack her bags two weeks before her first semester started at St. Joseph's University in Philadelphia and head south to a new program at ECU, scored the tying goal with less than a minute to play. Forty seconds into overtime, freshman Megan Pallozzi scored the game-winner.
Schultes was the first player to join coach Amanda Barnes at ECU, the alma mater of her parents, Matt '84 and Suzanne Schultes '84.
"I decided to take a chance and go here. I feel like it all worked out the way it was supposed to," Schultes said.
Lacrosse is the first sport ECU has added since women's golf in 2000. It's the 20th varsity sport and 11th women's team. Men's and women's lacrosse have been club sports at ECU.
"It was a clear choice," said Shelley Binegar, senior associate athletics director for external operations. "Lacrosse is the fastest-growing sport at the collegiate level."
The team also uses the same field as women's soccer, saving the cost of a new venue, Binegar added.
In North Carolina, 80 high schools have girls lacrosse teams, according to the N.C. High School Athletic Association. Several of those are in eastern North Carolina, including J.H. Rose High School in Greenville.
Among American Athletic Conference members, Cincinnati, Connecticut and Temple each field teams.
Binegar also said adding lacrosse was not aimed at a particular Title IX issue at ECU.
"Title IX was certainly taken into consideration, although we were not under any investigation," she said. "We believe we meet Prong 2 of Title IX, which means we are continuing making improvements. This was just the next 'improvement' in our mind."
Since being on the team from the beginning, as well as being one of two sophomores among 22 freshmen, Schultes sees herself as a leader.
"I like to help (the younger players) because I have a year of experience under my belt and have managed being away from home, balancing school and lacrosse, that sort of thing," Schultes said. "I feel like if someone needs help, it's my responsibility to check in with them."
At the team's first game Feb. 10, the Pirates lost to George Washington University, but the support the players received was "unreal," Schultes said.
"It made us way more excited to be out there playing. I think it's something that everyone on the team is going to remember forever."
Follow the team on Twitter (@ecuwlax), Instagram (ecuwlax) and Facebook (ecuwomenslacrosse).