New Foundations
Campus renovations boost student experience
The seventh floor of Greene Hall was home to eight students in the 1970s who have remained friends for more than 40 years.
"We met in 1975, in a very hot August," says Lyn Hurst '78 of High Point. "We all had our parents helping us unload our stuff. We were in a dorm with a functioning elevator but no air conditioning. … We've been to each other's weddings, met children, been through divorces, parents' funerals, and children's weddings."
And they recently returned to ECU to tour their former residence hall, which will undergo extensive renovations this year, similar to those done at neighboring White Residence Hall.
She and her friends enjoyed seeing the renovations in White, as well as revisiting Greene, much as it ever was. She talked about cooking meals with hot plates and toaster ovens, and sharing a phone. The communications technology, availability of dining options and air conditioning stood out as the most remarkable differences between the campus then and now, she says.
That elicits a response from Aaron Lucier, director of housing operations at ECU.
"I kid about this at orientation, but it's only partial kidding," says Lucier. "The happiest day of my life, other than my wedding, was the day that we air conditioned the last bed at ECU."
Building success
While ECU's shaded brick walkways, fountain and cupola are lasting landmarks, the buildings, and especially the residence halls, have seen significant change. To meet the needs and expectations of its students and faculty, and the demands of new ideas and technology, those changes have been deliberate and continuous; nearly every residence hall on campus is new or has been renovated within the last decade.
"We want to offer living and learning arrangements and experiences that are second to none," said Chancellor Cecil Staton, citing the university's plans to build a new fine arts center, a new medical education building and a new indoor practice facility for athletics. "All those are key parts of attracting the best students and ensuring the success of all our students," he said.
For the 5,880 students who live on campus today, the focus is on making sure basic needs are met so they can study, learn and experience college life, says Virginia Hardy, vice chancellor for student affairs.
"We strongly believe that students can thrive or struggle based on their living situation on campus," she said.
With the goal of maximizing the opportunities for student success, in the last decade or so ECU has built, redesigned, refaced or gutted almost every residence hall on campus. This work involves more than just aesthetic look and feel. There are more student-centric spaces, more opportunities for studying, group work and collaboration.
Living-learning communities, as detailed in the spring 2017 issue of East, are also part of the equation. Students in the LLCs study together, go to class together, socialize together and more.
"In essence, we have found there is a strong correlation between students succeeding in college and the housing experience," Hardy said. "ECU has committed to this through all the construction efforts to make the experience positive."
ECU has invested more than $120 million in buildings and infrastructure in just the last eight years, says Lucier. Part of the focus has been on improving outdoor spaces and public areas, helping to contribute to students' sense of community.
"It's the alumni who come back and tell you how much improvement we've done," says Lucier. "The students in four years are not here long enough to see the arc of change in the campus. But the alumni sit there with their mouths open, saying, 'Oh, these students are so lucky, this is absolutely amazing.'"
Forming bonds
Senior Christofer Brothers has lived in Garrett Hall and Gateway East, where he is a resident advisor. His father, Floyd, was a resident advisor in Garrett Hall and head resident of Jones Hall in the 1980s. Cristofer says his dad still can't get over how different Jones looks today.
"Jones used to have a cafeteria on the first floor, so there was a stairway to the second floor right on the front of the building," he says.
"And where the dining hall is now, there used to be basketball courts," Floyd says. "College Hill Suites weren't there either."
Cristofer says he appreciates how the residence halls have been brought up to date while maintaining a sense of history. Like Hurst and her friends from Greene Hall, he says his closest friendships were formed in ECU's residence halls.
"They're the ones that you have the late-night conversations with about all the problems in the universe," he says. "The people that you're sitting in the hallway with doing homework and end up sharing things until they know you better than anybody."
The new and updated buildings and additional conveniences allow and encourage more students to live on campus and build close relationships, adds his father.
"Everywhere we go, Cristofer is introducing me to somebody," Floyd says. "I always felt like the kids who stayed on campus got a better college experience. A lot would move off campus, but … that community helps a lot of kids engage and stay in school — to achieve their goal of graduating."
Today's students see Gateway Hall, the renovated Tyler and Scott halls, and the Croatan as simply part of campus. In the same way, future students won't look twice at the health sciences and main campus student centers or the dramatically improved White, Clement and Greene halls.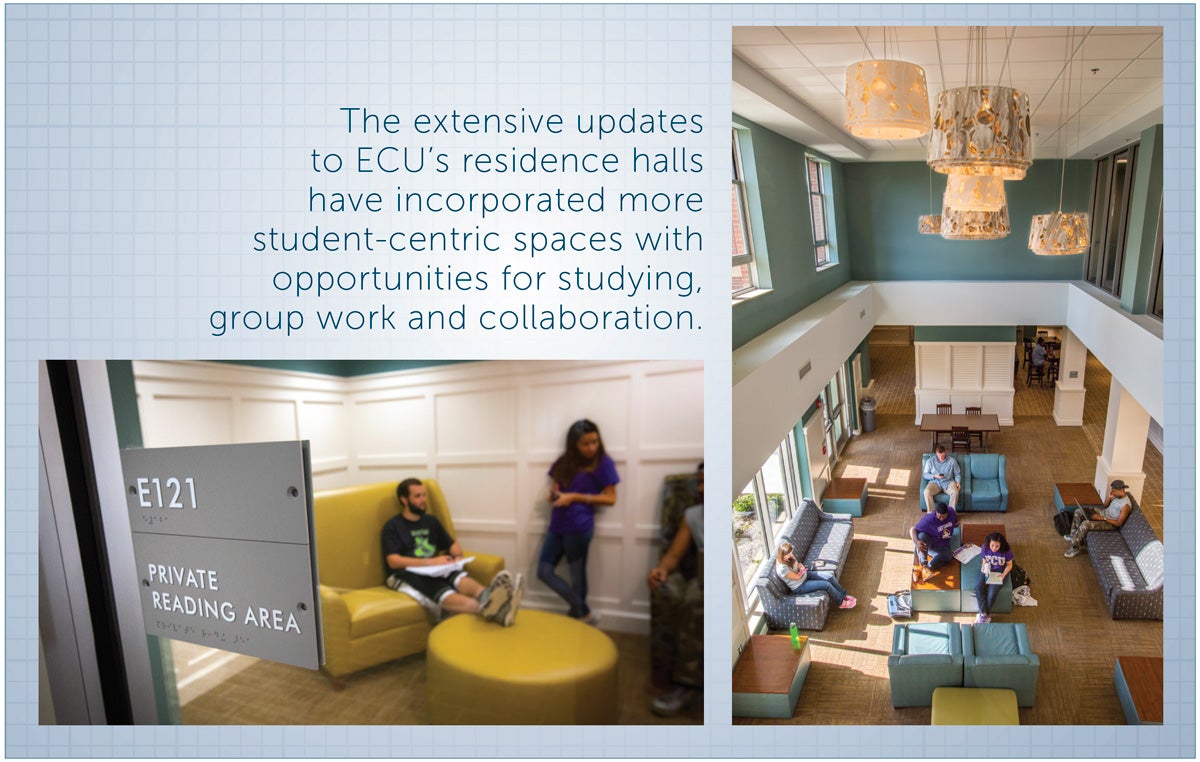 WE HAVE FOUND THERE IS A STRONG CORRELATION BETWEEN STUDENTS SUCCEEDING IN COLLEGE AND THE HOUSING EXPERIENCE. ECU HAS COMMITTED TO THIS THROUGH ALL THE CONSTRUCTION EFFORTS TO MAKE THE EXPERIENCE POSITIVE.
- Virginia Hardy, vice chancellor for student affairs
Richard Eakin, who served as chancellor from 1988-2001, was instrumental in bringing state-of-the-art facilities to ECU, including the Student Recreation Center, the expansion of Joyner Library and the installation of underground fiber-optic cable to improve communication throughout campus.
"We have come a long way with our residential and dining facilities," Eakin says. "For example, when my wife and I arrived at ECU, there was a single, small dining facility, and there were no air-conditioned student rooms in the residence halls — quite a difference from today's facilities."
Facilities projects, he says, were important to him as an administrator because they represented a major advance in the overall student experience.
"A university experience has many facets," he says. "We should be dedicated to making all aspects of student life as rich and rewarding as possible in support of student development and learning."
Lucier says the recreation center shifted the center of energy on the campus, and he expects the new student center to do the same.
"The rec center was built at the perimeter of the campus," he says. "People don't perceive that to be the perimeter of campus anymore because the rec center moved the campus energy in that direction. … In two years, Umstead is going to become one of the most popular buildings we have, because it's going to be right on top of the student center, and it's going to feel like the center of attention, where all the energy is."
Former Chancellor Steve Ballard oversaw more than a decade of campus development, including the dental school, the East Carolina Heart Institute and the student centers.
Gateway, he says, is a prime example, designed with shared spaces and living-learning communities in mind.
"Academic excellence and a positive campus experience are two sides of the same coin," Ballard says.