You know an ECU doctor
With graduates across the state, chances are there's one near you
Sara King '79 recalls the time she called the office of her doctor, Mary Kirby, about a medical matter. She thought she needed to come in for an appointment.
Kirby '96 suggested instead that King stay home, as it was the peak of the flu season, and call her back on Kirby's lunch break, and she would answer King's questions.
"Not many doctors, No.1, are going to try to keep you out of their office, and No.2, have you call during their lunch hour," King says."that's the kind of doctor she is."
And that's the kind of doctor many graduates of the Brody School of Medicine at East Carolina University are. They want to increase access to care. They want to help their patients stay healthy. They want to reduce complexity.
"We have first learned our mission to serve selflessly, and that is core to all care even more so when the return won't always be financial or personal acclaim," said Dr. Claudia Daly '83 '01, an emergency physician at ECU and president of the ECU medical alumni association. "We return to and live in towns not to be important but to give back to our own people – these people who made us who we are proud to be."
Since 1977, ECU has graduated approximately 2,400 medical doctors. Of those, nearly half practice in North Carolina. They are working in 83 of the state's 100 counties – from Manteo to Murphy, as the saying goes.
And chances are you know one.
We return to and live in towns not to be important but to give back to our own people – these people who made us who we are proud to be.
- Dr. Claudia Daly '83 '01
Access is essential
Like Kirby, Dr. Mark McNeill '02 makes access a priority. Most patient-practice communication takes place through his family medicine practice's Web portal rather than a telephone. With few exceptions, patients schedule themselves for appointments.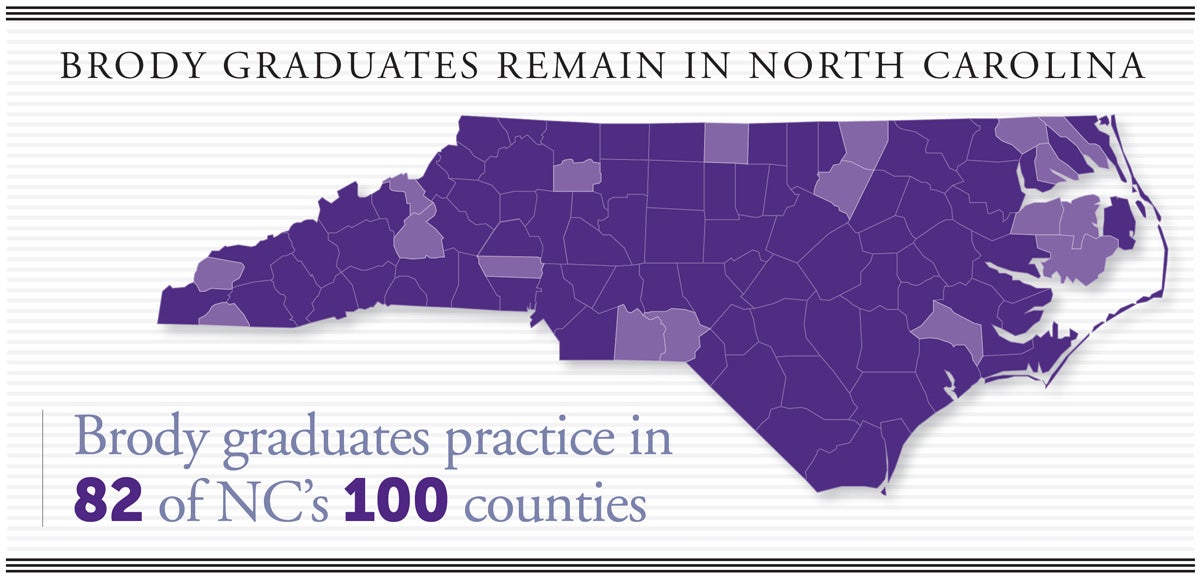 "Life is better for everybody when access is easier for patients," he said of his 1,200-patient practice in Asheville. "I found that the more barriers I could remove for them, the better things went. Staff were less anxious, patients were more satisfied, they were getting better care. And the more smoothly things ran, the happier I was."
Patients can send him a digital message any time, and he'll respond within a couple of hours. He's also available by phone but receives only about four calls a month, he says.
"Folks respect my time because this is a small practice and we have good relationships," he says. "They always apologize for bothering me and are grateful for my input."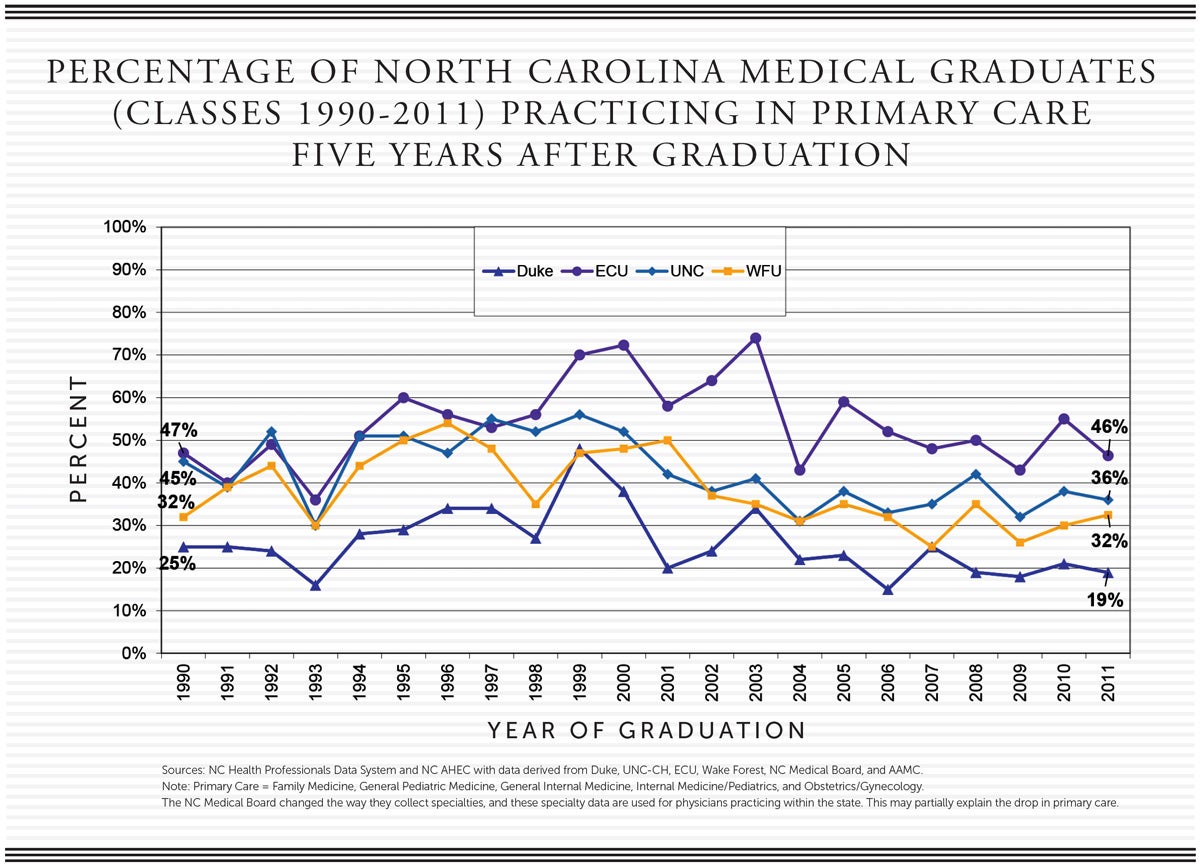 Contributing to community
Pediatrician Beatriz Juncadella '05 – or "Dr. Bea" – also prioritizes access to health care and helping her patients stay out of the emergency department. "If these families miss work, they miss pay," she says.
An immigrant from Nicaragua, she knows what it's like to overcome challenges. She was pregnant with her second child and in her last year of medical school at ECU when she was diagnosed with myocarditis and hepatitis and her Iranian husband was told his visa had expired and he had 90 days to leave the country.
Out of nowhere, a $5,000 anonymous scholarship appeared, helping with mounting medical and legal bills. Her friends refused to let her fall behind in school. And her husband received a green card.
She has turned that fortunate series of events into a successful practice caring for children, particularly the poor, the underserved – many of them Hispanic.
"Brody encouraged us to give back, to care for those in the community who didn't have access," she said. "It was motivating to see faculty giving their time and talents. As an immigrant myself, caring for the migrants who attended those clinics, it was very special to see what it would look like to help those populations."
McNeill gives back in another way: He's active in the Western Carolina Medical Society, and he lobbies local and state legislators on behalf of physician interests. He also precepts medical students and residents through the Mountain Area Health Education Center Family Medicine Residency Program, where he completed his own family medicine training.
Remaining in North Carolina to practice was an easy decision for him, he says.
"Getting such a great education for such a great value at a school that's so in tune to where they are and who they serve – that motivated me to stay in North Carolina," he says. "It made me grateful to the state. I feel an obligation to stay and to stay involved."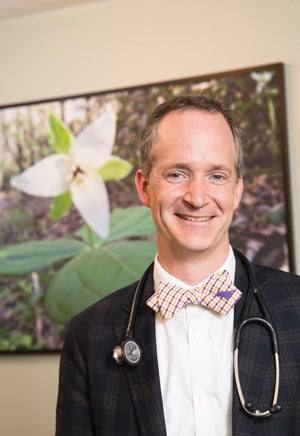 LIFE IS BETTER FOR EVERYBODY WHEN ACCESS IS EASIER FOR PATIENTS. I FOUND THAT THE MORE BARRIERS I COULD REMOVE FOR THEM, THE BETTER THINGS WENT.
- Dr. Mark McNeill '02
Calling North Carolina home
Alex '96 and Mary Kirby met at ECU and then traveled to Arizona for residency training. But the Colorado River and Grand Canyon couldn't push the Pamlico Sound and Atlantic Ocean off their minds. They wanted to come back to North Carolina.
At ECU, the primary care focus resonated with Mary Kirby. She calls the family doctors who led small group study sessions "role models for myself." Now in her own practice, she precepts health sciences students – medical, nurse practitioner and physician assistant students.
The son of an ECU graduate, Alex Kirby grew up in Durham. His first degree was in engineering, and he spent a few years working as a chemical engineer. He liked technical subjects, but he wanted to be more involved with people. So he came to ECU for medical school and then went into interventional cardiology.
Mary's family moved from Michigan to Rocky Mount when she was 12.
And the Kirbys themselves know an ECU doctor. Mary's sister, Renee Banaszak, is a family physician and geriatrician at ECU and delivered Mary's third child when Banaszak was in residency.
Alex Kirby says the view to serve North Carolina is widespread at ECU.
"I think we are people who tend to stay in North Carolina," he says. "I see the devotion to health care in all areas of North Carolina."
And as King says about the Kirbys: "They chose eastern North Carolina. I think that's fabulous."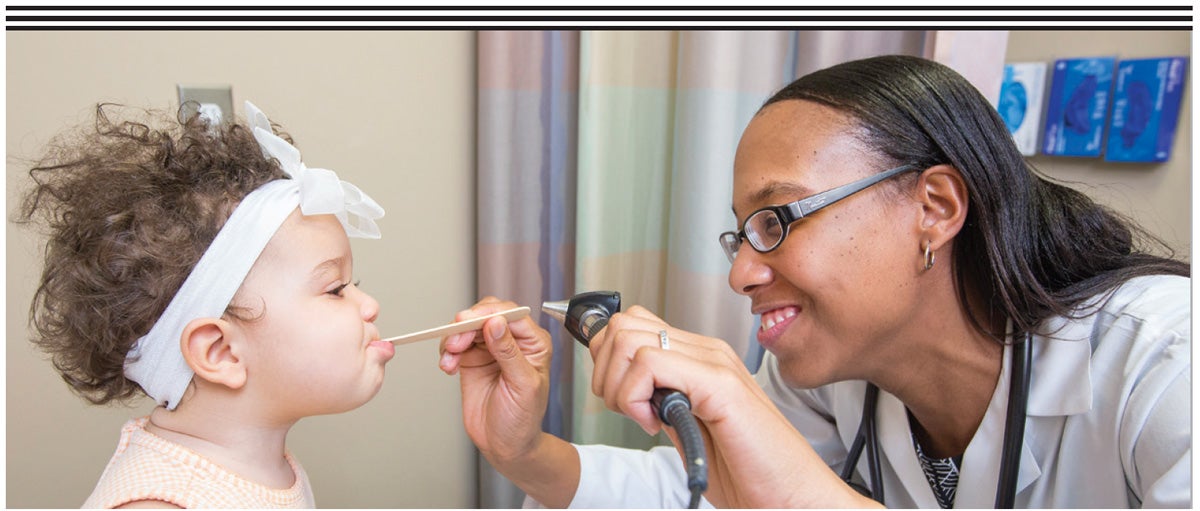 ADDRESSING CRITICAL HEALTH CARE NEEDS FOR NC
ECU provides essential primary and specialty. "safety-net" care for eastern NC's 29 counties.
ECU leads a statewide telepsychiatry network that improves access to mental health services in a cost-effective way.
ECU is a national leader in the detection and treatment of early lung cancer, training physicians in advanced diagnostic procedures.
Amy Ellis contributed to this story.