Scientific women
Closing the gender gap in STEM fields
In a lab nestled in the corner of the Brody Medical Sciences Building at East Carolina University, senior biology major Rishita Yeduri works on research related to the vaccinia virus.
The research is taking place in the lab of Rachel Roper, associate professor of microbiology and immunology at ECU, who is working to uncover how viruses turn off the immune response and may lead to safer vaccines for the Zika virus, Ebola, HIV, rabies and cancer treatment.
Yeduri began working with Roper as a freshman and is one of hundreds of women at ECU pursuing a degree in a field related to science, technology, engineering or math, known as STEM. Within the last decade the lack of women pursuing careers in these fields has become a source of national conversation.
Nationally, women make up nearly 47 percent of the college-educated workforce but are underrepresented in STEM careers such as chemistry, engineering and computer science. Statistics from the National Science Foundation show women make up approximately 35 percent of chemists and 11 percent of physicists and astronomers.
At ECU, the number of women majoring in and receiving degrees in some STEM fields is close to or greater than the number of men. In ECU's engineering program, however, men still outnumber women. In 2015, 108 of the 639 students pursuing a bachelor's degree in engineering were women.
One of ECU's guiding principles is to increase opportunities for underserved groups, so university faculty and administrators are working to help increase the number of women in STEM fields through mentorships, community outreach and campus involvement like the university's chapter of the Society of Women Engineers.
Companies such as Patheon, Pfizer, Mayne Pharma and many others make eastern North Carolina the home of nearly 8,000 life sciences jobs.
Angela Moore '05 '06 is a wife, mother and scientist at Alcami Corp., a pharmaceutical company in Durham. She enjoys mentoring interns and other female scientists, especially young mothers. Moore says people act surprised when they find out her profession, but she points out that women can bring unique qualities to their jobs.
"Women are inherently talented at multitasking, which is key to success in the pharmaceutical industry and makes us excellent scientists," says Moore.
Companies such as Patheon, Pfizer, Mayne Pharma and many others make eastern North Carolina the home of nearly 8,000 life sciences jobs. That makes the need for scientists – male and female – vital for the region's growth. ECU Provost Ron Mitchelson says women add a wide range of talents and ideas in STEM fields and that growing the number of women in these careers is good for the university, region and world.
"Why would we limit this category of employment and creative activity to one-half of the population? We've been missing too much of the talent, and the problems we face are too large to ignore that simple fact," says Mitchelson.
ECU faculty members Roper and Cindy Putnam-Evans, associate dean for research and biochemistry professor, say a key element to increasing the number of women pursuing STEM careers is women acting as mentors.
Mitchelson agrees. "We need all the role models we can muster at ECU," he says.
Roper says most girls lose interest in science and math around eighth grade, making mentoring at that age critical. She says aptitude test scores of girls at that age are the same or better than boys, but factors such as social and cultural expectations and subconscious gender bias often steer girls away from pursuing science and math careers.
Inspiring opportunities
To support the interest of middle-school students in STEM, especially girls, ECU hosts events including the STEM Girls Conference. Each fall 100 middle school girls visit ECU to participate in the conference hosted by faculty in the College of Engineering and Technology, the Thomas Harriot College of Arts and Sciences and the College of Education. The girls participate in hands-on activities, learn about jobs and meet women who work in STEM fields. Additional opportunities are hosted on ECU's health sciences campus and through the College of Engineering.
"These interactive events help girls learn more about STEM and hopefully encourages them to take higher-level math and science classes in high school to set them up for majoring in STEM when they go to college," says Putnam-Evans.
Once at ECU, undergraduate students in biology, chemistry and physics can jump into research by working in a lab with a faculty member.
"It can be a very good opportunity for women seeking women mentors," says Putnam-Evans.
Yeduri and Moore mention research opportunities as a significant reason they chose ECU. As a freshman, Yeduri began working in Roper's lab and found mentors and friends who helped encourage her to get involved on campus and pursue interests outside her comfort level. She didn't seek out women mentors but says working alongside them has helped her become more confident.
"I don't know what I would have done if I wasn't at ECU. Most of the opportunities I have had and the growing I have done has been in the last two years here," says Yeduri.
Lillian Howie, a senior studying coastal and marine geology, says female students and professors in the geology department have encouraged her. As an EC Scholar and member of the Honors College, Howie says she has received a lot of support from being a part of these programs.
"I've connected with ambitious young women in many different disciplines, all with innovative ideas to improve our local and global communities," says Howie, who is also a GlaxoSmithKline Women in Science scholar.
Last spring, Roper invited Yeduri to attend the 2017 Incredible ECU Women Series luncheon, which recognized extraordinary alumnae and is sponsored by the university's Women's Roundtable. Yeduri said she saw women at ECU supporting and standing up for one another.
"I feel proud to be a woman, and ECU has had a big role in making me feel stronger," says Yeduri.
In addition to the Women's Roundtable, which recognizes alumnae for their philanthropy and leadership, the Chancellor's Committee on the Status of Women has been active since 1971 and works to bring recognition to the achievements and challenges of women on campus. Every two years, the committee recognizes 10 "Women of Distinction" at ECU – alumni, faculty, staff and administrators.
Faculty growth, but more to do
At ECU, women make up 47 percent of assistant professors in the 23 STEM departments.
"Twenty-four years ago when I first came here, I don't know what the numbers were, but I can bet you it was nowhere near 47 percent, so we've made great progress," says Putnam-Evans.
At ECU, women make up 47 percent of assistant professors in the 23 STEM departments.
But, there is still work to be done. Putnam-Evans points out that once you begin moving across ranks, the number of women who are associate or full professors at ECU drops to 37 and 15 percent, respectively. She says it's not just ECU; it's a problem at universities nationwide.
She, Roper, Mitchelson and Stephanie George, assistant professor of engineering, are part of a faculty group at ECU that hopes to receive funding through the NSF ADVANCE program, which is geared to help women and underrepresented minorities advance in their academic careers.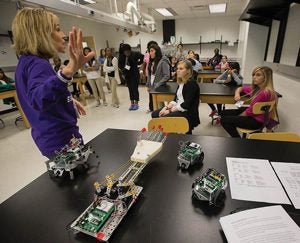 As associate dean for research in the largest college at ECU, Putnam-Evans speaks with candidates interviewing for tenure-track jobs and has noticed female candidates ask direct questions about the university's climate toward women and the opportunities afforded them.
"I think it's really positive that we can say, 'Here's an institution where we're aware of these challenges, and we are dedicated to making sure that all of our faculty, women included, are successful," says Putnam-Evans.
SEE THE VIDEO
College of Engineering and Technology Summer Academy for girls: ecu.edu/summeracademy