Art in the East
Marlene True '08 is bringing artists and art education to rural Tyrrell County.
Each June, a new group of artists-in-residence from across the United States moves to the eastern North Carolina town of Columbia, where they live and work for a year at Pocosin Arts. It is a step in their development as professional artists, nurtured in a town of about 900 residents including Marlene True '08, executive director of the art studio and education center on Main Street.
"Our presence and programs offers our community opportunities to explore the arts, to experience unique cultural events and provide a significant boost to the downtown community," True said.
Pocosin Arts has helped transform the Scuppernong River town by bringing more than 450 people – half the size of the town's permanent population – for classes, seminars, summer art camps and workshops each year. Local youth participate through after-school programs, a middle-school art club and projects at the high school, made possible by grants from the Grable Foundation in collaboration with the Tyrrell County Public Schools, True said.
Also this year, Pocosin helped place an art teacher 20 hours each week in Tyrrell Elementary School, which hadn't had one in about four years. The teacher, Tenisha Morrison '15, also served as the middle school girls' basketball coach last year. Looking across the studio, Morrison said, "Without this, none of these opportunities would exist," she said. "It's meant a lot to me. It's opened a lot of doors."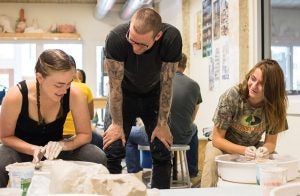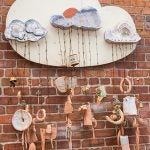 Top, Laurel Fulton, Ben Jordan and Hali Clifton at the Pocosin Arts Center. Bottom, Art produced at the center.
The emerging artists-in-residence provide art instruction, fill Pocosin's gallery with innovative and sophisticated work and add vibrancy and energy to the community, True said.
True was a graduate student in ECU's metals concentration when she was introduced to Pocosin Arts through its founding director Feather Phillips. "Feather had a vision of a place that connected culture, arts and the environment and worked tirelessly to see the vision become reality," True said. "Through sheer perseverance, she garnered the support and funding needed to complete the education center we have today."
True attended a workshop and was invited to teach a jewelry class after graduating from ECU in 2008 and has been involved in some aspect of the non-profit ever since. As executive director, she is responsible for programming, marketing, grant writing, fundraising, board and public relations.
At ECU, faculty members Linda Darty, Robert Ebendorf, Tim Lazure and Mi-Sook Hur had a strong impact on True's life, she said. "Robert Ebendorf was already a legend in the field, and the lore proved true," True said. "His energy, desire to share knowledge and sincerely caring approach to teaching inspired me then and continues to inspire me."
True also was in the first group of ECU students that Darty took to study abroad in Italy, an exchange program that's still thriving. "I am still in regular contact with them and value their friendship," True said. "It's reassuring that I know I can always call on them for feedback and advice."
As a working artist, True uses repurposed steel and enamel to create accessories, and will be showing her work in Seattle later this year. ECU has partnered with Pocosin Arts to lease its lodge for 90 days each year, and Pocosin artists regularly participate in ECU's annual metals symposium.