3-D printing leads to surgical breakthrough for patient
A life-size, 3-D printout of a patient's ribcage helped ECU doctors perform a less-invasive, life-changing surgery for one Goldsboro man.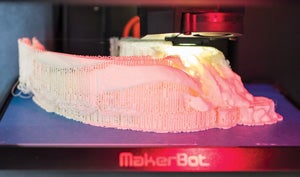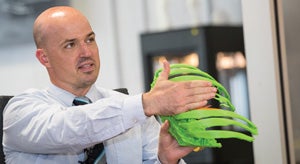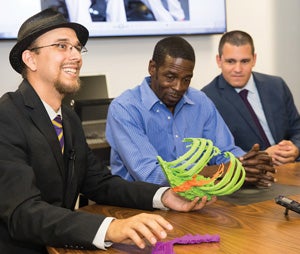 Pictured above are Arnold with his family and Dr. Preston Sparks, an ECU cardiothoracic surgery fellow. Bottom, graduate student Joshua Stevens is shown with Arnold and Anciano.
Franklin Arnold was left with chronic pain after a surgery to correct his debilitating scoliosis three years ago. Several doctors told him there wasn't anything they could do for him, and then his pain management doctor referred him to Dr. Carlos Anciano, a thoracic surgeon and ECU assistant professor.
"Dr. Anciano walked in the room and said he knew what was wrong and could fix it," said Arnold.
Anciano and Dr. Preston Sparks, ECU cardiothoracic surgery fellow, collaborated with Ranjeet Agarwala, an assistant professor with the ECU College of Engineering and Technology. The project was personal for Agarwala, who dreamed of having his college team up with ECU's Brody School of Medicine and Joyner Library after his daughter needed a thoracic procedure in 2014.
During that process, he began to see the role 3-D printing could play within health care.
"I knew ECU had the infrastructure to use this innovation to have an amazing impact in the future," said Agarwala.
Prior corrective surgeries caused a deformity in Arnold's chest, which led to what he called traumatic pain that impaired his daily functions, forcing him to wear a brace for two years and taking away his breath.
"I kept telling everybody I'm having major pain here," said Arnold. "I was on a lot of pain medicine."
After meeting with Arnold, Anciano and Sparks discussed treatment options. Sparks, who is on active military duty and completing his surgery fellowship at ECU and Vidant Medical Center, said he was not used to seeing this kind of chest wall trauma in Greenville. It resembled traumatic injuries accustomed to battlefields and wartime.
"I was in Dr. Anciano's clinic when we saw Franklin come in initially," said Sparks. "We sat down between cases one day, and he said he had this idea."
That idea was to introduce 3-D technology into Arnold's treatment plan. Knowing ECU's 3-D printing capabilities, Sparks reached out to Agarwala, who responded quickly.
With MRI files in hand, Sparks met with Agarwala and College of Engineering and Technology graduate student Joshua Bruce Stevens.
"(The 3-D model) showed us the original disfiguring that came about from Franklin's twisted spine," said Anciano. "It also showed the way he healed from previous corrections to his curvature."
Anciano used the 3-D model to provide a topographical map for rebuilding the patient's chest wall with titanium mesh. The surgery was completed March 22. It took nine hours.
"Dr. Sparks got me up out of bed two days later, and I was able to walk," said Arnold. "I immediately realized my breathing; it was a whole lot better. Talk about taking walks with my wife and child – I can do that now. Yes, I still have issues, but I know without a doubt it's helped a lot."
When the graduate student got the chance recently to meet the patient whose rib cage he 3-D printed months before, Stevens described it in three simple words: "It's like Christmastime."
"He (Arnold) was able to get something wonderful out of it, and I was able to get something out of it, too," Stevens said.
Now, Arnold is waking up every morning looking forward to the day ahead. He says his wife introduced him to the term "quality of life."
"I didn't understand it before, but I do now."
SEE THE VIDEO
A medical and technical collaboration at ECU helps patient: http://bit.ly/2v53tRy