ECU Report
---
ECU graduate programs recognized
The Brody School of Medicine at ECU has again ranked as North Carolina's most diverse medical school in a listing of the 2023 Best Graduate Schools released in March by U.S. News & World Report.
Brody also was 26th out of 124 U.S. schools ranked in primary care.
In addition, ECU's graduate program in education was 89th out of 274 schools ranked, placing it in the top 35% nationwide. Those rankings are based on peer and educational professional assessment, research activity, student selectivity and faculty resources.
U.S. News has also ranked ECU's online graduate programs in business, criminal justice, education and nursing among the best in the nation.
Online master's programs in the College of Nursing were ranked in the top 15%, or 29th out of 194 schools listed in the 2022 U.S. News Best Online Programs.
ECU nursing also was ranked fifth out of 25 U.S. schools offering the best online master's programs for veterans. Schools on this list had to be regionally accredited, certified for the GI Bill and enroll a critical mass of students with military backgrounds.
ECU's online graduate program in criminal justice is the only school in North Carolina on the list, ranking 21st out of 85 and in the top 25% of schools recognized.
Online master's programs in the College of Education were ranked 60th of 338 schools, in the top 20% on the list. Eight Master of Education online programs were reported in the U.S. News survey including adult education, curriculum and instruction, elementary education, instructional technology, science education, reading and literacy studies, special education and middle grades education.
The online MBA program in the College of Business is in the top 35% of programs recognized, ranking 121st of 356 schools. More information is at usnews.com.
– Crystal Baity

---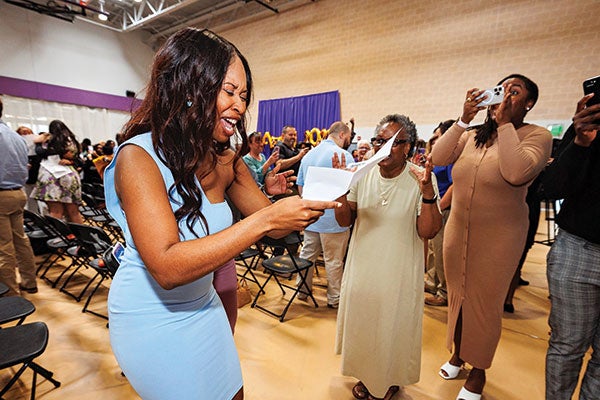 Rashieda Pugh reacts after learning she will be completing a family medicine residency at the University of North Carolina at Chapel Hill during the Brody School of Medicine's National Residency Match Day celebration on March 18. Of the 82 students who matched, 61% are going into primary care residencies and 35% matched to programs in North Carolina. Nine will be staying in Greenville to complete residencies at ECU Health Medical Center. Five will go into the military. Click to see full match results.
---
Michael Schwartz has been named men's basketball coach at ECU. Athletics Director Jon Gilbert announced the hire March 16. Schwartz comes to ECU after seven seasons as an assistant coach at the University of Tennessee. He has also coached at the University of Tulsa, Fresno State, the University of Miami (Florida) and the University of Texas at San Antonio. He served on the staffs at the University of Texas and Long Beach State. A native of Los Angeles, Schwartz is a graduate of the University of Texas, where he was a member of the Longhorns' basketball team. He and his wife, Stephanie, have two daughters, Sydney and Samantha.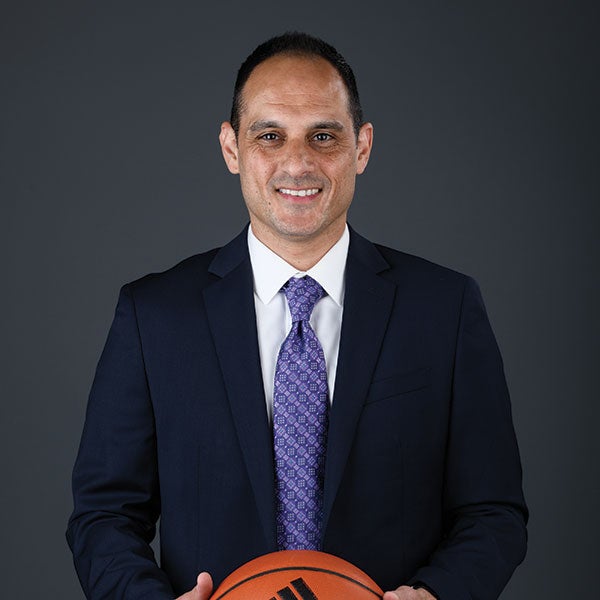 ---
A student veteran couldn't afford textbooks. A donor stepped in to help.
Marine Corps officer Lara Gorham left the military to pursue her dream of becoming a doctor. When she was accepted into the premed program at ECU for fall 2021, it looked like her dream was within reach. Then her veteran benefits ran out.
"I was becoming desperate. I had $11 in my bank account at the beginning of the semester, and I wasn't sure how I was going to afford gas for the week, let alone my books," Gorham said. She also had a young daughter at home and a long commute to campus. But thanks to the Paul Singleton Military Academic Success Fund, Gorham was able to purchase the textbooks and supplies she needed for the semester.
"He made impossible circumstances attainable," she said. "I cannot thank him enough for his generosity."
Even with federal funding and scholarships, student veterans can still struggle to pay college tuition and fees. Many student veterans have full-time jobs and families with mortgages, child care and car payments that cut into funds available for college. And if they change their major or take on a minor, their GI benefits could run out before graduation.
Singleton '58 '61 said he hopes his gift helps veterans and their families make the best of their studies and adapt more easily to campus life. It's one of the largest gifts ever for student veterans at ECU.
"When I went to school, they didn't have Pell Grants or government loans," he said. "Very few people were on scholarships. When I went back to school (after serving in the Air Force), I had a family, and even on the GI Bill, it covered tuition but not all the other expenses. I didn't want students to put up with what I had to put up with."
Singleton left the Air Force in 1984 and now lives in a military affiliated retirement community in Fort Walton Beach, Florida. His late wife, Anne, was an ECU alumna, and his two brothers also went to ECU on the GI Bill.
The Paul Singleton Military Academic Success Fund is unique in that it provides support not only for veterans, but also for reservists and dependents of disabled veterans, who do not get some federal funding for textbooks, said Nicole Messina, associate director of student veteran services at ECU.
"Very few universities offer extra support to these students, so Mr. Singleton has provided ECU with a great opportunity to help military-affiliated students," she said.
– Erin Ward
---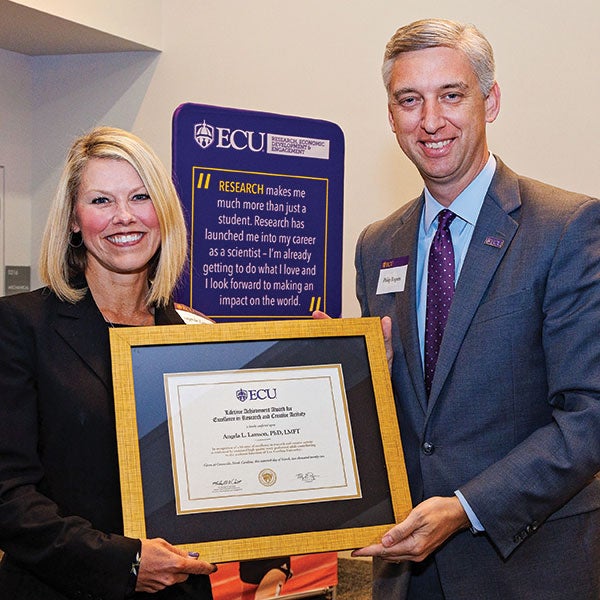 Angela Lamson
, a Nancy W. Darden Distinguished Professor in the ECU Department of Human Development and Family Science, received the 2022 ECU Research and Creative Activity Lifetime Achievement Award. She's pictured with Chancellor Philip Rogers at the March 16 event that recognized research and creative activity among faculty members across campus. Read more about
Lamson's Lifetime of Service
.
---
ECU Health brand launches across region
As part of the collaborative effort ECU and Vidant Health announced last year, the new ECU Health brand has begun appearing at health care sites in the region.
Chancellor Philip Rogers; Dr. Mike Waldrum, CEO of ECU Health and dean of the Brody School of Medicine; and Dr. Jason Higginson, executive dean of the medical school, unveiled the new ECU Health logo in April.
Vidant Medical Center is now ECU Health Medical Center, and other Vidant facilities will be renamed in a similar manner: ECU Health Bertie Hospital, ECU Health Chowan Hospital, ECU Health Maynard Children's Hospital and so on. The Outer Banks Hospital will retain its name.
– ECU News Services